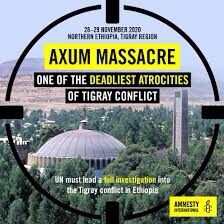 Following urgent letters to Foreign Office Ministers on Thursday and Friday last week – and several written Parliament Questions whichI tabled – on Tuesday I have secured the Topical Oral Question in the House to ask the Government how they are responding to reports of a massacre at Axum in Tigray, which Amnesty International and Human Rights Watch say may amount to crimes against humanity. FCDO Minister Lord Ahmad will answer @tariqahmadbt
In addition to the Amnesty Report, Human Rights Watch issued a further report stating that Eritrean forces shot dead hundreds of children and civilians in a November massacre in Tigray region in the town of Axum, a UNESCO World Heritage site.https://www.davidalton.net/2021/03/05/human-rights-watch-say-eritrean-forces-have-massacred-tigray-civilians-attention-and-action-by-un-member-states-is-needed-now-to-ensure-those-responsible-for-these-grave-abuses-are-held-accountable
https://www.davidalton.net/2021/03/04/persistent-credible-reports-of-grave-violations-in-tigray-underscore-urgent-need-for-human-rights-access-michelle-bachelet/
https://www.davidalton.net/2021/03/02/in-a-letter-today-to-foreign-office-ministers-i-asked-why-the-uk-has-not-raised-the-reports-of-atrocity-crimes-in-tigray-at-the-un-security-council-who-is-being-held-to-account-as-us-condemns-killi/
https://www.davidalton.net/2021/02/20/daily-telegraph-publishes-shocking-proof-of-massacre-by-ethiopian-forces-in-tigray-when-is-the-u-k-going-to-put-this-evidence-of-war-crimes-and-potential-genocide-before-the-un-security-council/
https://www.davidalton.net/2021/02/18/shocking-report-from-associated-press-bodies-with-gunshot-wounds-lay-in-the-streets-for-days-in-ethiopias-holiest-city-at-night-residents-listened-in-horror-as-hyenas-fed-on-the-corpses/
https://www.davidalton.net/2020/12/28/dont-forget-tigray-bbc-africa-reports-on-a-conflict-which-is-in-danger-of-being-forgotten-under-the-cover-of-covid-and-other-distractions/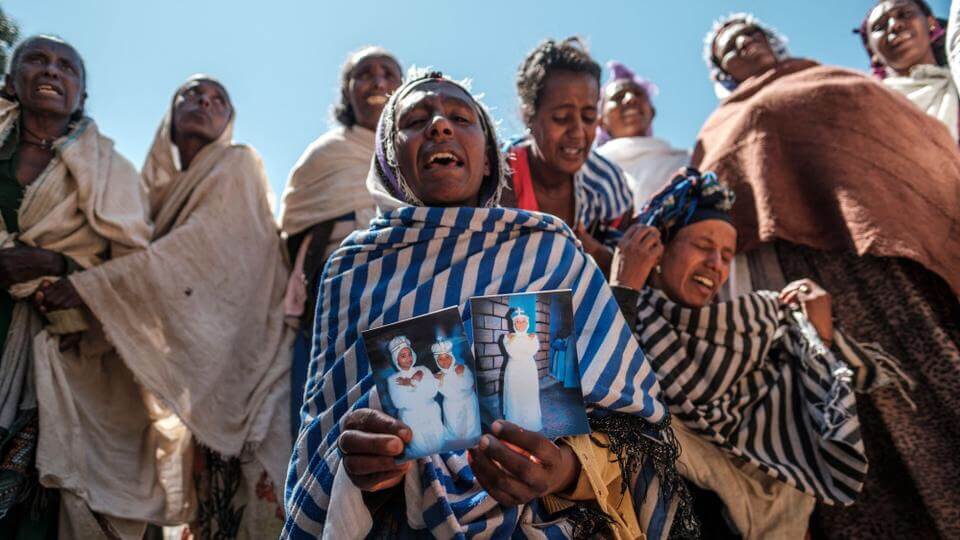 The Eritreans engaged in "widespread pillaging" as Ethiopian troops mostly looked on, the HRW report says .
In a further report, AFP travelled to the Tigray village of Dengolat last week to document a separate massacre by Eritrean troops at about the same time that church officials said led to the murder of 164 civilians in Axum.
Ethiopian and Eritrean forces entered Axum on November 20 after "indiscriminate" shelling that killed civilians, said the HRW report published on Friday.After calling in reinforcements, the Eritreans began "moving through the town, going house to house, searching for young men and boys, and executing them".
HRW Horn of Africa director Laetitia Bader said "Ethiopian and Eritrean officials can no longer hide behind a curtain of denial, but should allow space for justice and redress, not add to the layers of trauma that survivors already face."
Attempts by Ireland – which has been elected to the Security Council for the 2021-2022 term – to secure a UN Security Council statement calling for an end to violence in Tigray and to spotlight the millions in need of humanitarian assistance was dropped after objections from China, Russia and others. The UN's Mark Lowcock warned that "a campaign of destruction" is taking place, saying at least 4.5 million people need assistance and demanding that Eritrean forces leave Ethiopia.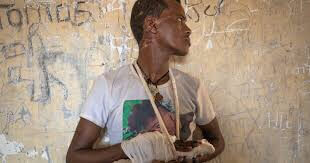 https://www.davidalton.net/2021/03/05/human-rights-watch-say-eritrean-forces-have-massacred-tigray-civilians-attention-and-action-by-un-member-states-is-needed-now-to-ensure-those-responsible-for-these-grave-abuses-are-held-accountable/
https://amp.theguardian.com/world/2021/feb/26/hundreds-died-in-axum-massacre-during-tigray-war-says-amnesty
https://www.independent.co.uk/news/world/africa/axum-massacre-survivors-amnesty-eritrean-troops-b1807606.html?amp
https://www.bbc.com/news/amp/world-africa-56198469
https://www.davidalton.net/2021/03/05/human-rights-watch-say-eritrean-forces-have-massacred-tigray-civilians-attention-and-action-by-un-member-states-is-needed-now-to-ensure-those-responsible-for-these-grave-abuses-are-held-accountable/
https://www.davidalton.net/2021/02/13/ethiopian-minister-confirms-that-tigray-conflict-has-led-to-crimes-against-women/
https://www.davidalton.net/2021/02/12/human-rights-watch-have-called-for-a-un-inquiry-into-the-alleged-indiscriminate-shelling-of-urban-areas-in-tigray-by-ethiopian-federal-forces-uk-government-also-asked-to-follow-the-eu-in-suspending-t/
https://www.davidalton.net/2021/02/12/uk-says-we-have-assessed-the-appropriateness-of-ukaid-programmes-in-ethiopia-in-light-of-the-developments-of-the-tigray-conflict-and-are-carefully-considering-our-delivery-model-we-will-continue-to/
https://www.davidalton.net/2021/02/05/tigray-un-special-adviser-on-genocide-warns-that-if-urgent-measures-are-not-immediately-taken-to-address-the-ongoing-challenges-facing-the-country-the-risk-of-atrocity-crimes-in-ethiopia-remains-h/
https://www.davidalton.net/2021/02/04/how-conflict-in-tigray-has-added-to-the-79-5-million-forcibly-displaced-people-worldwide-as-a-result-of-persecution-conflict-and-violence-these-include-some-26-million-refugees-who-have-crossed-a/
https://www.davidalton.net/2021/02/03/u-k-says-it-is-concerned-that-the-conflict-in-tigray-has-had-significant-consequences-and-has-displaced-hundreds-of-thousands-of-people-and-by-further-reports-from-tigray-o/
https://www.davidalton.net/2021/01/29/u-k-says-it-is-clear-that-the-conflict-in-tigray-has-had-significant-consequences-for-hundreds-of-thousands-of-people-displacing-them-internally-and-externally-and-adversely-impacting-thos/
https://www.davidalton.net/2021/01/29/tigray-uk-says-physical-access-for-humanitarian-personnel-remains-very-challenging-with-some-areas-effectively-out-of-bounds-the-un-estimates-that-up-to-1-3-million-additional-people-affected-by-t/
https://www.davidalton.net/2021/01/28/uk-says-killers-in-ethiopia-must-be-held-to-account-whoever-they-may-be-and-responds-to-call-that-eye-witness-statements-are-taken-from-refugees-from-tigray-about-reports-of-war-cri/
https://www.davidalton.net/2021/01/25/uk-government-says-it-is-concerned-by-reports-that-eritrean-troops-have-entered-ethiopian-refugee-camps-in-tigray-and-forced-a-number-of-refugees-to-return-to-eritrea-and-responds-to-reports-of-a/
https://www.davidalton.net/2021/01/18/january-18th-africa-minister-say-uk-government-is-gravely-concerned-over-allegations-of-atrocities-and-violations-in-tigray-but-its-the-uks-longstanding-position-that-determining/
https://www.davidalton.net/2021/01/15/statement-from-the-un-high-commissioner-for-refugees-filippo-grandi-on-the-situation-of-eritrean-refugees-in-ethiopias-tigray-region-extremely-troubled-by-the-humanitarian-situation/
https://www.davidalton.net/2021/01/14/tigray-parliamentary-answers-from-the-uk-government-we-remain-committed-to-the-development-of-ethiopia-and-its-people-but-we-will-continue-to-review-our-support-in-light-of-changing-circumstances/
https://www.davidalton.net/2021/01/13/refugee-council-usa-calls-for-protection-of-refugees-from-tigray/
https://www.davidalton.net/2021/01/11/massacre-in-tigray-at-the-mariam-of-zion-cathedral-aksum-and-reports-of-attacks-on-refugee-camps/
https://www.davidalton.net/2020/12/02/war-in-tigray-peers-today-pressed-for-access-to-be-given-to-tigray-to-assess-allegations-of-war-crimes-and-to-ensure-the-safe-arrival-of-urgently-needed-humanitarian-aid-and-the-protection-of-refuge/
https://www.davidalton.net/2020/11/30/i-have-joined-with-csw-and-other-organisations-and-individuals-in-writing-to-united-nations-officials-and-the-african-commission-on-human-and-peoples-rights-urging-them-for-urgent-assistance-for-eri/
https://www.davidalton.net/2020/11/27/establishing-the-truth-about-tigray-why-hasnt-the-un-secretary-general-demanded-access-and-flown-there-to-establish-for-himself-what-is-happening-in-tigray/
https://www.davidalton.net/2020/11/24/war-in-ethiopias-tigray-province-government-challenged-today-to-co-ordinate-an-international-response-to-a-potential-geonocid-during-exchanges-in-the-house-of-lords/
November 23rd 2020 – Conflict in Ethiopia's Tigray Province "may be on the edge of Genocide" – to be raised in an urgent question in the House of Lords tomorrow.https://www.davidalton.net/2020/11/23/19544/
https://www.davidalton.net/2020/11/22/parliamentary-questions-and-letter-to-the-foreign-secretary-about-horrific-violence-in-tigray-today-the-sunday-telegraph-reports-that-ethiopia-may-be-on-the-edge-of-genocide-report/
https://www.davidalton.net/2020/11/27/establishing-the-truth-about-tigray-why-hasnt-the-un-secretary-general-demanded-access-and-flown-there-to-establish-for-himself-what-is-happening-in-tigray/
https://www.davidalton.net/2020/11/30/i-have-joined-with-csw-and-other-organisations-and-individuals-in-writing-to-united-nations-officials-and-the-african-commission-on-human-and-peoples-rights-urging-them-for-urgent-assistance-for-eri/