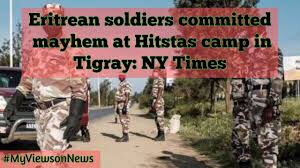 Lord Ahmad of Wimbledon, the Foreign, Commonwealth and Development Office, has provided the following answer to your written parliamentary question (HL12399):
Question by Lord Alton of Liverpool:
To ask Her Majesty's Government what assessment they have made of the estimate by the United Nations High Commissioner for Refugees (UNHCR) that more than 58,000 refugees have fled into neighbouring countries to escape the conflict in Tigray; and what estimate they have made of the percentage of the 79.5 million people estimated by the UNHCR to be currently displaced worldwide who are so displaced as a consequence of conflict. (HL12399)
Tabled on: 21 January 2021
Answer:
Lord Ahmad of Wimbledon:
It is clear that the conflict in Tigray has had significant consequences and has displaced hundreds of thousands of people, internally and externally, as well as adversely impacting upon those that were already in need of humanitarian assistance. We are concerned by the UN High Commission for Refugees (UNHCR) estimates on the numbers of people displaced, and as of 19 January, 59,280 people have sought refuge in Sudan. We are extremely concerned that humanitarian agencies, including the UNHCR, still do not have access to refugee camps in northern Tigray, who have been without aid for many weeks. The Foreign Secretary visited Gondar on 22 January and saw first-hand how £11 million of UK Aid is supporting the World Food Programme and NGOs to ensure the delivery of aid to those affected by the conflict. The UK continues to call for sustained, free and unfettered access to enable the delivery of much needed humanitarian assistance.
The UN estimates that up to 1.3 million additional people affected by the conflict in Tigray need humanitarian assistance, on top of an existing humanitarian caseload of one million people in the region. We are concerned about the impact of the conflict and displacement on food security and nutrition in Tigray. Displaced persons, including refugees, are amongst the most vulnerable. At the end of 2019 there were 79.5 million forcibly displaced people worldwide as a result of persecution, conflict, and violence. These include some 26 million refugees who have crossed a border to seek protection, and around 45.7 million people who have been forced to flee their homes but remain internally displaced in their own country.
Date and time of answer: 04 Feb 2021 at 17:04.