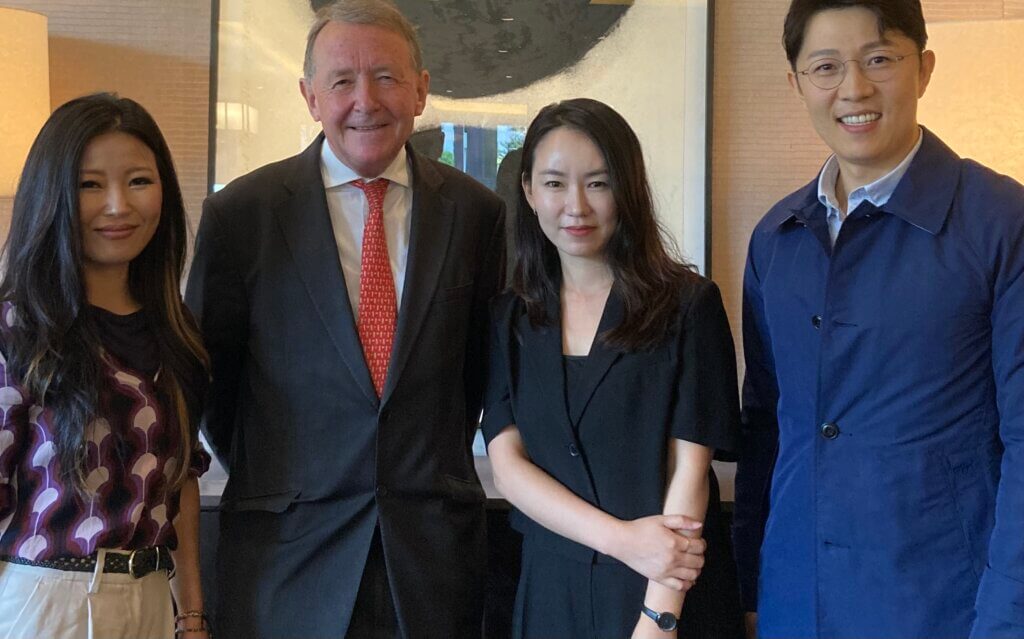 With 2000 refugees – escapees from North Korea – facing imminent repatriation from China, I have been meeting three brave escapees who have found freedom and made new lives in South Korea.
Their stories are instructive, salutary and timely.
As we met in Seoul, I told them about a courageous North Korean escapee, whom I encountered twenty years ago at Westminster.
In telling me his shocking story he opened my eyes to the systematic, egregious, human rights violations committed by the Kim regime.
Whilst watching vast resources poured into weapons of mass destruction, his wife and children had died of hunger: "bombs not butter" as people starved to death.
After escaping he resolved to help others in their own quests for freedom. He repeatedly risked his life, going in and out, crossing one of the world's most dangerous borders.
Sadly, twenty years later, little has changed in benighted North Korea but a new generation is as determined as his in ensuring that the world knows the truth about North Korea's tyranny. That is why the regime is so frightened of escapees.
Sungju Lee has committed his own remarkable story to print, in his book, "Every Falling Star".
He told me that at the age of eleven he was forced to watch a public execution: "A woman in her thirties admitted to having met a South Korean pastor in China and was sentenced to death for bringing back a forbidden ideology. A man was executed with her for stealing some copper which was an act of high treason. The firing squad filled them each with nine bullets."
At twelve, Sungju ended up on the streets, fending for himself.
Today he is a PhD candidate, insisting that "education is power" and working for the day when people like him will be able to help the north evolve into a democratic and free society.
Eunhee Park is also a graduate.
Having escaped from the North she now uses her freedom to help others.
Employed by The Bridge – a charity which works with the 34,000 North Korean escapees now resident in the South – she helps escapees prepare to play their part, one day, in a unified democratic Korea.
She escaped from the DPRK after seeing, on illegal TV programmes, the freedoms enjoyed by women in the south.
By contrast, at the age of 17, for wearing clothes which had not been approved by the Kim regime, Eunhee was held in a police cell, had her hair and clothes cut, and made to write pages of apology to the regime. She knew she had to leave.
It took four years to find a broker who arranged her dangerous escape. She says that post "the Covid Pandemic escape has become much harder and ten times more expensive."
Like Eunhee, Eunji Yoo also risked her life to get out of North Korea.
She is a musician- a guitarist- who, aged 14, watched the police drag her father, a professor, out of their home:"His crime is that he had watched a South Korean drama on his computer."
After escaping in 2011 Eunji made a new life for herself in Seoul. She now has her own YouTube channel and was recently invited to meet President Yoon Suk Yeol, the lawyer who is now President of South Korea.
She told him that "music has power" to reach her generation and that she uses her music to tell the story of her escape and quest for freedom.
The regime from which these brave young people were escaping was investigated ten years ago by a United Nations Commission of Inquiry into human rights violations in North Korea.
It found that the DPRK's atrocities were "without parallel "; that the regime commits "crimes against humanity."
It called for the International Criminal Court to put those responsible on trial and that if China and Russia block such a move (using their Security Council veto) that an ad hoc Tribunal should to be created.
Karim Khan KC, the ICC Prosecutor, is due to visit South Korea and will be asked by the Yoon Government how he intends to take forward the ICC recommendations.
Yesterday, in Seoul, the Yoon Government hosted a conference to mark the 10th anniversary of the Inquiry. Speakers repeatedly raised the plight of escapees trapped in China and the obligation to uphold their rights.
Beijing was urged to honour its obligations under the 1951 Refugee Convention and to allow the escapees to travel to a safe country.
If the escapees are forcibly repatriated, China is well aware that the refugees will face interrogation, imprisonment, "reeducation", torture and even execution. It will be culpable if it collaborates in their refoulemont.
It is particularly shocking that, as a member of the United Nations Human Rights Council, China would contemplate breaking the Refugee Convention and signing the death warrant of refugees.
Even more so as the Republic of Korea and other democracies are willing to give the escapees safe passage and sanctuary.
Of course, China and North Korea fear that escapees – just like Sungju, Eunhee and Eunji – will use their freedom to tell the world their stories revealing the truth about life in Communist dictatorships. That is far more dangerous to the survival of the dictators than arsenals of weapons.
In this 75th anniversary year of the Universal Declaration of Human Rights all the more reason for every free Parliament and every democracy to speak out for the 2000 North Korean escapees. They simply want to have the same freedoms and the same rights that we enjoy.