Independent assessment of FCDO support for persecuted Christians around the world: FCDO's response to the findings
Lord Ahmad responded today to an independent assessment of how the Foreign, Commonwealth & Development Office implemented recommendations to support persecuted Christians.From:Foreign, Commonwealth & Development Office and Lord Ahmad of WimbledonPublished4 July 2022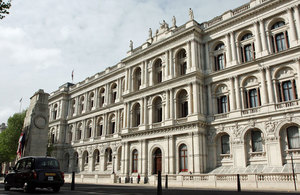 In response to recommendations from an independent assessment of Foreign, Commonwealth & Development Office (FCDO) support for persecuted Christians around the world, Lord Ahmad (FCDO Minister for South Asia, North Africa, the United Nations and the Commonwealth) said:
Freedom of religion or belief is a human right and should be a free choice for all, no matter where in the world you are.

In 2019, the Bishop of Truro published a report setting out recommendations for a strengthened UK government response to the horrifying abuses and persecution of Christians and other faiths around the world.

Three years on, I am pleased to welcome a report on the findings of an independent review carried out by Professor Nazila Ghanea, Sir Malcolm Evans KCMG OBE, Professor Ahmed Shaheed, Dr Gehan Gunatilleke and Dr Caroline K Roberts on the FCDO's implementation of the Bishop's review recommendations.

I welcome the review, and I am encouraged by what has been achieved so far in the face of many global challenges.

Standing up for freedom of faith or belief is a right which we will always stand up for. The UK is committed to promoting and strengthening the freedom of religion or belief as a fundamental human right for all – including through hosting an international conference this week bringing together governments, civil society, faith and belief groups.