The Epoch Times, Feb. 1, 2022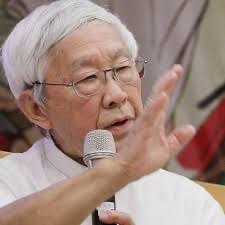 The CCP Threatens Hong Kong's Cardinal Zen and Christian Churches
By Nina Shea
During the final week of January, an ominous series of articles in Ta Kung Pao, a Hong Kong newspaper owned by China's liaison office, accuse Cardinal Joseph Zen, bishop emeritus of Hong Kong, and Christian churches there of inciting student riots against repressive measures in 2019.
Four vitriolic articles, all underscoring the need for greater control, resemble a denunciation campaign of the kind portending a new crackdown by the Chinese Communist Party (CCP).
The first article also accuses the 90-year-old cardinal of associating with Hong Kong entrepreneur and founder of the pro-democracy media Apple Daily Jimmy Lai and former Hong Kong legislator Martin Lee, both Catholics arrested for their strong pro-democracy stance. Mr. Lai is currently serving a 14-month prison term, on a conviction of "inciting riots," after he attended a peaceful candlelight vigil commemorating the 1989 Tiananmen massacre.
The report further appears to draw similarities between the clergyman and practitioners of Falun Gong, a spiritual meditation discipline that the CCP vows to "eliminate" and has established a special security agency, known as the "610 Office," to carry this out.
Provocatively headlined, "Cardinal Zen uses his status as a clergyman to disrupt Hong Kong," the report states, "It is difficult for the government to regulate or eliminate these religious groups or individuals, despite the fact that they have committed many crimes."
The articles' complaints against the cardinal also include assertions that many of those arrested in the pro-democracy movement had studied at Christian schools. Three subsequent articles reiterate the theme that churches "incited riots" among Hong Kong students and gave sanctuary to pro-democracy demonstrators. They advocate for them to come under government control.
The cardinal has drawn Beijing's ire as one of the few prominent China clergymen in recent years who dare to speak critically against Chinese leader Xi Jinping's repressive Sinicization policy for mainland churches and against the 2018 Sino-Vatican agreement, openly warning that it would result in the consolidation of CCP control over the underground Catholic Church and "kill" the Chinese church.
The spate of articles also raises the question of whether the CCP is planning an imminent takeover of Hong Kong's Christian schools, along with directing reprisals against the cardinal. About half of the K through 12 schools in Hong Kong are reported by Beijing to be Christian-run, many of them located within Catholic and Protestant church compounds. Reverend L, a Hong Kong Christian cleric who asks to remain anonymous, expressed his fears in a recent interview with me (due to be posted at www.Hudson.org on Feb. 11) that the CCP may intend to rein in the Christian schools as a first step to imposing comprehensive regulations to tighten government control over Hong Kong churches.
Until now, Hong Kong's churches have been largely left alone by the government: There have been no government-registered "Patriotic" churches where clerical allegiance to the CCP is required, as on the mainland. Clergy have not been subjected to "reeducation" in communist thought, church crosses remain intact, sermons are not required to be based on Xi's sayings, surveillance cameras are not trained on congregations, and young people are not banned from religious worship services or Bible studies—all hallmarks of the Sinicization program for China's mainland churches.
One of the articles quotes Rev. Peter Koon, an Anglican priest on the pro-Beijing legislature of Hong Kong, expressing support for greater government oversight of churches. It states that he proposes either creating a government religious affairs office or the extension of the Chinese Temple Ordinance to cover churches. Dating from 1928, the latter mandates an onerous regime of government registration, management, control, inspection, audit, and other controls over Buddhist and Taoist monasteries.
Another article cites Lawrence Ma, a barrister who chairs the executive council of the Hong Kong Legal Exchange Foundation, urging both a new government bureau and the application of the ordinance to churches on the basis that Christianity teaches that "violating civil law is not always a sin per se," and rejects "ancestor worship," among other reasons.
The fourth article, in the context of denouncing church and church schools' involvement in the protests, relates that the Home Affairs Bureau of the Hong Kong Special Administrative Region is in fact currently reviewing the Chinese Temple Ordinance. In the interest of religious freedom, the ordinance should be scrapped, not expanded, but that outcome is unlikely.
After suppressing Hong Kong's democratic legislature, independent judiciary, and freedoms of speech, press, and assembly, Beijing now has its sights on religious freedom.