The EU has been slow to respond to China's repeated attacks on democracy in Hong Kong. It is time it started catching up with the US and others, writes Reinhard Bütikofer.https://www.euractiv.com/section/eu-china/opinion/the-eu-needs-to-step-up-on-hong-kong-sanctions/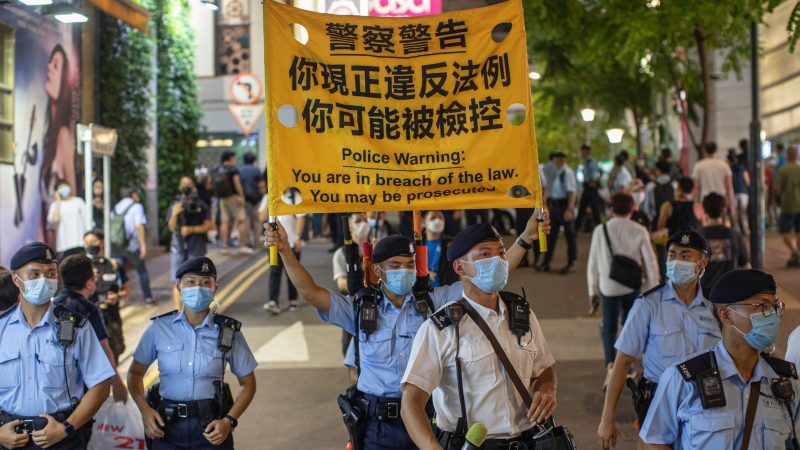 Reinhard Bütikofer is the chair of the European Parliament's Delegation for Relations with the People's Republic of China.
The EU needs to respond to China's authoritarian breach of the promises it made to Hong Kongers under the Sino-British Joint Declaration and Hong Kong's Basic Law.
The latest outrage comes this month, when a new law requiring oaths of loyalty from district councillors will be enforced under the Beijing-imposed national security law.
At least 214 district councillors – all from the pro-democracy camp – have over the past month pre-emptively resigned, fearing disqualification or prosecution, while by-elections for new local representatives have been ruled out by Chief Executive Carrie Lam until at least 2023 – leaving unelected, pro-establishment committees to fill the void.
Offences of the Orwellian pledge can now include wearing t-shirts with "offensive" pro-democracy slogans or raising an umbrella – symbolic of Hong Kong's democracy movement.
Similarly in May, the Beijing-imposed "patriots" only legislation curtailed democratic representation in Hong Kong's Legislative Council by shrinking the share of directly elected seats in the legislature from half to just 22%.
The measure also installed a new vetting committee to screen election candidates, with the purpose of weeding out any last remaining dissenting voices, and cementing Beijing's control of the governing body in Hong Kong.
Coupled with the draconian national security law that has effectively criminalised free speech and the right to assembly under the pretext of stability, the often-touted high degree of autonomy for Hong Kong has been turned into a faint hope of long ago.
The US has acted in response to Beijing's actions. The EU must catch up. Earlier this month, Secretary of State, Antony Blinken, announced fresh sanctions on seven Chinese officials over Beijing's crackdown on democracy in Hong Kong, in addition to the sanctions imposed on 24 officials earlier this year.
The EU is yet to adopt any concrete actions, which the European Parliament has repeatedly called for. The EU should, as a minimum, impose individual sanctions.
Washington has also passed legislation restricting the sale of crowd control weapons, such as tear gas and rubber bullets used by Hong Kong's police to target protesters, and stripped Hong Kong of its favourable trading terms, subjecting the city to the same tariffs and regulations as mainland China.
The European Parliament has been the most articulate European voice in the defence of Hong Kong's freedoms and in criticizing the Chinese Communist Party's breach of its international obligations regarding the status and the governance of Hong Kong.
The statement that High Representative/Commission Vice President Josep Borrell made to the European Parliament in June regarding Hong Kong shows the Commission torn between acknowledging the dire realities and a hesitancy to act. The Council has postponed discussing Hong Kong already several times now.
Heads of national governments must now make up their minds whether they want to do the right thing to stand with Hong Kongers or risk encouraging the perpetrators of oppression by a reluctance to act.
They should follow the European Parliament's latest resolution, following the closure of pro-democracy publication Apple Daily, which called on member states to agree a range of measures. These included suspending or ending extradition arrangements with Hong Kong or China.
A lifeboat mechanism should also be offered for Hong Kong citizens willing to move to Europe. Together, with other like-minded countries, EU member states should form an international Hong Kong Contact Group to continue raising Hong Kong's freedom and autonomy and Beijing's disregard for its international obligations regarding Hong Kong in international fora.
We could also team up with others to call upon the UN Secretary-General or its High Commissioner for human rights to dedicate a special envoy for Hong Kong. EU member states must not allow the blocking of such activity in the defence of human rights and the international rule of law.
Authoritarian repression in Hong Kong is still expanding. On 4 June this year, the traditional Tiananmen vigil in Hong Kong was banned for the second year running.
Nonetheless, courageous Hong Kong democrats still found ways of displaying their dedication by lighting candles, and many supporters of Hong Kong's democratic movement around the globe echoed that online or in physical activities.
The anniversary of Hong Kong's handover to the People's Republic of China on 1 July also saw demonstrations in the city banned. Press freedom in Hong Kong has been further dismantled by the arrests of Apple Daily journalists and staff and the forced closure of the last-remaining, pro-democracy media outfit.
And Hong Kong's judiciary, once-admired for its independence, has been subject to ever-increasing pressure and interference from Beijing. That is why it is even more important that friends of a free and democratic Hong Kong make their solidarity visible. Democratic nations must not just stand on the sidelines passively.
There would be one unmistakable measure that EU member states could take in that regard: sanction the leader of the Hong Kong and Macau Affairs Office, Xia Baolong, and his puppet, Carrie Lam.