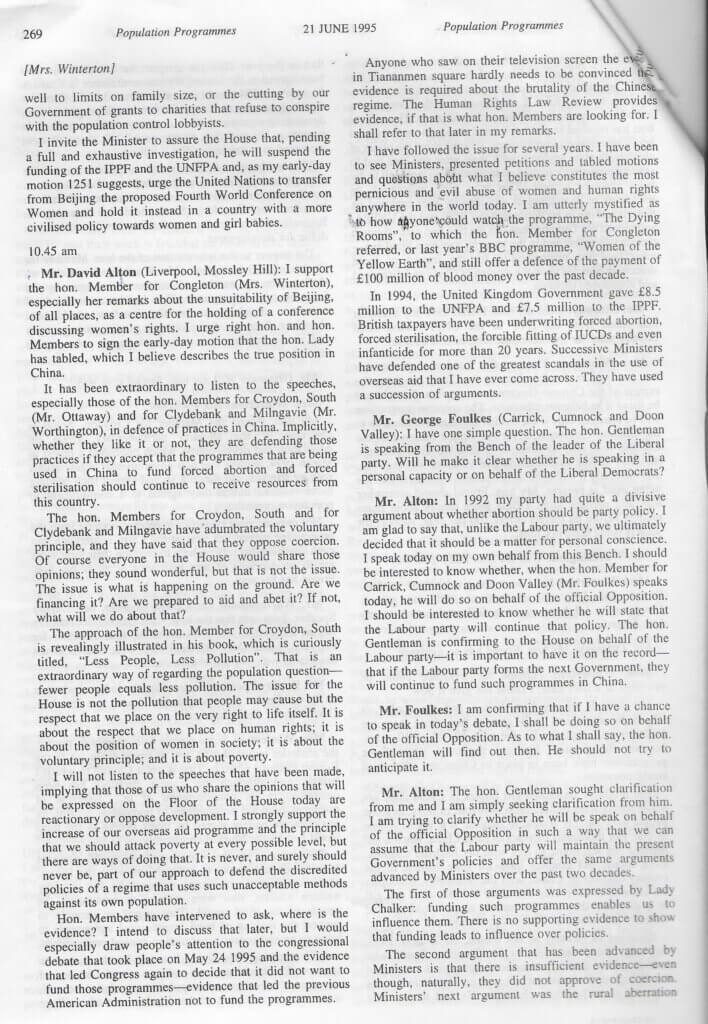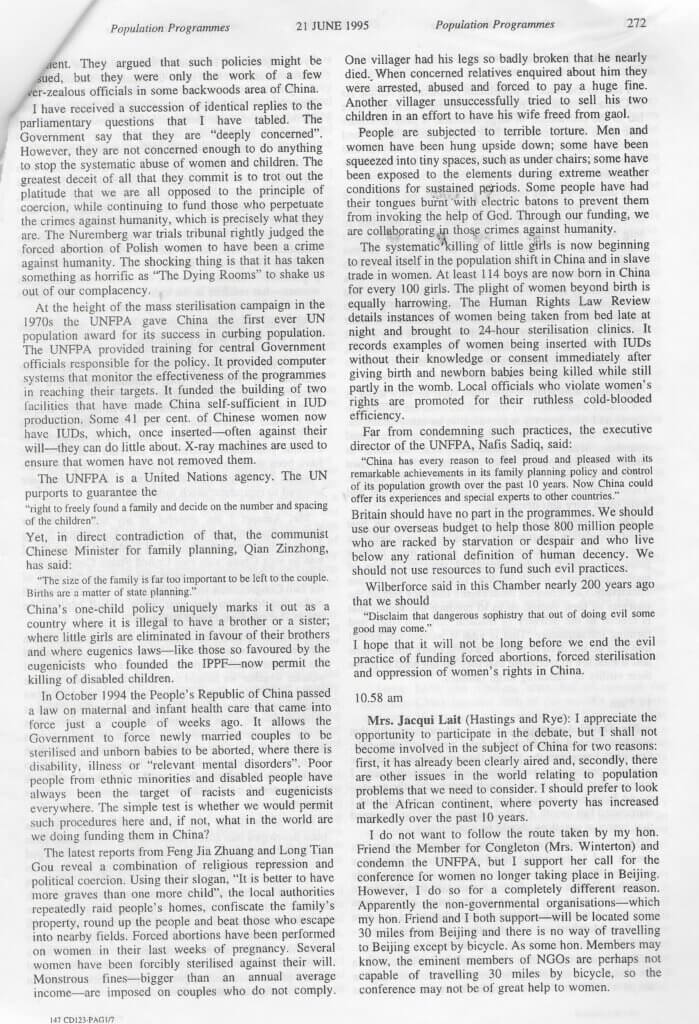 3. Extracts from Hansard
(a) Lord Alton's speech at Committee Stage – 16th July 2001
I signed Amendments Nos. 23 and 24, together with the noble Baroness, Lady Rawlings, the noble Baroness, Lady Cox, who apologises to the House, as she is on parliamentary business in Indonesia at the moment, and the noble Baroness, Lady Young, who is absent on parliamentary business elsewhere.
It might be convenient to speak to Amendment No. 26A in the name of the noble Lord, Lord Brennan, at the same time. I strongly support the intentions behind it. The amendment would go a long way to deal with some of the questions raised in Amendments Nos. 23 and 24.
This is a timely and topical debate, not least because of the decision in the past few days to award the Olympic Games to China, where coercive population control is regularly practised. Some Members of your
16 Jul 2001 : Column 1328
Lordships' House may have read an article in today's Daily Telegraph by Sion Simon, who is the Labour Member of Parliament for Birmingham Erdington. He said:
"The totalitarian brutality of the Chinese government is not in dispute. By the regime's own admission, it has executed more than 1,700 people in little more than the past two months. The most common crimes among the dead were forms of disobedience which in the rest of the world would be called expression".
The decision on the venue for the Olympic Games has met huge criticism throughout the country. As an example of that, I cite yesterday's Independent on Sunday:
"Optimists suggest that the Olympic spirit will ensure that China cleans up its human rights act in time for the Games".
But, the paper says,
"Think again. No, we can expect the Beijing Games to model themselves on Berlin in 1936–with dissenters brutally swept aside in a grotesque attempt to showcase a totalitarian regime … Don't be taken in".
The reason for drawing a parallel with that decision is that over the past 20 years successive governments have argued that we should do business with China in the whole area of reproductive rights and that, sooner or later, we shall be effective in preventing the coercive population policies pursued there. I do not mention this issue simply because of a distaste for abuses of human rights in China; I have taken a long and sustained interest in this matter since the Chinese Government introduced the policy in 1980.
Indeed, looking back to my time in another place, together with the Member of Parliament for Congleton, Mrs Ann Winterton, in 1995 I initiated a debate there following the broadcast of a programme entitled "The Dying Rooms" by Channel 4. Brian Woods, the director of the programme, wrote about his harrowing visit to a number of orphanages in China at that time. He said:
"Every single baby in this orphanage was a girl … the only boys were mentally or physically disabled. 95 per cent of the babies we saw were able-bodied girls".
He also said:
"The most shocking orphanage we visited lay, ironically, just twenty minutes from one of the five star international hotels that herald China's emergence from economic isolation".
That programme followed another broadcast by BBC2 called "Women of the Yellow Earth". Both programmes highlighted how forced abortion, forced sterilisation and the forcible fitting of IUCDs for women had been commonplace in China since the one-child policy was introduced in 1980. The simple test that I suggested in the debate in another place in 1995 was whether or not we would permit such procedures to take place here. If not, I asked, what in the world were we doing funding them in China?
At that time, I took those arguments to the then Minister responsible for overseas development, the noble Baroness, Lady Chalker of Wallasey. I had two meetings with her. I saw the present Secretary of State, Clare Short, for whom I have considerable respect, not long after she came to office. To use a phrase that probably explains that we both held trenchant views on either side of the argument, we held a very frank discussion.
16 Jul 2001 : Column 1329
The noble Baroness, Lady Chalker, and Clare Short have argued consistently in the same context as the arguments put forward for the Olympic Games being held in Beijing–that is, if we were inside we might be able to affect the population policies being pursued by the Chinese Population Association. Successive governments have also argued that we do not fund the Chinese Population Association directly. However, no one has disputed that the funds that we do provide to the United Nations Population Fund–the UNFPA–and to the International Planned Parenthood Federation–IPPF–go into the CPA and, thence, into the one-child policy. Ministers have always accepted that, and I shall allude to it again during the course of my remarks.
During the past 15 years or so both in another place and here I have regularly tabled Questions to Ministers on these subjects. The noble Baroness, Lady Amos, replied to a Question which I tabled in March this year when I raised with her the matter of a report which appeared in the Sunday Times. I shall return to that report in a moment. In reply, she said:
"The incident in Hubei Province is deplorable, and the Government remain concerned about reports of reproductive abuses and other human rights abuses in China. But we also believe that programmes of the kind supported by UNFPA can contribute to improving policy and practice, and to
helping to bring about a climate where coercion and abuse will no longer be tolerated".–[Official Report, 6/3/01; cols. WA24-25.]
Therefore, the argument remains the same: if we stay within, somehow we shall be able to influence events. The purpose of this amendment is to say that surely the point has now been reached where we can see that that policy has not succeeded and that, therefore, the moment has now come to change the policy.
The report in the Sunday Times to which I referred was based on evidence produced by Amnesty International. Michael Sheridan said:
"A retired doctor had rescued the newborn child from the cesspit of a men's lavatory, where he had been tossed to die. Liu Juyu took the baby to a clinic, where she was confronted by five birth control officials. Amnesty says they snatched the baby, threw him to the ground, kicked him and took him away to be drowned in a paddy field.
The child had been born in breach of local quotas enforced by the officials, who feared higher-level punishment if their targets were not met".
In the same report, another case referred to,
"mass demonstrations … held in Changsha, Hunan province, after cadres tortured to death a man who would not reveal the whereabouts of his wife, who was believed to be pregnant".
Those are not lurid reports dreamed up by journalists. Amnesty International's citing of that case highlighted the growing resistance in China to such brutal methods. Perhaps later in the week–I have tabled an Unstarred Question on these matters for Wednesday–I shall have the opportunity to return in further detail to what Amnesty said.
There has been a change of mood in relation to these issues. Considerable change has occurred in the United States, for example, following hearings in Congress held on 10th June 1998 to which I shall refer
16 Jul 2001 : Column 1330
again in a moment. The very first act of the incoming Bush Administration was to stop the funding of such programmes.
Change has also taken place here. When Mr Gary Streeter was appointed as the spokesman on overseas aid for the Opposition, I went to see him and we had an extremely useful discussion. He promised me that he would take the issue most seriously. As a consequence, I was delighted to read in the Conservative Party manifesto at the general election an undertaking that these policies would be reassessed. Therefore, I was even more pleased when the noble Baroness, Lady Rawlings, moved this amendment today and provided us with the opportunity to discuss–not in an adversarial, partisan way–the issue further as the summer proceeds between now and Report stage on 16th October.
Instinctively, I would wish to divide the House on the matter, but not today. I want people to have the chance to consider the issue and to see whether we can make a common purpose and recognise that all the evidence that is emerging shows that the previous policy of hoping for the best is simply not working.
When Congressman Chris Smith spoke to the congressional hearing, he cited the example of the Nuremberg trials. He said then that forced abortion was rightly denounced as a crime against humanity by the Nuremberg tribunal. He said that the United Nations should be organising an international tribunal to investigate and prosecute the perpetrators of the Chinese population control programme. Indeed, he added, it continues to fund and congratulate them.
In evidence to that Select Committee, an extraordinary account was given by Gao Xiao Duan, who was herself a birth control official in China. She had managed to flee from China and gave evidence directly to Congress. She said:
"Should a woman be found pregnant without a certificate, abortion surgery is performed immediately, regardless of how many months she is pregnant".
Elsewhere in her evidence, she said:
"Following are a few practices carried out in the wake of 'planned-birth supervision'
I. House dismantling … this practice not only exists in our province, but in rural areas in other provinces as well".
When referring to sterilisation she said:
"The proportion of women sterilized after giving birth is extraordinarily high".
She continued:
"During my 14-year tenure … I witnessed how many brothers and sisters were persecuted by the Chinese communist government for violating its 'planned-birth policy.' Many of them were crippled for life, and many of them were victims of mental disorders resulting from their abortions. Many families were ruined or destroyed. My conscience was always gnawing at my heart … Once I found a woman who was nine months pregnant, but did not have a birth-allowed certificate. According to the policy, she was forced to undergo an abortion surgery. In the operation room, I saw how the aborted child's lips were suckling, how its limbs were stretching. A physician injected poison into its skull, and the child died, and it was thrown into the trashcan. To help a tyrant do evils was not what I wanted. I could not bear seeing all those mothers grief-stricken by induced delivery and sterilization. I could not live with this on my conscience. I, too, after all, am a mother".
16 Jul 2001 : Column 1331
Harry Wu, the human rights activist who was imprisoned in China for many years, also gave evidence. There is not time this evening to go into great detail, but I am sure that Members of the Committee would wish to hear one or two of his statements. He said:
"In Communist China, grassroots PBP cadres"–
that is, planned birth policy cadres–
"are stationed in every village. Those communist party and government cadres are the most immediate tools for dominating the people … They must watch every woman in the village, their duty being to promptly force women violators to undergo sterilization and abortion surgeries … PBP is targeted against every woman, every family".
The evidence continues to amass. The Medical Foundation for the Care of Victims of Torture made available to me documents from the research directorate of the immigration and refugee board in Ottawa, Canada. In its evidence, it said:
"Beyond sheer population growth, the Chinese government has acknowledged that it is facing two difficult demographic issues–an ageing population and a growing gender imbalance … both of which are in part related to its population policies of the past decades".
That refers to the fact that there is now a disproportionate balance between the sexes–about 120 boys are now born for every 100 girls. The Sunday Telegraph of 22nd September 1998 highlighted the consequences of that policy in an article entitled, "China's kidnapped wives". Of the practise of kidnapping young women, it stated:
"It has become a huge and lucrative business in China. In the five years up to 1996, 88,000 women who had been kidnapped were released by the police–and 143,000 kidnappers caught and prosecuted".
That is a direct result of the fact that the number of women available is not the same as the number of men living in that country. The article continues:
"The kidnap trade has grown up for one simple reason: the massive imbalance of the sexes in the Chinese population. According to the Chinese Academy for Social Sciences, there are now 120 males for every 100 females in China.
The shortage of women is a result of Communist China's one-baby rule–and the deep-grained peasant desire for that one baby to be a boy. Approximately nine out of every 10 of the millions of abortions performed in China each year are, experts say, aimed at getting rid of a female foetus".
Those are some of the consequences of the approach. Another consequence is called the "little emperor" syndrome. Inevitably, if a baby is a single child, he or she is often doted on in such a way that he or she becomes spoilt and grows to be socially immature and unable to relate properly to other children.
The report that the medical foundation made available to me suggests that the policy simply does not work anyway. It states:
"Some sources question the efficacy of the country's population policy, pointing out that the country's fertility rate dropped significantly in the 1970s, but that there has been no subsequent marked decline after the policy's implementation".
16 Jul 2001 : Column 1332
The report also refers to corruption. Many officials abuse the system because they have more than one child although they require others to conform to the policy.
I realise that time is short and I do not intend to detain the Committee for much longer. However, this is a rare opportunity to debate a crucially important question. This country provides vast sums that go towards the policy. The UK Government gave the equivalent of £15 million to UNFPA in 1999 and the equivalent of £5.8 million to IPPS in 1999. In addition, they donated an estimated £39.5 million directly to China through concessionary financing arrangements.
There is much evidence showing the way in which the money has been abused. I could cite Dr John Aird's book, Slaughter of the Innocents, or the evidence of Amnesty International or the medical foundation. A couple of years ago the BBC World Service reported that riots had broken out near the southern city of Gaozhou,
"after government officials moved in to enforce the country's one child family planning policy".
I have referred to the gender gap and the condition of orphanages. According to the latest available figures, which were compiled in 1994, about 1.7 million children are abandoned each year. The vast majority of those who are eventually admitted to orphanages are female, although some are disabled or in poor health.
China is the only country in the world in which it is illegal to have a brother or a sister. It is extraordinary that millions of pounds–British taxpayers' funds–have been poured into those policies over the years. In this context we also need to consider the distorting effect on the population in that country and the abusive approach used in countries such as Tibet, in which the Tibetan population has been deliberately reduced by coercive population means. We should also consider the abuse of women through forced sterilisation, forced abortions and the forced fitting of IUCDs. Those matters and the massive destruction of life should cause us seriously to reconsider whether we should make our resources available to support such an approach. I therefore with great pleasure support the amendment moved by the noble Baroness, Lady Rawlings.

(b) Lord Alton's Unstarred Question on Human Rights in China – 18th July 2001
Lord Alton of Liverpool rose to ask Her Majesty's Government what assessment they have made of human rights abuses in China, and whether they intend to re-assess the funding of agencies involved in population control measures in China.
The noble Lordsaid: I ask this Unstarred Question against the backdrop of massive violations and abuses of human rights in China. I am extremely grateful to those noble Lordsfrom all sides of the House who have indicated their willingness to contribute to the debate.
Amnesty International has pointed out that the Chinese,
"in their latest 'strike hard campaign', have managed to execute more people in three months than the rest of the world put together for the last three years".
Over 1,700 people have been executed since April. Amnesty states that:
"few would have received a fair trial".
18 Jul 2001 : Column 1554
Political rights, freedom of expression and association, the abuse of religious liberties and intolerable interference in people's personal and family lives all characterise life in China today. Yet we appear remarkably silent and complacent. From the decision to stage the Olympic Games in Beijing to our silence on Tibet, from our continued aid programme and deepening of business ties, we have demonstrated a calculated indifference to widespread suffering and misery in that country.
Today, I wish briefly to concentrate on two specific instances of human rights abuses. On Monday last, during the Committee stage of the International Development Bill, I supported an amendment from the Opposition Front Bench seeking to end British funding for agencies involved in the one-child policy in China. During my speech, reported at column 1327 of the Official Report, I documented examples of appalling abuses of the human rights of women and their families. On 16th October, the House will return to these issues at Report stage. I hope that Her Majesty's Government will use the intervening period to reflect on the evidence that I laid before your Lordships' House.
In particular, I hope that the Government will reassess their argument that because there is a non-coercive population policy being pursued in 32 counties, this mitigates the use of coercion in the other 2,500 counties in China, or in its 335 prefectures, 666 cities and 717 other urban districts.
This barbaric policy of forced abortion, the compulsory sterilisation of women and the compulsory fitting of inter-uterine devices, accompanied by infanticide and terror, has been pursued now for some 20 years. British taxpayers' money has been poured into the International Planned Parenthood Federation (IPPF) and the United Nations Population Fund, which in turn pour money into two agencies of the Chinese communist state, the SFPC (State Family Planning Commission) and the CFPA (Chinese Family Planning Association).
The CFPA is a full member of IPPF and has been headed since its inception by Chinese government officials. It has a declared aim to "implement government population policies". Quin Zinzhong, one of the Ministers who has overseen that policy, said:
"The size of the family is far too important to be left to the couple. Births are a matter of state planning".
In one province the slogan,
"It is better to have more graves than one more child",
has been used.
Over the past 20 years, apologists for this policy have argued that it needs time to work; that the West will ultimately be able to influence a more enlightened approach; and that this funding is a legitimate use of our aid programme. But I invite your Lordships to measure those arguments against the following four reference points and to ask what horrors have to occur before we, like the American Administration, reassess this policy.
18 Jul 2001 : Column 1555
First, Catherine Baber of Amnesty International, says:
"We are especially worried about people being put into detention to put pressure on pregnant relatives to undergo forced abortions. As far as we are concerned, that amounts to torture".
Secondly, the US State Department confirmed in a recent report that women had been incarcerated in "re-education centres" and "forced to submit to abortions". Thirdly, the BBC reported that refugees arriving in Australia had cited coercive family planning as one of their reasons for leaving China. And, fourthly, Tibetan dissidents, who were quoted in the Tibet Vigil on 24th August last year, said:
"What is the UK doing helping to fund birth control policies in Tibet, an occupied country? . . . China's inhumane policies of enforced sterilisation and abortion amount to genocide".
In an intervention in the debate on Monday, I cited the Government's own document, China: Population Issues, where the department admits that the involvement of the UNFPA and the IPPF has,
"not led the Chinese to moderate their policies or to stop abuses".
The former executive director of the UNFPA, Nafis Sadiq, said:
"China has every reason to feel proud and pleased with its remarkable achievements in family planning policy . . . Now China could offer its experiences and special experts to other countries".
A few weeks ago, Amnesty International highlighted the cases of a baby boy, born above the permitted quota level, who was kicked to death by family planning officials. That case was reported in the Sunday Times. Amnesty International also reported the case of a man who was tortured to death because he would not reveal the whereabouts of his pregnant wife. I find it extraordinary that no-one disputes that these outrages occur daily, and yet we persist in issuing weak words of disapproval and providing funding which finds its way to the perpetrators of these deeds.
China's repression of its citizens also manifests itself through religious persecution. The 1989 events culminating in the Tiananmen Square massacre precipitated an increased repression of all activity which the Chinese state perceived as a threat, including religious practice. The tone was set by "Document No. 6" issued by the Communist Party Central Committee in February 1991, which called for the elimination of all "illegal" religious groups. Within the last year, 130 evangelical Christians were detained in Henan province. They were all members of the Fangcheng Church, one of many Protestant house churches. They were sent to re-education centres.
Amnesty International say that 24 Roman Catholics, including a priest and 20 nuns, were detained in Fujian province, where police found them holding church services in a mushroom processing factory. Father Liu Shaozhang was so badly beaten by police that he vomited blood, and the whereabouts of many of the other detainees remains unknown.
18 Jul 2001 : Column 1556
Many of your Lordships will have seen the report which appeared recently in The Times. It concerned a 79 year-old Catholic bishop who had been re-arrested. He had already spent 30 years in Chinese prisons. The report from Oliver August said:
"Bishop Shi has long been a target of police harassment. A police spokesman said: 'We have been hunting for him since 1996' . . . ordained in 1982 after spending 30 years in prison. He was back in a labour camp between 1990 and 1993".
And he has subsequently been re-arrested.
When I wrote to the Ambassador of the People's Republic of China in London, I received a reply dated 19th June from Zhao Jun, the charge d'affaires, who said:
"in China, religious believers have not been subjected to suppression or prosecution in whatever form. No religious believers have been punished for their religious belief or normal religious activities. They will be dealt with only when they violate the law. The policy of freedom of religious belief remains unchanged".
But whether it is in regard to the Falun Gong, Buddhist monks and priests, Christian evangelicals or Catholics, all the evidence that has been accumulated by both the human rights group, the Jubilee Campaign, and by Amnesty International proves otherwise.
I have four specific suggestions. First, that there should be sustained international pressure on the Chinese Government to permit religious freedom in China and to release all those detained for their peaceful religious beliefs and practices. Secondly, that the system of official religious organisations and the requirement that one must join them in order to worship should be abolished. These organisations are often used as instruments of control and repression by the state. Thirdly, that the restrictions placed on the publishing and distribution of the Bible in China should be lifted. Fourthly, the state's prohibition against Sunday schools and the giving of Christian teaching and baptism to young people under the age of 18 should also be lifted.
China systematically uses re-education centres and imprisonment for religious believers and political reformers. These include political dissidents, such as members of the banned China Democratic Party, and anti-corruption and environmental campaigners. Suppression of the Internet, arrests, detentions, unfair trials and executions, the imprisonment of hundreds of Buddhist monks, Christians and members of Falun Gong, and the barbaric treatment of women and children through the one-child policy, must surely cause each one of us to question how we can persist with a policy of business, sport and aid as usual.
Lord Alton's Speech at 3rd Reading – 25th October 2001
Lord Alton of Liverpool: My Lords, it is a great pleasure to follow the noble Lord, Lord Elton, and the noble Baroness, Lady Cox, who have spoken to the amendment so eloquently and effectively.
As the noble Lord reminded us, the amendment has its genesis in an amendment tabled at Committee stage by the noble Baroness, Lady Young, and moved by the noble Baroness, Lady Rawlings. I supported the amendment then and am happy to do so again today. Perhaps I may associate myself with remarks by the noble Lord, Lord Elton, in connection with the health of the noble Baroness, Lady Young. Many Members from other parts of the House will join with friends of the noble Baroness in wishing her a swift recovery to full health. We want to see her back in her place taking part in our debates very soon.
In Committee I suggested a simple test for the amendment. Would we permit such policies or practices to take place here, and, if not, what on earth were we doing funding them in other parts of the world? Following that debate and my Unstarred Question on the issue in July, I was grateful to the BBC for transmitting a report from Beijing highlighting the way in which the "one child policy", as it was described by the noble Lord, Lord Elton, targets little girls. I am grateful to the corporation for the moving footage that it showed of the brave Chinese woman who had rescued five new-born baby girls who had been dumped on the local garbage heap because their parents were in breach of the "one child" quota. Sadly, that same woman said that she had to leave behind many others.
We understand the good reasons why the noble Baroness, Lady Amos, cannot be present today, and acknowledge that the noble Lord, Lord Grocott, will be most effective in dealing with the Government's
25 Oct 2001 : Column 1112
arguments in her place. At earlier stages of the Bill, the noble Baroness set out five arguments in total as to why the amendment should be resisted. Perhaps I may summarise them.
The first concerned free choice. The noble Baroness said that the Government are totally opposed to any kind of coercion in matters relating to childbearing. I doubt whether anyone in this House would disagree. The second and third arguments suggested that, by working from within, we should somehow be changing policies with which we disagreed. The noble Baroness specifically said that the IPPF and UNFPA could act as forces for positive change. The fourth argument was that, because some good is being done, we could be relaxed about policies of which we disapprove, with particular regard to China. The final argument was that if we accepted the proposed amendments,
"embedding current policies and priorities in legislation [we] could restrict our ability to make the most effective contribution possible to the elimination of poverty and to the welfare of people".–[Official Report, 18/10/01; col. 730.]
It is proper to address those arguments, which have run through all stages of the Bill.
In the United States, the same arguments have been put. But our American allies have reached conclusions that are diametrically opposed to those of Her Majesty's Government. Their decision to end all funding of what they describe as brutal and inhumane policies of coercion is one that we have a chance to emulate today. It is my belief that we should redeploy the resources that are currently used for such policies into the humanitarian relief programmes that are so desperately needed in places such as Afghanistan. Although my remarks are made with regard to the continuing human rights abuses in China, the amendment applies more widely, wherever UK government funding is complicit in coercive population control.
As I said, the Government place great stock on bilateral human rights dialogue with China and on the role of the UNFPA and the IPPF as positive forces for change. During the debate on my Unstarred Question on 18th July, the noble Lord, Lord Moynihan, illustrated the problem. The noble Lord asked:
"Has China been persuaded to live up to the standards of the UN covenants it has signed, including the International Covenant on Civil and Political Rights? Has China been persuaded to resume dialogue with the Dalai Lama? Has it given Tibet real control over its own affairs? Has China's persecution of Tibetans and the suppression of their traditional culture and religion ended? Has the boy designated as the Panchen Lama been produced? … The answer on all counts is a resounding 'No'".–[Official Report, 18/7/01; col. 1559.]
The noble Baroness, Lady Amos, admitted on behalf of the Government that the human rights situation in China "remains bleak" and the process of dialogue,
"has achieved little in terms of promoting positive change in Tibet and on the freedom of religion and the treatment of Falun Gong practitioners".–[Official Report, 18/7/01; col. 1575.]
So, by the Government's own admission, the bilateral human rights dialogue with China is failing to curb widespread and appalling human rights abuses.
25 Oct 2001 : Column 1113
Looking more specifically at population control in China, up-to-date evidence suggests that the UNFPA and the IPPF, which together receive about £20 million in unrestricted government grants each year, are not only failing to prevent coercive population control but are implicated in the coercive practices of the Chinese state family planning organisations.
Only last week, the United States Congress International Relations Committee held a hearing into,
"Coercive Population Control in China: New Evidence of Forced Abortion and Forced Sterilisation".
Perhaps I may say in parenthesis that I have been disappointed that the International Development Select Committee and the Foreign Affairs Select Committee in another place have never examined these policies in the detail with which they have been examined in Congress. Nor has any Select Committee in this place. If nothing else comes out of our debates during the course of the Bill, we fervently hope that one of those committees will do as the United States has done and call evidence on these questions.
The US committee heard last week that in January 1998 the UNFPA signed a four-year agreement with Beijing. Under it, the UNFPA would operate in 32 counties throughout China. In each of those counties the central local authorities agreed that there would be no coercion and no birth quotas and that abortion would not be promoted as a method of family planning. Indeed, when I spoke to the Secretary of State, Ms Clare Short, about this issue some three years ago, she pointed to that project and said that we must wait and see what happened there. She said that it might well denote a change in the attitude of the Chinese administration.
Yet after hearing last week first-hand testimony from one of those counties, Henry Hyde, the chairman of the House of Congress International Relations Committee, concluded,
"that, after three years, the new arrangement is not working".
That directly contradicts the Government's arguments that we must give the UNFPA and the IPPF more time and that somehow they might then be able to act as positive forces for change and that assistance given is based upon principles of free and informed choice. None of those arguments stands up to scrutiny; they simply are not true.
First-hand testimony of the persistence of coercive population control in areas in China where the UNFPA operates, and, indeed, the collusion of the UNFPA in such coercion, was provided to the committee on international relations by Josephine Guy, the director of governmental affairs of America 21. Her investigation in China began as recently as 27th September of this year. The evidence she uncovered cannot therefore be dismissed as out-of-date, rather it demonstrates the continuing horrors of coercive population control which we aid and abet through continued funding of the UNFPA and the IPPF. I shall provide your Lordships with some examples.
25 Oct 2001 : Column 1114
On 27th September, Guy's team interviewed women in a family planning clinic about a mile from the county office of the UNFPA. They interviewed a 19 year-old who told them that she was too young to be pregnant according to the unbending family planning policy. While she was receiving a non-voluntary abortion in an adjacent room, her friends pleaded that she be allowed to keep the baby. However, they were told that there was no choice as the law forbade that. At another location a woman testified to that same group–this evidence was also presented to the committee last week–that she became pregnant despite an earlier attempt by family planning officials forcibly to sterilise her. That attempt failed. She became pregnant again and was forcibly sterilised a second time. She told Guy's team that had she refused, family planning crews would have torn her house down. The House will recall that in Committee I provided evidence of that happening on a regular and systematic basis in many parts of China.
Josephine Guy was also told of the non-voluntary use of IUDs and mandatory examination so that family planning officials could ensure that women had not removed IUDs in violation of policy. Fines and imprisonment for contravening family planning policy are commonplace and, according to Harry Wu, the executive director of the Laogai Research Foundation, who also gave evidence to the committee, local officials acting upon government orders still strictly enforce quotas.
We should be absolutely clear that the Chinese Government remain firmly committed to the need for coercion in family planning. The Chinese Premier, Zhu Rongji, said on 13th October 1999 that,
"China will continue to enforce its effective family planning policy in the new century in order to create a favourable environment for further development".
In its White Paper on population, released on 19th December 2000, the People's Republic of China avowed to continue the one-child policy for another 50 years. The CFPA, which is run by government officials with the declared aim to "implement government population polices", is, of course, a full member of the IPPF whom we fund.
The UNFPA is highly implicated in the Chinese Government's coercive programme and yet continues to receive millions of pounds of UK taxpayers' money. Josephine Guy's team graphically illustrate the extent of collusion between the UNFPA and Chinese family planning officials. Following last month's investigations they concluded that,
"Through discrete contact made with local officials, we located the County Government Building. Within this building, we located the Office of Family Planning. And within the Office of Family Planning, we located the UNFPA office. Through local officials, we learned the UNFPA works in and through this Office of Family Planning. We photographed the UNFPA office desk, which faces–in fact touches–a desk of the Chinese Office of Family Planning".
The US based Population Research Institute (PRI) has stated:
"UNFPA's claims are false … Within counties where the UNFPA is active … contrary to UNFPA claims, the one-child policy, with its attendant targets and quotas, is still in place …
25 Oct 2001 : Column 1115
there is no real distinction between the one-child policy as carried out in the 32 counties where the UNFPA is active and the one-child policy found throughout China as a whole. The UNFPA, contrary to its own statements, is participating in the management and support of a program of forced abortion and forced sterilisation in China".
That PRI investigation took place in September of this year.
Furthermore, these claims are not unsubstantiated. The US State Department has reported that three years of UNFPA's programme has met only with what is called "mixed" success, with some counties having made "relatively little" progress while others have not begun to eliminate strict birth control quotas.
The amendments before the House today would not stop funding for abortion or family planning services. Many noble Lords will be aware of my personal views on some of these questions and they will have their own views. I should make it abundantly clear that those are not the issue before the House today. The amendment would stop government funding only where there is evidence of coercion. In addition, the amendments are not anti-China but would assist China as it strives to meet its international obligations. If UNFPA funding was stopped, the Chinese would be given a clear signal that if it is to resume coercion must cease.
I fail to see how the amendments would prejudice the Government's fight to eliminate or to eradicate poverty. There are plenty of organisations in the world involved in the fight against poverty that are not complicit in coercion and there is no reason why funding for those should cease. It is simply scaremongering to suggest otherwise. It is complacent to say, "We do not approve of coercion but there is nothing we can realistically do about it", or, "We are in sympathy with your views but this is not the way to do it". If it is not the way to do it, the House is entitled to be told what is the way to do it.
The noble Baroness, Lady Amos, conceded the purpose behind the amendments on Report last week when she said that they,
"would require the Secretary of State not to provide assistance to any organisations or individuals who were involved in promoting or practising coercive population policies".–[Official Report, 18/10/01; col. 729.]
She was right. That is all that these amendments seek to do. That is their straightforward intent. A coercive policy is in direct contradiction of the Government's stated aim that assistance should be provided based upon principles of free and informed choice. The Government's "softly, softly" approach to the Chinese is not working; rather it allows a conspiracy of silence to persist where, as Henry Hyde said in Congress last week,
"coercion is cloaked behind the rhetoric of voluntarism, shielded from criticism by yet another international seal of approval".
China is the only country in the world where it is illegal to have a brother or a sister. The draconian way in which this policy is enforced is an affront to civilised values. It is a disgrace that we continue to aid and abet those policies. I urge your Lordships to support these amendments and help to end the brutal violation of women's rights.