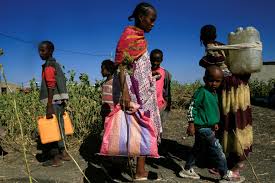 UK Government fails to respond to reports that Ethiopia shot at a UN convoy in Tigray and that Tigrayans have been removed from their jobs but says it is concerned by reports of mounting Eritrean involvement; and says "We are extremely concerned that humanitarian agencies, including the United Nations High Commission for Refugees (UNHCR), do not have access to refugee camps in Tigray"
Lord Alton of Liverpool – To ask Her Majesty's Government what steps they have taken in response (1) to the statement by the government of Ethiopia that (a) its military shot at a UN convoy, and (b) it wants the UN to travel in armed convoy; (2) to reports that Tigrayans have been removed from their jobs at the UN; and (3) to reports that the government of Ethiopia is preventing aid reaching Ethiopians.
[HL11518]
Lord Ahmad of Wimbledon – The Minister for Africa urged all parties on 11 December to recognise that humanitarian workers must be protected from attack and are not a target. We have been consistent in our request to the parties that humanitarian actors be granted free and unfettered access in the Tigray region, most recently by the UK Special Envoy on Famine Prevention and Humanitarian Affairs in his meetings with the Government of Ethiopia on 15 December. We will continue to work constructively with the Ethiopian authorities, the UN and others to this end.
In the week commencing 14 December, the World Food Programme was able to deliver 18 trucks of food assistance to Adi Harush and Mai Ayni Refugee Camps, without a Government of Ethiopia security escort. Humanitarian agencies including UK funded partners in Tigray are working hard in extremely challenging circumstances to deliver assistance to those in need. Urgent access is still required so that humanitarian support can be provided and delivery of essential services can resume immediately.
Lord Alton of Liverpool – To ask Her Majesty's Government what assessment they have made of reports (1) that the Eritrean military is fighting in Tigray, (2) that people have been abducted and returned to Ethiopia, and (3) of the seizure of Tigrayan land by (a) the government of Eritrea, and (b) the Amhara regional government; and what assessment hey have made of the impact of any such actions on the long-term stability of Ethiopia.
[HL11517]
Lord Ahmad of Wimbledon – The British Ambassador in Eritrea raised questions of Eritrean involvement with the Eritrean Foreign Minister on 2 December, who stated that there are no Ethiopian refugees in Eritrea, denied that Eritrea is involved militarily in the conflict, and categorically denied that Eritrean forces had forcibly returned Eritrean refugees to Eritrea. We are, however, concerned to note mounting but unconfirmed evidence since then of Eritrean involvement.
We are extremely concerned that humanitarian agencies, including the United Nations High Commission for Refugees (UNHCR), do not have access to refugee camps in Tigray, meaning our understanding of the humanitarian and protection context in camps and refugee hosting areas is limited. It is the responsibility of the host state to ensure refugees are protected and are not subjected to forcible return. This was acknowledged by the Government of Ethiopia when we raised the matter.
The UK is concerned by reports of ethnically-motivated attacks within Tigray and elsewhere in Ethiopia, and about the risk these events pose to Ethiopia's overall political stability and democratic transition, of which the UK has been supportive. In the Minister for Africa's statement of 17 December he called for the independent investigation of alleged violations of human rights