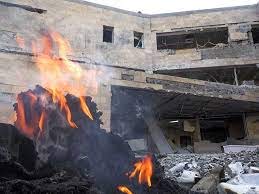 Nagorno-Karabakh: Genocide Emergency Alert
02 November 2020
Private Notice Question
2.00 pm
Tabled by
To ask Her Majesty's Government, further to the genocide emergency alert issued by Genocide Watch about the situation in the Nagorno-Karabakh region, what assessment they have made of their obligations as a signatory to the 1948 Convention on the Prevention and Punishment of the Crime of Genocide.
My Lords, as a party to convention on the crime of genocide, the UK is fully committed to the prevention and punishment of genocide as appropriate under the convention. We remain deeply concerned about the impact on civilians of the conflict in the Nagorno-Karabakh region and continue to call for urgent de-escalation and a return to negotiations.
My Lords, I thank the Minister. For weeks, Turkey and Azerbaijan were preparing to commit genocide, and Azerbaijan continues to target civilian settlements, including a maternity hospital, with heavy weapons, cluster bombs and drones. According to Genocide Watch's 10 stages of the genocidal process, Azerbaijan has already reached stage 9, extermination, and stage 10, denial. Will Her Majesty's Government fulfil their duty to protect and make urgent representations to the UN Security Council to impose an embargo on the sales of arms to Azerbaijan and demand that Azerbaijan immediately stops all offensive attacks?
My Lords, we remain deeply concerned about the conflict, regret the lack of progress towards a peaceful settlement and, of course, condemn any targeting of civilians. There is an OSCE arms embargo in place related to the Nagorno-Karabakh conflict and we believe that that is sufficient to ensure that the international community is not inadvertently party to attacks on civilians from either side. We will continue to make urgent representations to stop all offensive attacks, both directly to the parties and through the OSCE and the UN Security Council.
My Lords, this is one of the frozen conflicts at the edge of Europe. The difficulty is that it could grow out of control as a number of other powers, such as Russia, Turkey, Iran and the rest, are interested in the south Caucasus. Will the Government show a little more activity in this respect and use their influence to ensure that the troublesome individuals and players in the field are reined in somewhat?
My Lords, I agree with the noble Lord that this is a deeply complex and historic conflict and that it presents a risk to regional stability. We are absolutely trying to avoid any instability within the region. The UK is taking an active role. We are not co-chairs of the Minsk Group, but we fully support it, and we are working with our international partners bilaterally and multilaterally. We have regular contact with the Foreign Ministers of both countries and continue to urge the de-escalation of this conflict. We know that there will not be a military solution, and we need to see both parties return to the negotiating table. The UK will continue to press for that.
My Lords, does the Minister agree that we have to look at this in the round, bearing in mind that there is a long history of distrust and a search for revenge in both parties? As the noble Baroness, Lady Cox, said, Genocide Watch gives Armenia a rating of eight and 10, so it is not without some blame or concern. Could the Minsk Group be kicked into life? Could the Government make sure that the US, this week or next week, takes this problem seriously and make sure that there is some activity there? At the least we need observation on the ground of what is going on, because knowing that if you commit crimes you pay a price might be a way of reining people in.
I thank the noble Lord for his question. I agree that we must see both sides come to the table and that both sides need to compromise. We fully support the Minsk Group, which has been working hard to make progress. We have seen meetings in Moscow, Paris and Washington but, sadly, despite these efforts there has not been a sustained ceasefire. However, significant efforts will continue and we will continue to support the co-chairs in their work to bring about a sustainable peace.
My Lords, the present Turkish Government are very sensitive to allegations of an Armenian genocide 100 years ago. Does this not underline the need for Turkey, a valued member of NATO, to be unambiguous in its dealings with the current conflict, not only by ensuring that arms are not supplied to those involved in the murder of women and children but by showing in the clearest possible way that it is urging the parties to seek peace? What discussions has my noble friend had with the Turkish Government?
My Lords, we agree with my noble friend that Turkey needs to be part of the solution. The Prime Minister discussed the situation in Nagorno-Karabakh with President Erdoğan on 28 September. We have had ongoing conversations with Turkey. Most recently our Foreign Secretary spoke to Turkey's Foreign Minister. Turkey is a key NATO ally and sits on the front line of some of the most difficult and serious challenges we face. We encourage all external actors not to escalate the situation and to become involved in bringing about a peaceful solution.
My Lords, the noble Baroness has reminded us that we are signatories to the 1948 convention on the crime of genocide that places a duty on all its signatories to prevent, protect and punish. My noble friend Lady Cox reminded us that a maternity hospital has been bombed in Nagorno-Karabakh by Azeri forces. That is a war crime. What action are we taking to ensure that those responsible for war crimes are held to account? Important though it is to bring people back around the table, it must surely be a central objective of Her Majesty's Government that those who are responsible for war crimes and genocide are appropriately held to account.
My Lords, the UK is fully committed to the principle that there must be no impunity for the most serious international crimes. We continue to voice our support for this principle and continue to support the work of International Criminal Court and the international tribunals to tackle impunity for these crimes. All allegations of war crimes or other atrocities must be investigated, prosecuted and, if appropriate, punished. We completely condemn any attack on civilians.
Will the Minister comment on whether Her Majesty's Government believe that the criteria used to recognise Kosovo and the principle of internal self-determination which protects minority rights equally applies to the Armenians and Nagorno-Karabakh and on whether recognition might, as in Kosovo, prevent the possible ethnic cleansing of Armenians, which has historically characterised territorial border conflicts in that part of the Caucasus?
My Lords, we support the Minsk principles which ensure that there is an interim status for Nagorno-Karabakh and provide guarantees for security and self-governance. However, ultimately, future determination of the final legal status of Nagorno-Karabakh will need to be done through a legally binding expression of will.
My Lords, despite my initial concerns about the role of the US in the Minsk process, I am pleased about what has been attempted in recent weeks—certainly the brokering of the ceasefires which, as the noble Baroness mentioned, have sadly so far failed. The international community has a responsibility to promote and facilitate peace. As the noble Lord, Lord Pickles, said, we cannot ignore the role which outside actors are playing. Will the Minister tell us a bit more about what we are doing within NATO diplomatically to ensure that our concerns about Turkey's actions are properly and adequately conveyed?
My Lords, I agree with the noble Lord that we have a responsibility to promote and facilitate peace. That is what we are trying to do in this conflict. I also agree that the US is playing an important role. I mentioned the talks that are happening in Washington and the strong statements from the both the heads of state and the co-chairs of the Minsk Group.
NATO does not have a direct role in the conflict, but the Secretary-General has expressed concern over the escalation of hostilities. NATO is calling for all sides to cease fighting immediately and to find a way towards a peaceful resolution. We strongly support that stance.
The Minister has just said that NATO does not have a role in the conflict. That is certainly true, as things stand, but clearly the position in the Caucasus could easily escalate, particularly given Turkey's involvement. Can the Minister be a little more forthcoming about the activity that the Government are undertaking, in particular working to try to change Turkey's position and to get it involved in seeking peace?
My Lords, I mentioned that we are having regular conversations with Turkey at all levels to assist it in playing a constructive role in bringing about an end to this conflict. Of course, we are aware of its strong partnerships and military relations in the region but it is important that it plays a role in bringing both sides to the table and encouraging negotiation.
My Lords, the escalation of conflict is exacerbated by Azerbaijan's constant use of hostile propaganda. This is not conducive to effective peace negotiations. Will the Minister support Genocide Watch's call for world leaders to condemn such hate speech and promote an end to hostilities and the implementation of a new ceasefire?
My Lords, we fully support a new ceasefire—that is indeed what we are calling for. As I said, we regret that the ceasefire conversations have not brought about a sustained ceasefire, but we continue to encourage both parties to start a ceasefire.
On hate speech, the UK works to combat intolerance and hate globally and to promote tolerance and respect. I join my noble friend in her condemnation of hate speech.
My Lords, the noble Baroness mentioned civilians. Is the Minister aware of reports of the use of phosphorus by Azerbaijan in attacking woodlands in Karabakh? This is extremely dangerous for civilians as not only is it toxic but it would also ignite the very woodlands to which they have been forced to flee by Azerbaijani shelling of towns. Can the noble Baroness ascertain whether these reports are true? If they are, what actions might the Government take?
My Lords, we have seen a number of reports highlighting some terrible incidents affecting civilians. We will continue to monitor that carefully. Over the weekend, we announced new UK aid support, which is directly targeted to help thousands of people who have been affected by the conflict. That support includes urgent medical supplies, food and safer shelters. It is a £1 million aid package in response to an appeal through the International Committee of the Red Cross.
My Lords, I welcome the Government's assistance for aid. Almost a month ago Canada halted arms sales to Azerbaijan's backer and ally, Turkey, in the Nagorno-Karabakh conflict. Will the UK do likewise?
My Lords, we continue to monitor developments in the region closely and consider all export applications thoroughly against a strict risk assessment framework. We keep all licences under careful review. The UK complies with the OSCE arms embargo relating to the Nagorno-Karabakh region. This is considered as part of our export licensing process.
My Lords, reliable reports suggest that Azerbaijan, supported by Turkey, continues to deploy illegal weapons against civilian settlements in breach of international humanitarian law and Geneva conventions. Will Her Majesty's Government produce an urgent plan of protection, economic support and development for Nagorno-Karabakh?
My Lords, we will continue to do our utmost to end violations of international human rights law and, where appropriate, international humanitarian law. We are working to prevent the escalation of conflict and to help alleviate the suffering of those who are affected. I mentioned the new aid package to which the UK has contributed. We do not believe that there is a military solution. We think the best thing for the people of the region is for both parties to put aside any preconceived judgments and come to the negotiating table to bring about a peaceful settlement.
My Lords, the UK's obligations are clear and binding—to prevent and suppress actions of genocide. Will Her Majesty's Government refer the matter to the appropriate judicial authority in the UK or request a competent body of the UN to mandate the International Criminal Court to initiate investigations?
My Lords, we will continue to support the work of the International Criminal Court and international tribunals to tackle any war crimes that have been committed. We are looking carefully at Genocide Watch's report and will continue to work with all our international partners to ensure that anybody who commits war crimes or other atrocities is properly investigated and prosecuted and, if appropriate, punished.
My Lords, all supplementary questions have now been asked.
2.17 pm
Sitting suspended.