Over Christmas, Islamic State Beheaded 11 Nigerian Christians.
https://thenationonlineng.net/killing-of-11-christians-elders-forum-furious-with-buhari/
The BBC and other news outlets have provided shocking news reports with in depth analysis from  the ideology that is intent on creating a genocide in Nigeria.
Perhaps this will finally wake up officials in the UK's Foreign Office and in the Department for International Development who insist on saying that Nigeria's killings are overwhelmingly a result of climate change, loss of grazing land and poverty.
These may all be factors but to ignore the role of  a ferocious ideology is absurd, self-deceiving, wishful thinking.   Climate change didn't behead these innocent people whose only "crime" was their Christian faith. 
Pasted below is a parliamentary debate held 18 months ago. The warnings of systematic persecution and horrific executions, abductions, and an unfolding genocide have been wantonly ignored.  The failure to respond to these repeated warnings send a message to these Jihadists that the world doesn't care. 
The Prime Minister has rightly said that "In light of mounting evidence that Christians suffer the most widespread persecution… We will use the UK's global reach and programme funding to improve the lives of persecuted people."  And that "We will do everything possible to champion these freedoms…. We are determined to use the tools of British diplomacy in this cause, including our permanent seat on the UN Security Council."
These terrible executions in Nigeria will be a first test of how the UK's Foreign Office and Aid programmes will be deployed to provide substance to Boris Johnson's very welcome commitment to end such barbarism. 
https://www.bbc.co.uk/news/amp/world-africa-50924266
https://www.bbc.co.uk/news/world-africa-50924266?intlink_from_url=https://www.bbc.co.uk/news/topics/c50znx8v435t/boko-haram&link_location=live-reporting-story
https://www.foxnews.com/world/isis-beheads-christians-nigeria-baghdadi
Other sources:
https://www.nytimes.com/2019/12/27/world/africa/ISIS-executions-Nigeria.html 
http://www.asianews.it/news-en/Islamic-State-beheads-11-Christian-hostages-48906.html
https://www.aljazeera.com/news/2019/12/isil-claims-execution-11-christians-nigeria-191227141817907.html
https://www.independent.co.uk/news/world/africa/isis-beheading-christian-hostages-nigeria-iswap-baghdadi-a9261991.html 
December 27th 2019:
According to the BBC, the Islamic State group has released a video claiming to show the killing of 11 Christians in Nigeria:
IS said it was part of its recently declared campaign to "avenge" the death of its leader Abu Bakr al-Baghdadi during a US raid in Syria in October.
No details were given about the victims, who were all male, but IS says they were "captured in the past weeks" in Nigeria's north-eastern Borno State.
The 56-second video was produced by the IS "news agency" Amaq.
It was released on 26 December and analysts say it was clearly timed to coincide with Christmas celebrations." – BBC news report  
It brings back to mind the horrific executions, in 2015,  of 21 Egyptian Christians on the beaches of Libya by ISIS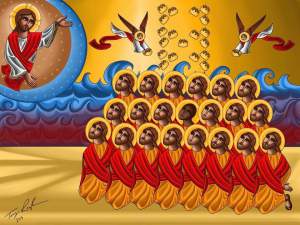 Ishaq Khalid, BBC News, Abuja:
"The video once again highlights the brutal tactics of Iswap, while the timing of the release – over the Christmas period – is also designed to get maximum attention.
This video may be intended to increase tension between Christians and Muslims in Nigeria, as well as put more pressure on the government to respond to their demands, says security analyst Kabiru Adamu.
Earlier this month, the group released a video of the captives, appealing to the Nigerian authorities and the Christian Association of Nigeria (CAN) to intervene.
Iswap has used hostage-taking as a bargaining tool – either for ransom or in exchange for their arrested members, although the authorities have never confirmed carrying out a prisoner swap.
The militant group has previously killed a number of hostages, including members of the security forces and aid workers but this is the largest group to be killed at one time.
It is not clear how many captives Iswap is currently holding in Nigeria, but there are believed to be dozens – mainly security forces, aid workers and those perceived to be associated with government institutions."
========================================
See the warnings given 18 months ago in a House of Lords debate  on Nigeria by myself ,Baroness (Caroline) Cox and Lord Chidgey:
Lord Alton of Liverpool Crossbench  2:16 pm, 28th June 2018
https://www.theyworkforyou.com/lords/?id=2018-06-28b.283.0&s=Nigeria+speaker%3A13103#g283.2