Legislate for Life
At 7.30pm on Thursday 25th of January in Belfast, Lord (David) Alton will be giving a talk entitled "Legislate for Life" at St Brides Hall, 38 Derryvolgie Avenue, Belfast BT9 6FP . All welcome.
On January 26th The House of Lords will debate Baroness (Nuala) O'Loan's new Bill on the right of conscientious objection against participating in abortions. The following link takes you to the report of Fiona Bruce MP and other parliamentarians about how conscience has been subverted: 
http://www.conscienceinquiry.uk/wp-content/uploads/2016/12/Pro-Life-APPG-Freedom-of-Conscience-in-Abortion-Provision.pdf
—————————————————————————————————————————————–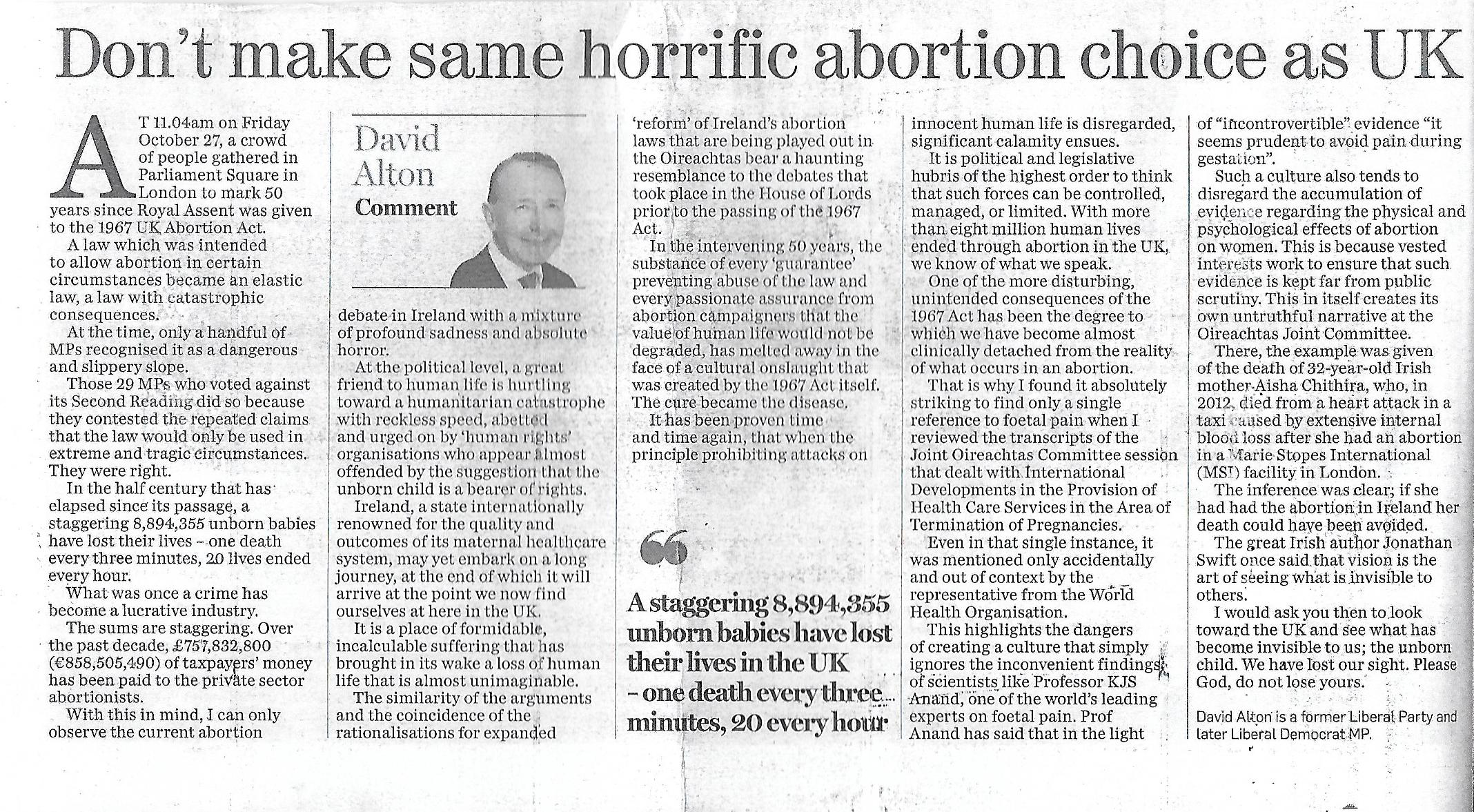 from The Irish Independent
Both Lives Matter….
To view the talk given by David Alton in Dublin on December 3rd, click here:
.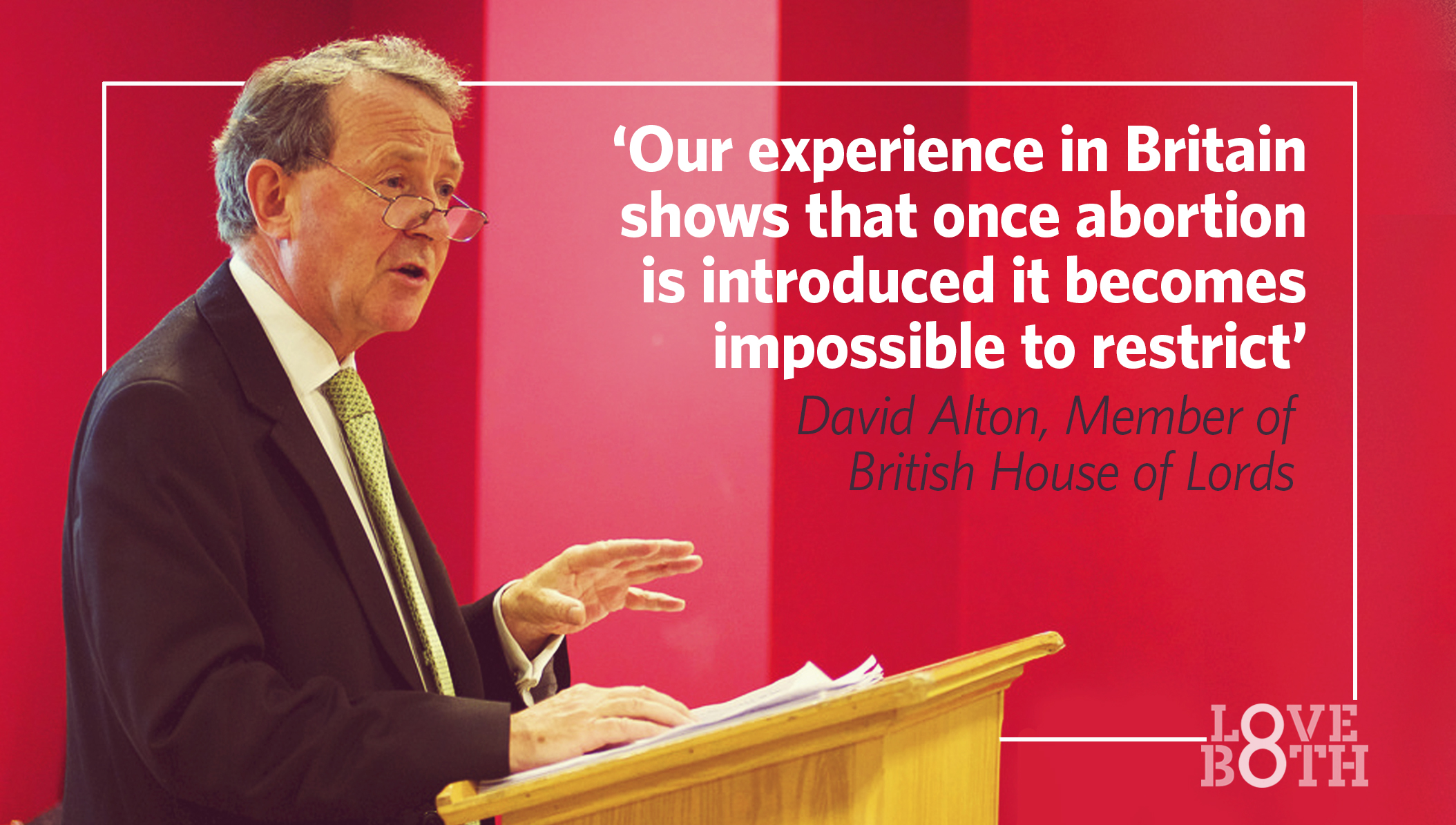 .
Count the Missing Britons and The People Of Ireland Would Be Wiped Out Twice Over
Speaking in an interview with an Irish Radio station before his visit to Ireland this weekend, David Alton set out his reasons why the Irish would be unwise to import British abortion laws to the Republic. Listen here:
 https://soundcloud.com/user-268048055/2017-12-01-david-alton-on-spirit-radio
 Speaking this weekend at a pro-life meeting in Dublin the Crossbench Peer, David Alton (Lord Alton of Liverpool), said that "there are 8,894,355 reasons why Ireland should reject the imposition of British-style abortion laws in Ireland.  That is the number of British lives lost since abortion law was enacted; a law that was supposed to be used only in the most extreme circumstances; a law which has led to 600 lives being lost every day – one every three minutes. That's equivalent to wiping out almost twice the entire current population of Ireland.
It is instructive that because the same British law was not enacted in the north of Ireland there are 100,000 people (5% of the population) who are alive today who would otherwise be dead.
So,  to remedy this, and to make a mockery of devolution,  the British Government has now imposed a policy to pay women to abort their babies in England – and in the case of girls under the age of 16 to remove them from the country and abort them overseas without the knowledge or agreement of their parents.  This smacks of the British policies of the nineteenth century which were based on the recommendation of Malthus that "a large part of the population of Ireland should be swept from the soil" and the beliefs of the twentieth century eugenicists, led by Marie Stopes, who said that the "racially negligent" should be prevented from having babies.
Today, Marie Stopes clinics are part of an abortion industry that has generated three quarters of a billion pounds over the past decade. This is all about money and vested interests about ideology and sloganeering, not about love and care for women and their babies.
Instead of State abduction and State sponsored abortion, Britain should be insisting that both  lives matter – and supporting both women and their children.  If Britain really believed in equality, and was against discrimination, it would be offering pregnant Northern Irish mothers the same funds – thousands of pounds – to abort their babies to help them, if they wish to go ahead with their pregnancy.  
And, as Ireland decides whether to uphold the Eighth Amendment or to adopt British-style laws, let no-one say this is about human rights. The foundational human right is the right to life. Without the right to life, all the others rights are worthless. There are 8,894,355 reasons why Ireland should continue to uphold the sanctity and dignity of every human life – because every life matters."
==========================================================================
The Times: reports claim that Abortion Committee is Biased
https://www.thetimes.co.uk/edition/ireland/abortion-committee-biased-say-activists-kgd6v6zsm
https://www.rte.ie/news/dublin/2017/1203/924688-pro-life-conference/
Here's a link to the Irish Times video
https://www.irishtimes.com/news/social-affairs/oireachtas-committee-criticised-at-anti-abortion-convention-1.3314363
I've often said that if you could prove to me that the science is wrong and that life doesn't begin at conception then I would change my mind about the "right" to take the life of an unborn child. This interview takes the same tack. The interviewer sets up a stall with a sign "I'm pro life, change my mind" and invites people to change his mind. Over 1 million people have viewed it. You'd never be allowed to see it on the BBC but you can watch it here:
https://m.youtube.com/watch?v=OCSZYJywQPM
=========================================================================
Also see this moving clip on "the love chromosome"
https://www.youtube.com/watch?v=-tNCFsPAQ94