19 Nov 2015 : Column 372  7.01 pm  Debate on Overseas Aid – Is aid to Pakistan challenging intolerance  and persecution and helping minorities?
Lord Alton of Liverpool (CB): My Lords, I thank my noble friend for initiating this debate and join others in congratulating the noble Lord, Lord Barker of Battle, on his maiden speech today.
19 Nov 2015 : Column 372
In parenthesis, because this has been a theme that has emerged in the course of the debate, all experience shows that if you tackle poverty then population falls naturally. If you launch population control programmes, you may end up with coercive policies such as those in China, where there are now 40 million more men than women and where we have seen gendercide—policies aided and abetted by the West and development programmes.
However, I shall focus my remarks on an issue that I raised two weeks ago with the Minister when she was good enough to meet a small delegation with Fiona Bruce MP and myself.
We expressed particular concern that British aid is not being used effectively to combat the rise of radical Islamist agendas and that, like our refugee policy, this is not being targeted to reach persecuted minorities, such as Yazidis and Christians, who are suffering genocide and crimes against humanity.
All around the world, as we are all too acutely aware, an ideological hatred of difference is driving a systematic campaign of persecution, deportation and exodus, degrading treatment including sexual violence, enslavement, barbaric executions, and attempts to destroy history and culture that is not its own.
I ask your Lordships to think of some of the countries that receive UK aid –  the biggest recipient of which is Pakistan. This year it will receive £405 million, making £1.17 billion since 2011.
How do we ensure that funding for education, for instance, is spent on the right things?
Here the noble Baroness, Lady Flather, and I would agree: think of young Malala, targeted simply because, as a girl, she wanted an education. Think about how the funding is being spent on promoting intolerance in the curriculum.
The Minister will recall some of the examples I gave her, not least in some Saudi textbooks that give children choices about which would be the best way to execute homosexuals. This is feeding and poisoning the minds of young people.
How do we ensure that Pakistan's beleaguered minorities receive help?
Last week I chaired two days of evidence sessions here in Parliament, where we heard how exactly a year ago a mob of 1,200 people forced two children to watch as their Christian parents were burned alive.
Pakistan has imposed the death penalty on a mother of five, Asia Bibi, for so-called blasphemy. It still has to bring to justice the murderers of Shahbaz Bhatti, the country's Minister for Minorities who was assassinated; only two nights ago we heard from his brother, Dr Paul Bhatti, who was here in the Palace talking about some of the other excesses committed not just against Christians but against Shias, Hindus and Ahmadis.
This is a country where churchgoers have been murdered in their pews. How is our aid programme making a difference there?
Or take Eritrea, which is in receipt of a $300-million aid programme handed over to the Afwerki regime by the European Union, and to which the UK has contributed. In June the United Nations said that Eritrea is a country which is likely to have carried out gross human rights violations. Some 5,000 people leave Eritrea every month. A total of 350,000 people, 10% of the population, have fled. This is a huge development question. It also leads to an exodus of people via  Mediterranean passages and some also, of course, to some being beheaded by ISIS.
19 Nov 2015 : Column 373
The House of Commons International Development Select Committee is currently conducting an inquiry into the Syrian refugee crisis. It was recently told by a witness that aid is not reaching the Christians or Yazidis because those are too frightened to go into the UN-registered camps.
How does the Minister respond to that?
DfID could usefully become proactive in promoting a debate about Article 18, the right to believe, not to believe or to change your belief.
Think of recent events with secularists in Saudi Arabia or Bangladesh. Look at the link between prosperous societies and those that uphold freedom of religion and belief.
These are crucial questions and should be at the heart of our aid programmes. It may salve our conscience to give money, but it has to be effective.
7.06 pm
http://www.acnuk.org/news.php/608/pakistan-amp-uk-dr-paul-bhatti-addresses-meeting-in-parliament
https://freedomdeclared.org/news/dr-paul-bhatti-addresses-meeting-in-parliament/
On 17th November Dr Paul Bhatti, brother of the assassinated Pakistani government Minister, Shahbaz Bhatti addressed Members of both Houses and supporters of the charity Aid to the Church In Need,  and led a discussion on persecution issues in Pakistan. Other Speakers included Dr John Newton,Wilson Chaudhry, Rehman Chishti MP, and the Revd Rana Khan.The meeting was an opportunity to commemorate the life of Shahbaz Bhatti, to hear about Aid to the Church in Need's work and to reflect on the consequences of violence, discrimination and persecution.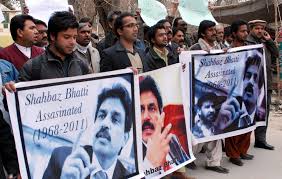 Dr.Paul Bhatti said:
Speech in United Kingdom
Dr Paul Jacob Bhatti
House of Commons 17th November 2015: In Westminster Hall with Dr.Bhatti.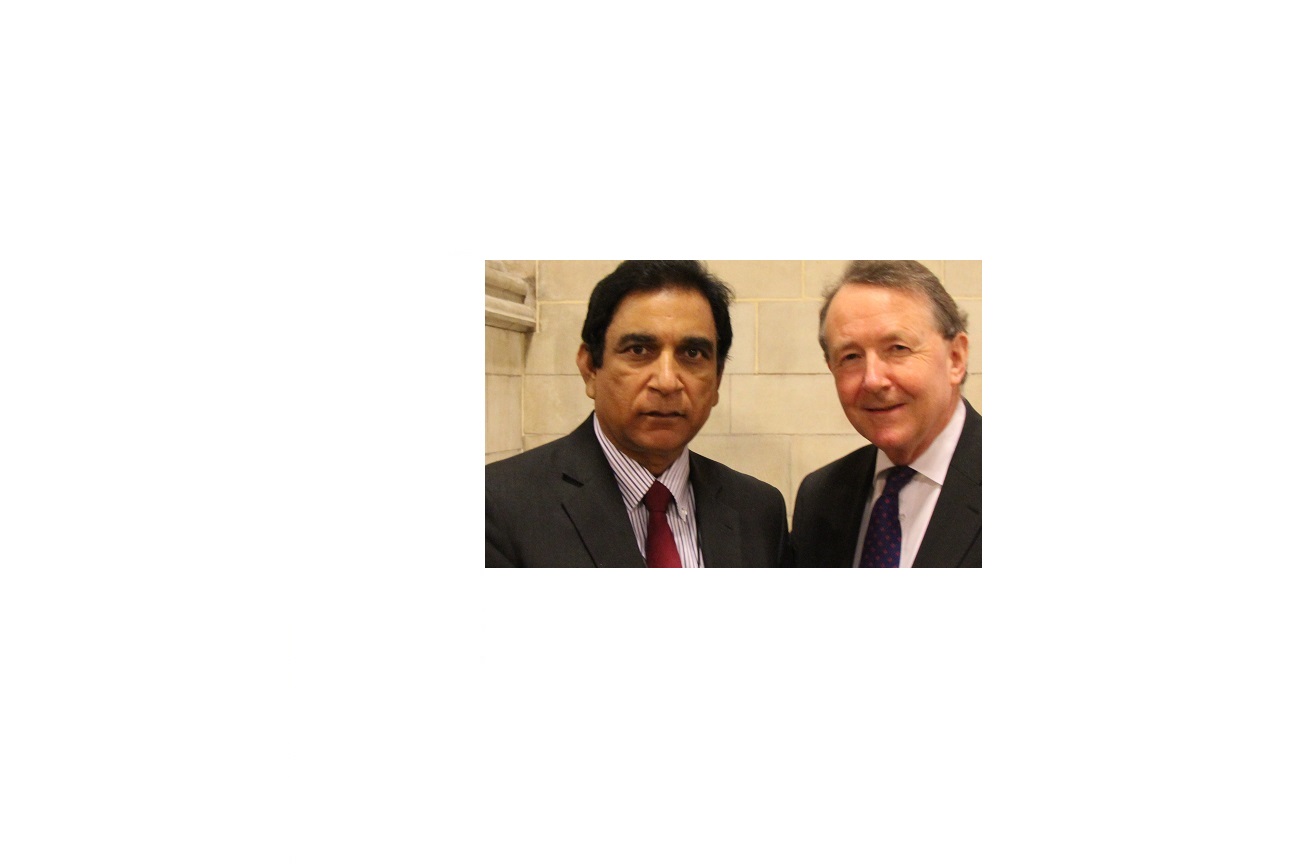 It is a real pleasure to be here with you all today to talk about the situation of Religious Minorities in Pakistan.
Since almost the last two decades Pakistan has been facing a series of challenges with religious discrimination and persecution, sectarian violence, economic crisis, political instability and terrorism. Despite anti-terrorism reforms, promotion of religious freedom, support of the international community, and precious sacrifices that have been made, we still facing the cruel and harsh realities of violence against the weak and voiceless people of our community. We are losing precious lives along with their properties. Sadly Pakistan has lost more than 6000 of its law enforcement personal during this war against terrorism including high-ranking military officials. Further, we all have witnessed precious loss of human activists and democracy promoters like Benazir Bhutto, Salmaan Taseer and Shahbaz Bhatti, and the attack on a young girl Malala, as well as false accusations of blasphemy against innocent victims. We have seen attacks on churches in Peshawer and Lahore, the incident in Gojra, and the recent act of violence against a poor couple who were thrown into a kiln as they were burnt to death. We have lost 145 of our school children that were gunned down in a military school in Northern Pakistan. The attack in Karachi on the Ismaili community resulted in at least 43 people being killed, and the murder of several innocent people form the Hazara community.
The culmination of these atrocities is beyond comprehension. It has left our entire nation shocked and discouraged raising many questions. Is Pakistan going in a right direction? Do we have a competent leadership to deal with such challenges? Is there an outside power maneuvering all this against Pakistan? Do we a have the right governance or not? What is the root cause of all this? How we can overcome this reality? What is the future of our children in Pakistan?
Pakistan today is facing serious challenges on many different levels and with this in mind our approach has to be different than in the West. We are a nation that has suffered several atrocities after independence: the two wars with India over the disputed region of Kashmir; the previous fall out of the Russian invasion in Afghanistan and the presence of over 3 million Afghan refugees in Pakistan; and recently, being an ally to the Western world in its fight against terrorism and extremism, has created a specific mindset among some people who are continuously destabilizing the country promoting hate, discrimination and terrorism. Pakistan is confronted with internal and cross border terrorism, sectarian violence, religious extremism and discrimination. We have also lost well over
60,000 innocent citizens and as I shared earlier well over 6000 law enforcement personnel, further aggravating the situation of law and order in the nation.
I am convinced that religious freedom and education together can be the solution in the actualization of world peace.
In the context of Pakistan, we need to put all our efforts and support to overcome our major enemies of poverty, illiteracy, terrorism and extremism. Our weapon is love and by peaceful means influencing the future generations through good quality education, building unity in the country through ongoing dialogue and economical reforms jointly.
We can gain inspiration and courage by looking to those who have gone before us who stood for peace, justice and unity at such great cost.
I would take this opportunity to share with you my personal experience how I came in this scenario:
I am a Physician specialized in general and pediatric surgery with a Masters in plastic surgery and have spent most of my personal practice treating the needy patients in my country of Pakistan. In addition to my medical practice, I endeavored to support my late brother, Shahbaz Bhatti and to carry on his mission following his assassination while leaving my home in Islamabad in 2011.
Shahbaz was my younger brother. He dedicated 28 years of his life to vigorously foster the ideals of human equality, interfaith harmony, and mutual love. In his formidable struggle, in practicable terms with real outcomes, he forged a path of love and forgiveness cherishing the idea of interfaith harmony. He was a proactive man. An agent of change led by the Holy Spirit. He fearlessly and actively knit a network of friendships with individual souls reaching from the poorest of the poor to the highest echelons of our country's Government.  In doing so, he was able to effect huge political changes, bettering the lives of Religious Minorities in Pakistan.
Some of his achievements seem unfathomable in Pakistan, where many seek to impose a radical philosophy.
For example:
He created prayer rooms for Christians and other religious minorities in several government institutions in Pakistan.
He spearheaded establishing special quotas for the participation of Religious Minorities in government
He established committees for inter-religious dialogue that led to the Pakistani Parliament approving four member seats for Religious Minorities. It is worth mentioning that not many years ago, representation of Religious Minorities in our government was utterly inconceivable.
He promoted and fostered relationships between Muslims, Christians and other religious traditions by living out the Sermon on the Mount, the way of Jesus' teachings in the Gospels. He stayed true to his faith in Jesus Christ to his last breath.
Immediately after his death, I was astonished to witness a tidal wave of deep grief and love not only from Christians but also Muslim and Hindu religious leadership, Pakistani politicians, diplomats, international human rights activists, and humanitarians. The Government of Pakistan expressly recognized my brother posthumously by awarding him one of the highest national honors, the "Hal al –e-shujat the "Moon of Courage" National Medal of Honor.
I eventually entered the political process to serve my countrymen under unexpected and extraordinary circumstances. I served as a missionary doctor in Pakistan for ten years, never dreaming I would become a Federal Minister working on behalf of Religious Minorities and the underclass in Pakistan. But it had been Shahbaz' wish from the very beginning and Shahbaz my younger brother never took "no" for an answer.
Let me tell you the story of how I got here. When I was working as surgeon in Pakistan as a missionary doctor, I was forced to flee the country with my family after a violent attack on my residence by extremists. One morning, I awoke to find extremists trying to cut the steel security bars on the front windows of my residence. This was unsettling, to say the least.But for my brother, Shahbaz it was one of the most disappointing moments in his life. He tried to convince me not to leave. But the security risk to my family and me made it impossible to practice the profession I so dearly love. I followed my instinct and moved to Italy where I had received my medical and post-graduate training.
In a short period of time, God blessed me, and I was able to establish a thriving medical practice, building a new life for my family with a great deal of satisfaction. During this period, my brother and I clashed on opposite poles. He was trying to convince me to return to Pakistan because of the dire and pressing needs of the community, while I was arguing with him that he should move to Europe because his very life was in danger. Shahbaz was no stranger to authentic death threats by men who despised his existence, his religion, and his work on behalf of the helpless.So, as brothers are prone to do, we argued. Looking back, I realize I was arguing from a rational and human perspective with a man whose gaze was fixed on heaven. I was begging him to leave Pakistan. He only responded that he had surrendered his life into Jesus' hands and would follow Jesus until his last breath.  My last conversation with him of this nature happened a few months before his assassination.  Shabbaz strongly requested me to return home to Pakistan. I told him, "You are calling me to leave paradise for hell."  He immediately replied, "The road leading to paradise starts in Pakistan."  This was a dark and terrible time for me.
My pleas with him to leave fell on deaf ears, and I was absolutely convinced I was doing the right thing.
But on March 2nd, 2011, our world turned upside-down.  The news of Shahbaz' murder shook me to the core. I was devastated, crestfallen, disheartened and furious all at the same time.  Of course I immediately flew to Pakistan to attend my brother's funeral.  It was my intention to retrieve members of my family and move them to safely in Italy and Canada, and say farewell to Pakistan forever. My conviction, at that moment, was that Pakistan was unworthy of the services of my family.
But when I landed In Islamabad, I found a heartrending situation. There was a sea of people in attendance at his funeral, women, men and children, from all walks of life, politicians, diplomats, Christian, Muslim, and Hindu religious leaders, all desperately crying for Shahbaz, all crying, "Who will take his call for love?"
When I accompanied his body by helicopter to our native village of Khushpur, a throng of young and old people overwhelmed me, crying and sobbing; distraught they had lost their champion for freedom! It was impossible to console them.  They were brokenhearted, struck with grief in the loss of Shahbaz. He was like a father to them; and they were now orphaned.
I was astounded by the lasting power of his sacrificial love, now living in the hearts of the people. I know that in reality, it was the love of God. And in the midst of this vast demonstration, many Muslim leaders were chanting, "Shahbaz your mission will continue! Shabbaz your mission will continue!" And then many of these people turned and looked at me saying, "Now what?"  This was an extraordinary and defining moment for me.
Shortly thereafter, the Government of Pakistan officially solicited me to take Shabbaz's Federal Ministry seat in the Government. Then the executive committee of his political party, All Pakistan Minorities Alliance (APMA), asked me to take charge and elected me as their Chairman.
I remained incensed with my Government for its inability to protect my brother and stop the people behind his murder. But in this chaotic and intense moment something began to change in my heart. I began reminiscing about Shahbaz from his early childhood until his death. I kept seeing his smiling face, filled with love, forgiveness, and acceptance, in front of me.  It was transformative.  There was a palpable sense of the love of God strengthening him through the difficult phases of his struggles, especially the battle with an ideology wanting to impose hatred, division, and discrimination, on the religious minorities of Pakistan.  That same love of God began to strengthen me.  My resentment against my government began to ebb, and slowly, perhaps with fits and starts, I began to see his murderers through eyes of forgiveness.
I then decided to continue his mission, realizing that though it appears contradictory, forgiveness and love were possibly the ultimate weapons of revenge.
While reflecting on these matters, I also started to think about my mother. She had lived with Shabbaz for the last 10 years of his life, and was deeply affected by his death.  Her life with him primarily consisted of praying together at home, and praying for him when he was away while she waited for his safe return.  Even in her advanced age, she would not let her sleep until he returned home late at night from his governmental duties.  Tragically, she was an ear witness of his murder.  The assassins targeted him as he was leaving her following morning prayers.  He died only a few meters in front of their home.  My mother heard the thunder of bullets killing my brother. Even today, it is impossible for me to imagine her anguish.
I worried that if I proposed my decision to continue Shabbaz' mission to my mother, she would reject it categorically, and worse, that it would increase her suffering. But as my courage increased, I gathered the nerve to speak with her.  This is the tradition of our family.  Parental blessing and approval is held in high regard.  Initially, when I approached my mother, I was hesitant and timid.  But to my amazement, my mother told me, without hesitating, that Shahbaz's mission should continue, and I was the right person for the job.
She then told me that it was Shahbaz' will that I return to Pakistan, and that now it was God's will, and her wish as well. So it was, there was no one left for me to argue with!
Then she said something remarkable. She told me that she wasn't angry with Shahbaz's killers and she was free from a desire for revenge or retaliation against them.  She explained that she had forgiven the killers of my brother.  Later, she reminded me that Shahbaz's way of life was rooted in forgiveness and love, following the Way of our Lord Jesus Christ.
I was deeply moved and encouraged. More than that, I was being transformed by the love of God. In time, I too forgave my brother's killers from the bottom of my heart. I was honored and filled with joy in assuming the legacy of my brother.  I desire to continue the work, full of hope and determination, and by the sheer grace of God, to love my brothers as myself, and to love and forgive my enemies.
My heartfelt wish is to continue the mission and vision of Shahbaz. He was a true follower of our Lord Jesus Christ, and it was his unwavering belief on Jinnah's Pakistan where every citizen can freely follow his/her faith and live with dignity and without fear. It enabled him to dedicate 28 years his life to protect the weak and persecuted minorities of Pakistan. He had his heart fixed on the hope in to see Pakistan a role Model for the world where justice, human equality, and religious freedom are honored and respected. I am committed to continue this struggle even if this ultimate goal requires my sacrifice too.
I am pleased to share with you that I feel and see that Pakistan is changing, Present military and civilian operation against terrorism is bringing fruits: all extremist organizations are banned, most terrorist groups are weakened, killers of my brothers are arrested and one was killed. The people of Pakistan are gradually coming out of oppression and fear, which has dominated them for many years. The Supreme Court recently upheld the death sentence of a police bodyguard who killed Salmaan Tazeer over his support for blasphemy law reform and other verdicts have given us great hope for the future of Jinnah's Pakistan where everybody can live with peace, dignity and without fear, honoring the faiths of each other.
Recently Pakistani leadership participated in the celebrations of our Hindu brothers and sisters (Divali), giving a statement that there is no discrimination between majority and minority. Of course we welcome such initiatives hoping that this is coming from their hearts and not for any personal gain. We want this Pakistan, without any discrimination among people of diverse faiths, where weak and oppressed feel safe and respected, as the father of our nation Mohmad Ali Jinnah said, we are all citizens and equal citizens of one state. This is the path we are following indicated by Shahbaz to see our beloved country where there's no discrimination between Majority and religious minorities (Shiites, Sufi Muslims, Isma'ili, Ahmadis, Christians, Sikhs, Hindus, Zoroastrians, Baha'i . . .)
Each of us is on a road, a religious path to a spiritual destination, a place of consequences and accountability for our choices and actions. I believe that God has given us clear eyes, deep and fearless hearts to courageously love and support each other. Herein is the holy key to rid our communities of hatred and discrimination.
Thank you for your kind attention. May God bless you and those you hold close.
Pakistan Zanda o Taibinda bad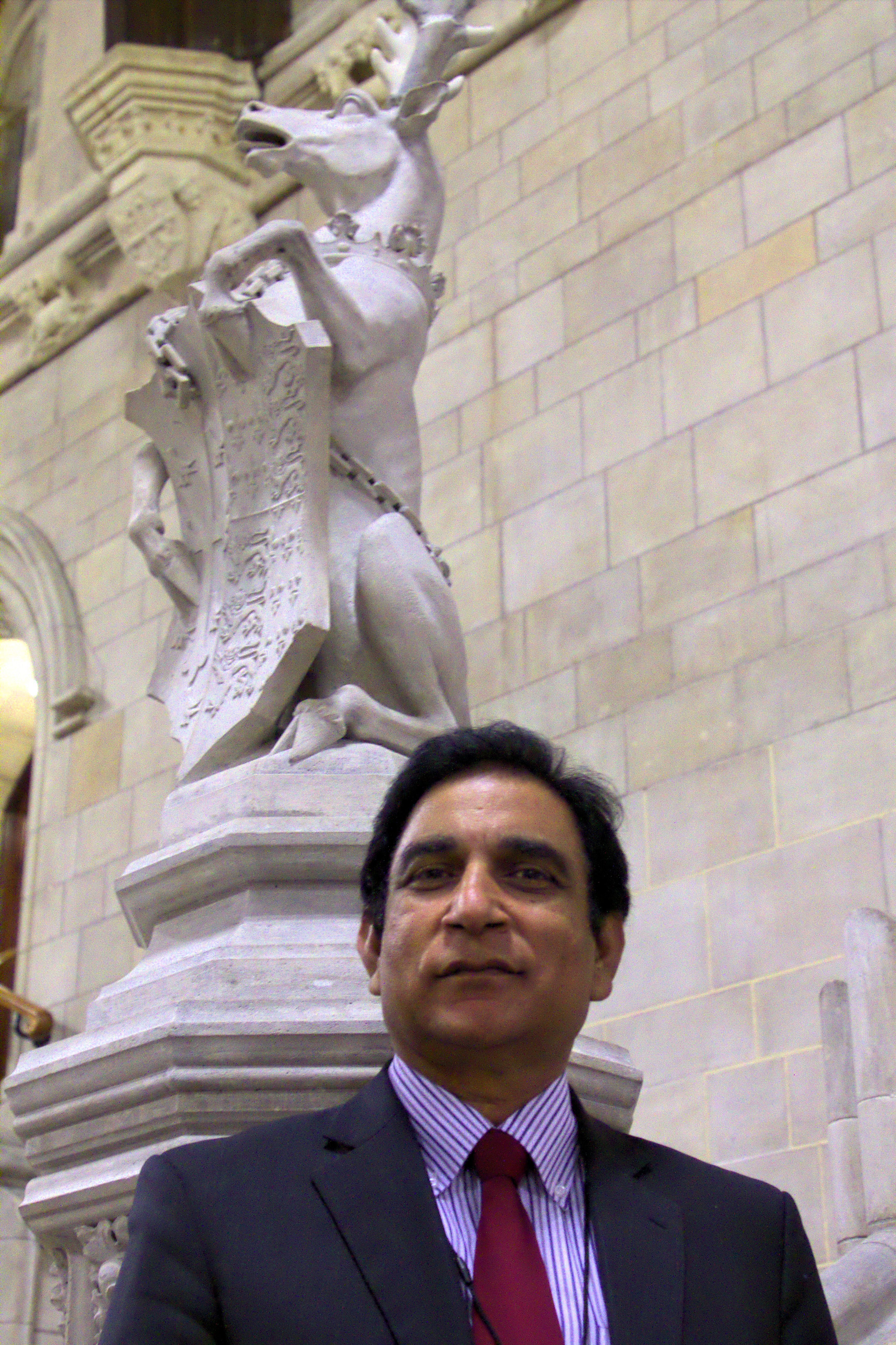 ———————————————————–
Pakistan's government continues to come under increasing pressure from international watchdogs to re-evaluate its human rights laws and redouble its efforts towards religious freedom. £405 million of UK aid this year has been sent to Pakistan, yet Shias, Ahmadis and Christians—have experienced discrimination and outright persecution. While Pakistan has been receiving this vast sum of money, the response of the state has been at best indifference, and at worst, the complicity of some of its agencies.—————————————————————————————————
Evidence sessions on religious minorities in Pakistan
November 16, 2015
On the 10th and 11th of November, the All Party Parliamentary Group for International Freedom of Religion or Belief held evidence-hearing sessions regarding the persecution of minority groups in Pakistan and difficulties for their being granted asylum in light of UNHCR policy and Home Office Country Guidance.
The hearings took place in the Houses of Parliament and were attended by parliamentarians as well as a wide range of organisations working on religious freedom in Pakistan and witnesses hailing from different Pakistani religious minority groups.
Upon his visit to Bangkok's UNHCR refugee camp, Lord Alton found that Pakistani Christians' asylum claims were failing to be taken with adequate seriousness with the belief, using the Home Office February 2015 Country Guidance, that their situations in Pakistan do not put them at 'a real risk of persecution'. Upon this finding, evidence hearing sessions in Parliament were called to understand the conditions for Christians and other religious groups in Pakistan and when seeking asylum.
The first day of hearings assessed whether religious minorities in Pakistan face discrimination or persecution. We heard several moving accounts of the treatment, which including torture and killing of family and friends faced by Christians, Shias, Ahmadis, Jews, Hindus and Sikhs, forcing many to flee the country. These testimonies corroborated our belief that some minorities in Pakistan are indeed at significant risk of persecution, sometimes with fatal consequences.
Evidence heard also demonstrated that the endemic persecution within Pakistan is not overtly deterred but is enabled by the State through constitutional measures and legislation such as the much maligned Blasphemy Laws. The alarming lack of condemnation of cases of persecution by government officials, combined with a weak judiciary and constabulary has resulted in a dire situation for minority religious groups in Pakistan, sometimes leaving no other alternative but to seek refuge.
The hearings also highlighted the difficulties minorities fleeing Pakistan have encountered when claiming asylum. These include issues surrounding a lack of understanding of the reality on the ground in Pakistan and a specific understanding of what speaking about one's religious beliefs in Pakistan often entail as well as a worrying trend in interpreter and interviewer biases.
The Chair of the hearings, Lord Alton said: "The evidence with which we presented during these hearings held at Westminster revealed systematic and widespread persecution of religious minorities in Pakistan. We heard harrowing personal accounts from Christians and Ahmadis and others who had watched loved ones murdered in a culture of impunity. We heard the story of Pakistan's last remaining Jew and we were moved by the bravery and courage of other minority communities who face the same destiny of annihilation. Pakistan is Britain's biggest recipient of overseas aid – more than £400 million this year alone – but it was impossible to see how our aid policy or our asylum policy have done anything to ease the desperate plight of Pakistan's beleaguered minorities. We hope that the Report which will emerge from this evidence will force our policy makers, along with those of other Governments, to reassess the way in which we engage with Pakistan."
Evidence collected at these hearings will be formally collated into a report containing recommendations which will subsequently be launched in Parliament and sent to relevant government bodies and parliamentarians, including members of the International Panel of Parliamentarians for Freedom of Religion or Belief in up to 60 countries. Particular recommendations will be provided to the Home Office officials who are in charge of setting country guidance and who attended the hearings as well as those who look at the options that asylum seekers are presented when having to present their story to interviewers. We hope that this report will help bring about tangible change in the UNHCR and the Home Office's approach towards minorities facing persecution in Pakistan and their pursuit in seeking asylum.