Also see Rebecca Tinsley:
http://www.huffingtonpost.com/rebecca-tinsley/time-to-celebrate-the-bra_b_6081788.html
Tokyo and Seoul Speech to Promote the UN World Orphans Day Initiative: October 27th 2014.
To access powerpoint accompanying this talk, click here: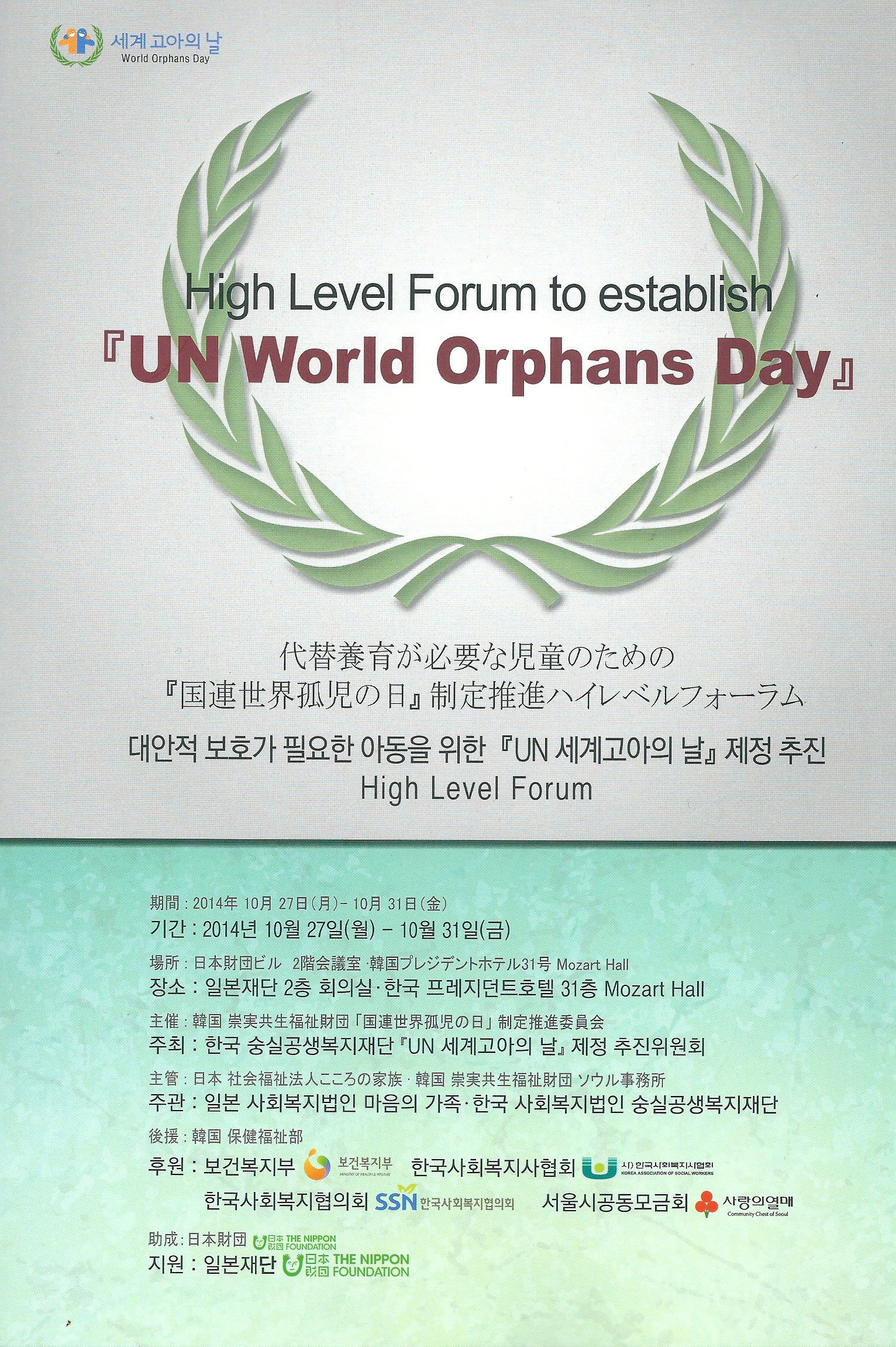 Speech to be delivered next week by David Alton in Tokyo and Seoul at a High Level Forum to establish UN World Orphans Day , organised by  Park Joong-soon, Chairman of Soongsil Kongsaeng Welfare Foundation, and supported by Nippon Foundation.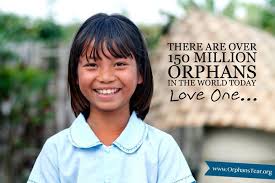 Lord Alton will say:
We have gathered here with one clear objective: to shine a light on the plight of the world's 150 million orphans and to encourage the creation of a designated United Nations' World Orphans Day.
The purpose of such a day would be to encourage Governments and political leaders to prevent orphans, and other children in need of alternative care, suffering from discrimination, violence, poverty, disease and deprivation of education, and to promote the right to a fulfilled life.
Our Forum is meeting in two countries with extraordinary technological and communications capacity, cutting edge countries in our world's $71 trillion global economy and, despite a whole host of competing issues and priorities, we share a common understanding that the orphaned child must vie for our attention above and before so many other worthy causes.
As we deliberate perhaps we should keep in mind the words of Nelson Mandela, himself an orphan, and who once said :"There can be no keener revelation of a society's soul than the way in which it treats its children…We owe our children, the most vulnerable citizens in our society, a life free of violence and fear."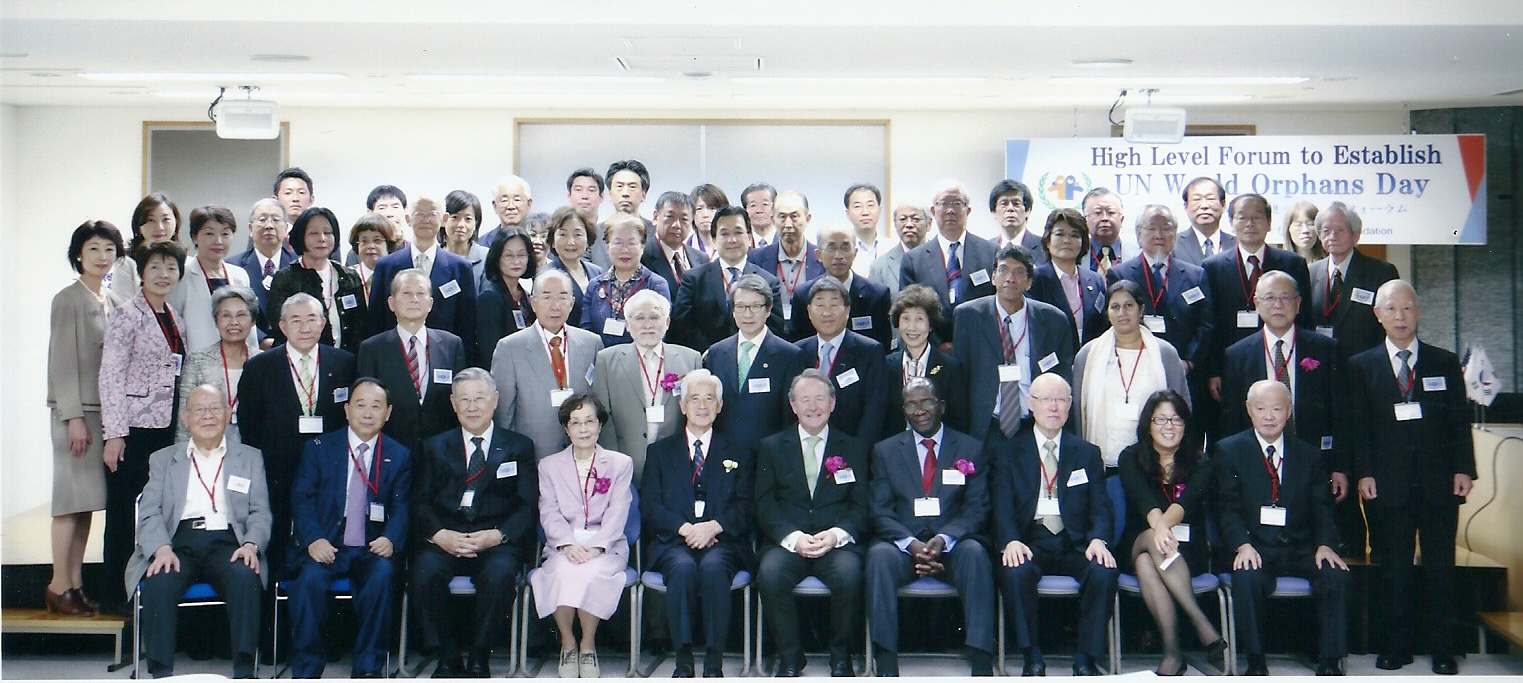 My talk falls into two parts:
What is an orphan and who are they? and
What are our responsibilities towards orphaned children?
What is an orphan and who are they?
The word orphan is derived from the Greek "orfanos" (ὀρφανός) and is usually translated as a child whose parents are dead or who have abandoned the child permanently. The term is almost always used to describe a child although, technically, all of us who have witnessed the death of our parents have been orphaned. Some confusion has arisen because the word has been used in different ways by academics, NGOs, government and international agencies.
The Concise Oxford English Dictionary suggests that an orphan is simply "a child bereaved of parents" while one legal definition, in use in the United States, says that a person is orphaned through the "death or disappearance of, abandonment or desertion by, or separation or loss from, both parents".
We have a picture of orphans crafted by great novelists such as Charles Dickens, L.M.Montgomery or Mark Twain but Oliver Twist, Ann of Greengables and Tom Sawyer do not adequately characterise the twenty first century orphan.
Although the common English usage – and the one understood in many societies – suggests that an orphan is a child deprived of both parents, the definition which I will use throughout these remarks, is provided by UNICEF and who say that, for their purposes, an orphan is a child who has lost one or both parents – a paternal orphan being a child who has suffered the loss of their father; a maternal orphan being one who has suffered the loss of their mother; and a double orphan is a child who has seen both of their parents die.
UNICEF adopted this definition two decades ago as the AIDS pandemic swept away millions of parents.
Using this definition, in 2005 UNICEF estimated the number of orphans in sub-Saharan Africa, Asia, Latin America and the Caribbean to be over 132 million (a figure which would increase by nearly 20 million in the next twenty years).
95% of these orphans are over the age of five and overwhelmingly they are living with a surviving parent, grandparent or other member of their extended family.
Clearly, this definition of what constitutes an orphan does not mean that 132 or 150 million children are without anyone to care for them but it does mean that 150 million orphaned children are vulnerable and that for them to fulfil life's opportunities and their own human potential additional resources and support systems are likely to be required. In war zones, from Syria to Afghanistan, Iraq to Congo or Sudan, the number of children deprived of parents increases exponentially.
Two years ago, UNAIDS, the Joint United Nations Programme on HIV/AIDS, suggested that there are now 150 million orphans in the world. One year later, in 2014, UNICEF, in its report State of the World's Children In Numbers: Every Child Counts, suggested that 17.8 million children have lost one or both parents to AIDS while 3.3 million children are infected with HIV.
By way of illustration, in Uganda in 2002 14.6% of all children, some 1,731,000, were said to be orphans. 51.1% of these are AIDS orphans. By 2014 the total number of orphans in Uganda was 2,700,000 – 1,000,000 orphaned due to AIDS.
A combination HIV/AIDS and conflict in northern Uganda, fuelled by the depredations of Joseph Kony and the Lord's Resistance Army (LRA), still wanted for crimes against humanity by the International Criminal Court, has played a major part in the orphaning of children (see
https://www.davidalton.net/2012/03/27/house-of-lords-debate-on-kony-and-the-lra-march-26th-2012-kony-2012/ )
The situation in countries like Uganda contrasts starkly with industrialised nations where the majority of children can expect to grow up while their parents are still alive (although increasing divorce rates and family breakdown do not necessarily guarantee contact with parents. In the UK over 800,000 children have no contact with their fathers and 68,110 children are in the care of local authorities. In the US half a million children are in the foster care system with around 100,000 awaiting adoption).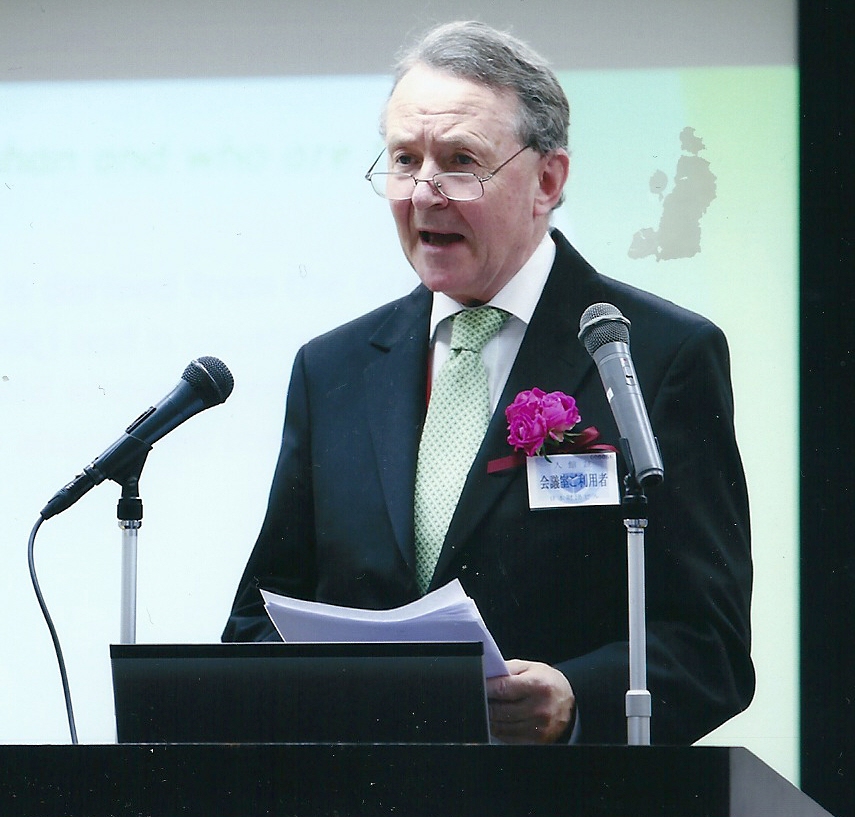 The data in the 2014 report: Every Child Counts underlines the importance of gathering reliable information and is crucial in enabling the effective championing of children's rights and in organising the appropriate interventions and targeting of resources. In Uganda, for instance, the same data suggests that significant numbers of orphans – perhaps as many as 30% – do not attend primary school.
Elsewhere in Africa, I have visited Darfur and South Sudan – where the situation is even worse than Uganda. Recent violence has displaced 800,000 people and UNICEF, estimates that 17% of South Sudan's entire child population is without one or both parents.
Data is not by itself a change-maker but it does enable those charged with the responsibility to identify the needs, to monitor the progress which is made and to hold to account those who wield power.
The downside of reeling off statistics and reams of data is that it can sometimes prevent us from seeing the human beings caught up in a tidal wave of misery.
Take the consequences of conflict.
Children who are caught in the cross fire of war-torn nations face bereavement, displacement, and all the physical and psychological trauma which accompanies such violence. Many are abducted and swept up into militias, becoming child soldiers. It is estimated that globally there are 300,000 child soldiers.
Other children are made to work for unscrupulous employers who pay them a subsistence pittance. They are perhaps lucky in comparison with those who become slave labour, drawn into a life of street crime or who are trafficked into prostitution or sexual gratification. The International Labour Organisation estimates that around 153 million children between the ages of 5 and 14 are forced into child labour.
Conflict leads to populations being dispersed and to the creation of vast numbers of refugees. UNHCR (The UN High Commissioner for Refugees) estimates that 51.2 million people are refugees and that of these around 25.6 million (50%) are under 18 years of age.
It is now a full year since UNICEF said that the number of children forced to flee Syria had reached one million – which they described as "a shameful milestone" – adding that a further 2 million children are displaced within the country.
The UN says children now make up half of all refugees fleeing Syria. About three-quarters of those children are under 11. Antonio Guterres, the UN High Commissioner for Refugees says that "The youth of Syria are losing their homes, their family members and their futures. Even after they have crossed a border to safety, they are traumatised, depressed and in need of a reason for hope."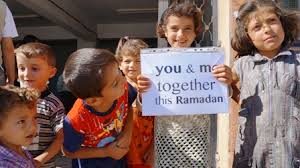 Just 118,000 of the refugee children have been able to continue in some sort of education, and a fifth have received psychosocial counselling.
Save the Children's regional director for the Middle East, Roger Hearn, says "It is appalling that the world has stood and watched as one million children have been forced from their country, terrified, traumatised and in some cases orphaned."
Natural disasters also leave children without parents.
In 2013, in the Philippines, 1.7 million children were seriously affected by Typhoon "Haiyan".
On January 12th 2010 an earthquake with a 7.0 magnitudes struck Haiti and Port-au-Prince became a scene of shocking desolation. Even before the quake Haiti had roughly 30,000 abandoned children already in its institutions, many of them unregistered. Reports described troubling signs of neglect with unfed children, babies left unattended and unsanitary conditions.
The Haitian government estimates that 80% of their orphans have at least one living parent. In the aftermath of the quake a group from Idaho were arrested after they took custody of 33 children, intending to take them to the Dominican Republic. It emerged that all of the children had at least one living parent. Moving children across borders is not only illegal, but prevents UNICEF and NGOs from being able to reunite families.
On March 11, 2011, a terrible earthquake and tsunami struck Japan and it left around 200 children without either of their parents and a further 1,200 children lost one of their parents. Most of those orphans were taken in by relatives but some went to orphanages – which may culturally be seen as preferable to adoption.
Elsewhere in Asia there are some 350 million children living in absolute poverty; many are orphans.
India has more orphans than anywhere else in the world. – an estimated 25 million orphans. The vast majority are from the Dalit, or untouchable, caste. India's 250 million Dalits are, according to India's former Prime Minister, Dr.Manmohan Singh, "a blot on humanity." Their status is like that of lepers. Parents, faced with another mouth to feed, commonly abandon their children, leaving them to live on the streets or to take refuge in what may pass for an orphanage but forced to work as scavengers or prostitutes. Many children suffer abysmally (see https://www.davidalton.net/2014/02/17/make-caste-history-international-conference-on-dalits-and-caste-discrimination-london-february-2014/)
In China there are an estimated half a million orphans and unregulated orphanages are exceedingly common. Around 85% of orphans and abandoned children are abandoned in rural areas with no access to state-run orphanages in urban centres. Private citizens, without adequate resources and with no legal standing, have filled the vacuum – many motivated by religious impulses and perhaps modelled on the altruism of Gladys Aylward's Inn of Sixth Happiness (see https://www.davidalton.net/2013/05/11/gladys-aylward-the-little-woman-and-chinas-inn-of-the-sixth-happiness/.)
These safe havens are unregistered, and the State tends to turn a blind eye but their lack of legal status means that the orphans in their care are not always able to access education, health and employment opportunities.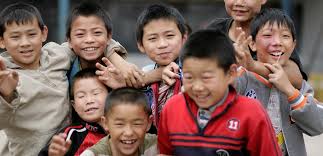 In 2013 China Daily reported that official statistics revealed that only 64 of the country's 2,853 counties have child welfare homes and that the Ministry of Civil Affairs had promised to help 500 more build facilities by the end of 2015.
This came in the aftermath of an incident in Rongcheng in Jieyang, southern Guangdong province, when the local civil affairs bureau not only failed to provide shelter for the orphaned children, but also tried to conceal this by pretending it was looking after orphans in Guizhou, south west China.
They died of carbon monoxide poisoning, apparently after lighting charcoal to keep warm. How right was the German theologian, Dietrich Bonhoeffer, when he said
"The test of the morality of a society is what it does for its children."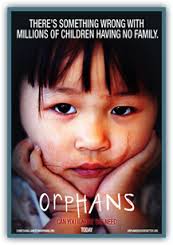 We are all familiar with the stories from China where the coercive one child policy has led to the abandonment of millions of little girls. This sex-selection gendercide led to orphanages filled with little girls. These were the ones who had not been aborted (see https://www.davidalton.net/2013/04/07/chinas-one-child-policy-official-figures-reveal-that-336-million-women-have-been-aborted-37-million-more-men-than-women-as-campaign-of-gendercide-unbalances-the-population/)
Prenatal testing and sex-selective abortions have changed the face of Chinese orphanages and it is thought that around 90-98% of abandoned children have medical needs and disabilities. Many fewer adoptive parents come forward to adopt an orphan with a disability and the climate for international adoption of orphans has radically changed.
Sometimes international adoptions have been used as a scam by the unscrupulous. International adoption of orphans raises ethical and social issues – but leaving an orphan to be exploited or abused may prove to be a worse ethical choice.
Stories abound of orphanages being created for 24 hours to entice overseas visitors – some desperate to adopt a child. Some are milch cows – a source of easily acquired gain – usually a "front" to obtain money for the families who own the orphanage, which is simply a money-making business.
Sometimes these businesses are a front for human traffickers or racketeers who in the most extreme cases simply sell children. Journalists have reported on Cambodian children bought from their parents and sold on at significant profit to Westerners who wish to adopt.
China and Russia have also curtailed international adoptions.
In the case of Russia, international adoptions have become part of the new Cold War, in part prompted by US criticism of human rights abuses in Russia and two high profile tit-for-tat cases, one involving the death of a three year old Russian boy in Texas and the other a seven year old boy sent back to Russia.
In the 1990s, international adoption exploded in both Russia and China. Research from the UK's Newcastle University suggests that between 2000 and 2010 410,000 children were adopted by citizens of 27 countries. For several decades there was a steady growth in international adoptions but since 2004 the number of international adoptions has reduced by around 50%. High-profile adoptions by celebrities such as Angelina Jolie from Cambodia and Madonna from Malawi have caused countries to think twice about permitting international adoption but this does not mean that the children in need of homes and loving families are better off being left in an institution or trying to survive on the streets. In the first instance more support should be provided – and negative cultures challenged – to encourage indigenous families to adopt.
The United States is the top destination for adopting children. The US State Department says that 8,668 were adopted in 2012, down from a peak of 22,884 in 2004. Newcastle University say that in the top 23 nations there were 23,626 international adoptions in 2011 — down from 45,299 in 2004. In 1985 South Korea recorded the highest ever adoption rate with 1.3 of every 100 children born sent overseas for adoption – but the Republic of Korea, along with many other nations has changed its attitude towards international adoption.
Yet, as China reduced international adoptions, the number of children filling its orphanages increases — China's Ministry of Civil Affairs say the number reached 92,000 in 2011, almost a 50% rise from 2004.
In Australia the University of New South Wales Social Policy Research Centre say that over the past decade more than half a million Chinese orphans have been assisted by UNSW research projects. The Centre has led 28 research projects focusing on welfare provision to disadvantaged children in China; including children affected by HIV, orphans in rural and urban areas, children with disabilities, and children at risk of abuse and neglect. Other research projects include the East Asian Welfare Model, social support to older people, people with disabilities and poverty alleviation in China.
In 2013 they were involved with the publication of "Caring for Orphaned Children in China". Its authors, Shang Xiaoyuan and Karen R. Fishera, summarise more than a decade's research arguing that a mixed welfare system, in which state provision supplements family and community care, is an effective way to improve support for orphaned children; that Government needs to take responsibility to guarantee orphans' rights and support family networks to enable children to grow up in their own communities. The authors say that China must develop a child welfare system which meets the rights of orphans to live and thrive with other children in a family.
The work of the Australian Social Policy Research Centre has been a good deed in a nasty world. It contributed to the first national census of China's orphans, and they believe it has led to a significant improvement in the living standards of a half a million vulnerable children. The census found the children, many of them in rural areas, were receiving little or no social assistance. The Centre says that the Chinese authorities took the work seriously and that the new Department of Child Welfare now ensures that all orphans receive financial support for basic needs such as food, clothing and education.
Perhaps the Australian initiative in China may one day be replicated in North Korea.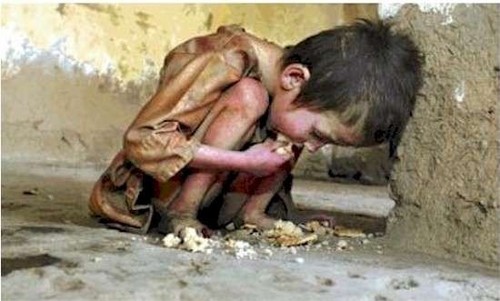 I have been there on four occasions and for the past ten years have chaired the British Parliamentary all-party Committee on North Korea. In "Building Bridges – Is there hope for North Korea?"(2013) I record the stories of North Korean escapees, some of whom, like Shin Dong Hyok, escaped from prison camps. Born in Kaechon Internment Camp (Camp 14) he lived with his mother, Jan Hye-gyung until he was twelve, rarely being allowed to see his father, Shin Gyung-sub. Tortured in the camp at age 14 Shin was forced to watch as his mother and brother were executed.
Many North Koreans were orphaned during the famine (the Arduous March), between 1994 and 1997 . It claimed millions of lives. Children were the most adversely affected. The World Health Organisation reported death rates for children at 93 of every 1000, while those of infants were cited at 23 of every thousand.
The famine led to hundreds of thousands living on the streets as "street swallows". One witness to my Parliamentary Committee, Timothy Choo, who lived on the streets where he saw all of his friends die described how these abandoned children, known as Kotjebi, subsisted by begging and by eating wild vegetables, bark and grass roots. School children in North Korea are 3 to 8 cm shorter than their counterparts in South Korea with stunted growth and malnutrition affecting around 45% of North Korean children under the age of five.
The kotjebi population is reported to persist and in 2013 Japanese Asia Press reported that in North and South Hwanghae Provinces more than 10,000 people had died of famine. In the same year Britain's Independent newspaper published a story claiming that there had been cases of cannibalism.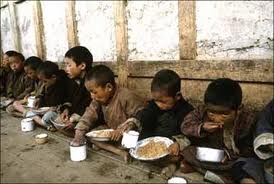 In February 2014 a United Nations Commission of Inquiry described the abuse of human rights in North Korea as "without parallel" stating that more than 200,000 North Koreans, including children, are imprisoned in camps where many perish from forced labour, inadequate food, and abuse and torture by guards (see https://www.davidalton.net/2014/07/24/british-parliament-debates-the-united-nations-commission-of-inquiry-report-into-crimes-against-humanity-in-north-korea/ )
What are our responsibilities towards orphaned children?
The well-being of our children has always been a universally cherished aspiration which crosses continents and cultures and unites the great faiths.
Ancient Civilizations had contradictory attitudes. In Athens it was regarded as a duty of the State to provide an education up until eighteen years of age for the child of any citizen who had been killed in war.
In his Laws Plato said that "Orphans should be placed under the care of public guardians. Men should have a fear of the loneliness of orphans and of the souls of their departed parents. A man should love the unfortunate orphan of whom he is guardian as if he were his own child. He should be as careful and as diligent in the management of the orphan's property as of his own or even more careful still."
However, infanticide was common both in Greece and ancient Rome and a high view of the orphaned children of warriors did not extend to the unwanted child.
It is estimated that around one third of all Roman children died before they reached ten years of age. Babies were often rejected if they were illegitimate, disabled, female, or regarded as a burden on their families. By contrast, the Egyptians forbade infanticide.
In China there is a long history of infanticide based on sex-selection. Baby girls would be exposed to the elements. Orphaned males, however, would be adopted solely to perform the duties of ancestor worship.
In Africa, the Ibo people of Nigeria would bury a baby alive if the mother had died in childbirth. The baby suffered a similar death if its father died.
The opposition to these practices has often come from those who have a higher view of humanity.
Confucius who was, perhaps the world's first great humanist, with some traditions suggesting that he was himself orphaned at an early age. In "The Great Learning" he dwells upon the position of the family as the foundation of society and of its proper regulation as the basis for government. Confucius held that human beings may be taught, improved and perfected; that personal and communal virtue should be cultivated. Confucian ethics and precepts includes rén, – which requires altruism and humaneness towards others – and holds in contempt those who fail to show due regard for others.
Confucius defined rén as "wishing to be established himself, seeks also to establish others; wishing to be enlarged himself, he seeks also to enlarge others" while another phrase provides a golden rule, as valid today as it was in 479 BC, when he admonished us "not to do to others as you would not wish done to yourself."
In considering how we respond to the plight of the orphaned child this is surely good advice.
For Buddhists, from the earliest times, the care of orphans, featured prominently in the life of their monasteries – which became the orphanages of their land. Buddhist philosophy emphasises interconnectedness which requires us to exhibit love and compassion.
Buddhism, Hindusim and Jainism all place emphasis on the cultivation of generosity to those less privileged – not least because of its effect in purifying and transforming the attitudes and mind of the giver.
For Hindus, Sewa – service to others without seeking reward – is regarded as an adherent's duty in life. Shinto belief sees humans as children of the kami (God) and owing their life to God and their ancestors. In Shinto the human being is simply a harmonious part of nature. Clearly, if any human being – the orphaned child included – is unable to harmonise with others it threatens the well-being and cohesion of the wider society.
In Islam the welfare of orphans is a recurring theme in the Holy Qur'an with many verses encouraging good treatment of orphans: "that which you spend for good (must go) to parents and near kindred and orphans and the needy and the wayfarer. And whatsoever good you do, lo! Allah is Aware of it." (Qur'an 2:215)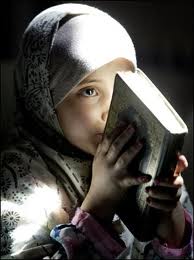 The Prophet Muhammad had an orphaned childhood, losing both his parents by the age of six, and this features in early verses of the Qur'an:
"Did He not find you an orphan and give you shelter?" (Qur'an 93:6) while many Muslims believe that by befriending and caring for an orphan they are befriending and caring for the Prophet himself.
The Qur'an insists: "Treat not the orphan with harshness" (Qur'an 93:9)
When an orphan is adopted, Islam requires guardians to protect the identity of the orphan, insisting that the child keeps its birth parents' names, preserving their heritage and connections with their extended family.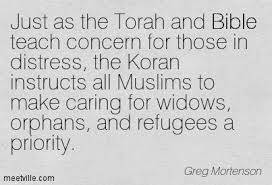 The Jewish faith focusses on the protection of the poor, weak, foreigners, widows and orphans. The Pslamist writes (Psalm 127:3) "Lo, children are an heritage of the LORD…"
The prophet Isaiah tells the people: "Uphold the rights of the orphan; defend the cause of the widow" (Isaiah 1:17). While Jeremiah says that it is pleasing to God "if you do not oppress the stranger, the orphan, and the widow" (Jeremiah 7:5-6).
Throughout the Bible orphans are represented as helpless and requiring our support. The Pentateuch commands the believer to render justice to orphans. The harshest punishment is reserved for those who do not while God Himself is termed "the father of the fatherless" (Psalm 68:5)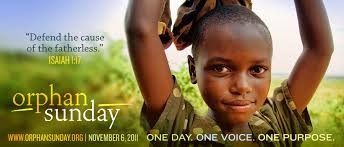 A central tenet of Christian belief is that every human being is "Imago Dei" made in the image of God and of unique and intrinsic worth. Jesus' injunction "Let the children come to Me ….. whatever you do for the least of one these my brethren, you have done it to Me" has informed Christian social activism, both Catholic and Protestant.
St.James sums up the Christian faith as "religion that God our Father accepts as pure and faultless is this: to look after orphans and widows in their distress and to keep oneself from being polluted by the world "(James 1:27).
In the earliest period of Christianity Eusebius records that Origen was adopted after his father was martyred while Severus, a Palestinian Christian, made the care of orphans and widows his special concern while hospitals specifically for orphans and poor children were built by Christians such as St. Ephraem, St. Basil, and St. John Chrysostom In the Apostolic Constitutions, "Orphans as well as widows are always commended to Christian love.".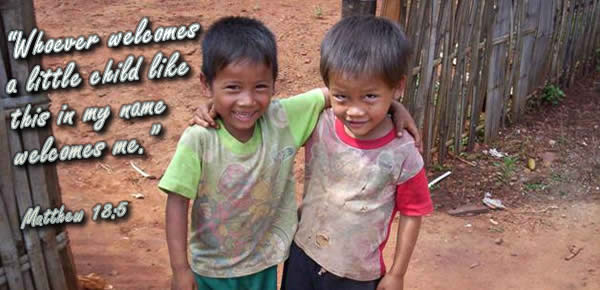 These universal religious impulses have been easily incorporated into secular humanist thinking. In the twentieth century religious and secular thinking combined to codify our obligations towards children, most particularly in the United Nations Convention on the Rights of the Child – UNCRC.
The Convention was adopted on 20 November 1989 and had its origins in The Declaration of the Rights of the Child, adopted thirty years before, in 1959.
But that declaration had its genesis in the work of the British social reformer and inspirational woman, Eglantyne Jebb who, in 1923, created the first charter of children's rights. She had been arrested and fined for producing and distributing a leaflet entitled "A Starving Baby and Our Blockade has Caused This" which drew attention to the plight of children on the losing side of the First World War.
In founding the charity, Save the Children, Jebb insisted that the charity must "not be content to save children from the hardships of life – it must abolish these hardships; nor think it suffices to save them from immediate menace – it must place in their hands the means of saving themselves and so of saving the world."
She was a great humanitarian who said that "the only international language is a child's cry" and that "All wars, disastrous or victorious, are waged against children." Raised as an Anglican she created alliances between the religious and the secular even persuading Pope Benedict XV to collect money for her cause on Holy Innocents Day and in 1920 to issue an encyclical – Annus Iam Plenus – on the plight of children in Central Europe – naming and urging a generous response for the first time a non-Catholic organisation.
The Pope said "We cannot desist from offering a public tribute of praise to the society entitled the "Save the Children Fund," which has exerted all possible care and diligence in the collection of money, clothing, and food."
Benedict appealed for an urgent response to a Europe where, 100 years ago, the "most frightful and disgraceful massacres have been perpetrated" and where numberless children had been orphaned and wives left widowed.
To achieve her objectives Jebb also created ecumenical networks, working particularly closely with the Quakers, the Society of Friends.
Her Declaration consisted of five criteria, which were adopted in Geneva in 1923 by the International Save the Children Union, namely that:
1. Every child should have the necessary means to develop materially and spiritually;
2. Every child should be have access to food and medical help; and, if hampered by developmental problems, given help; if delinquent, given the chance to start again; and if an orphan, provided with shelter and succoured.
3. Every child should be given absolute priority and relief in times of distress;
4. Every child should be protected against exploitation and enabled to earn a living when old enough to do so; and
5. Every child should be encouraged to understand and fulfil his or her potential and to see their obligations to humanity and the common good.
These principles were codified as non-mandatory guidelines in the World Child Welfare Charter and endorsed by the League of Nations in 1924.
In the aftermath of the Second World War, the newly formed United Nations which stated in its Charter that its primary purpose was " to save succeeding generations from the scourge of war…to reaffirm faith in fundamental human rights….and to promote social progress and better standards of life in larger freedom" also recognised the acute vulnerability of millions of war scarred children and in 1954 the General Assembly proclaimed Universal Children's Day.
By 1959 the United Nations had amplified Eglantyne Jebb's five criteria and these would form the 1989 Convention on the Rights of the Child, and was adopted by the General Assembly. It became international law in 1990 – although, significantly, the United States, which signed the Convention, did not ratify it.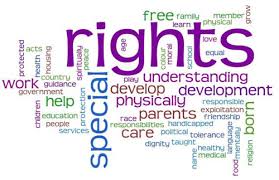 The Convention comprises fifty four articles and these may be summarised as the right to survival; the right to develop to the fullest; the right to participate in family, cultural and social life; and the right to be protected from abuse, exploitation or harmful substances. Its central pillars are the right to life, survival and development; the child's right to be heard and respected; and to have their best interests promoted.
The UN Committee on the Rights of the Child monitors compliance with the Convention and annually the Committee submits a report to the General Assembly and its chairman delivers a statement on their work and the challenges with which they are faced. Those who have ratified the Convention may be held to account by the Committee.
The Convention asserts that children should be able to grow in a stable environment under the responsibility of their parents. It states that children should not be separated from their mothers especially during the pre-natal and postnatal period. Yet, as a result of war, natural disasters, disease and the absence of parents many of these admirable aims are honoured only in their breach.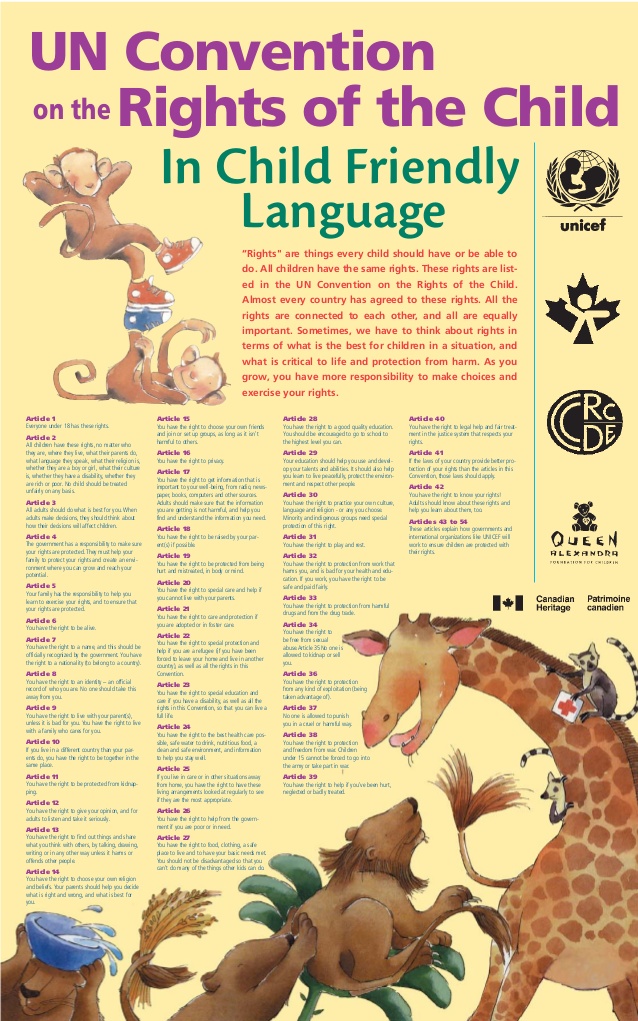 However, both the Convention and the 1990 World Summit for Children were undoubtedly historic landmarks. The 1990 World Summit for Children was, at that time, the biggest gathering of world leaders ever held and in 2001 Kofi Annan, described it as a catalyst which galvanised "political commitment behind the Convention on the Rights of the Child, now the world's most widely embraced human rights instrument."
In his 2001 report, 'We the Children: Meeting the promises of the World Summit for Children', he rightly said that "there is no task more important than building a world in which all of our children can grow up to realize their full potential, in health, peace and dignity."
The 2001 Report summed up its ten principal objectives in slogans which Eglantyne Jebb would have recognised : Leave No Child Out; Put Children First; Care For Every Child; Fight HIV/AIDS; Stop Harming and Exploiting Children; Listen to Children; Educate Every Child; Protect Children from War; Protect the Earth for Children; Fight Poverty: and Invest in Children.
Simultaneously, the Millennium Development Goals, adumbrated by world leaders in 2000, charged UNICEF with meeting six of the eight goals which apply to children among which were the need to stop the spread of HIV/AIDS, particularly because of its impact on children, a reduction in child mortality, and the achievement of universal primary education..
This last Goal was one which, in 2012, the UN Secretary General, Ban Ki-Moon, took the opportunity, to highlight by insisting that every child should have access to schooling and education and that education should be used to promote peace, respect and good stewardship of the world in which we live.
As part of its mandate to "save succeeding generations" Universal Children's Day was created by the UN as an annual event, staged on or around November 20th, to promote children's welfare.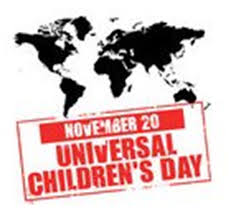 The United Nations has also designated four other days which highlight specific challenges facing the world's young people: June 4th is International Day of Innocent Children: Victims of Aggression highlighting children as victims of violence and war; June 12th is World Day Against Child Labour; August 12th is International Youth Day and draws attention to cultural and legal issues affecting children. October 11th is The International Day of the Girl Child, promoting the improvement of the human rights and opportunities open to girls.
There is no day dedicated to the world's 150 million orphans. Given that our children are our most valuable resource, and the one sure hope for our world's future, it's high time that there was.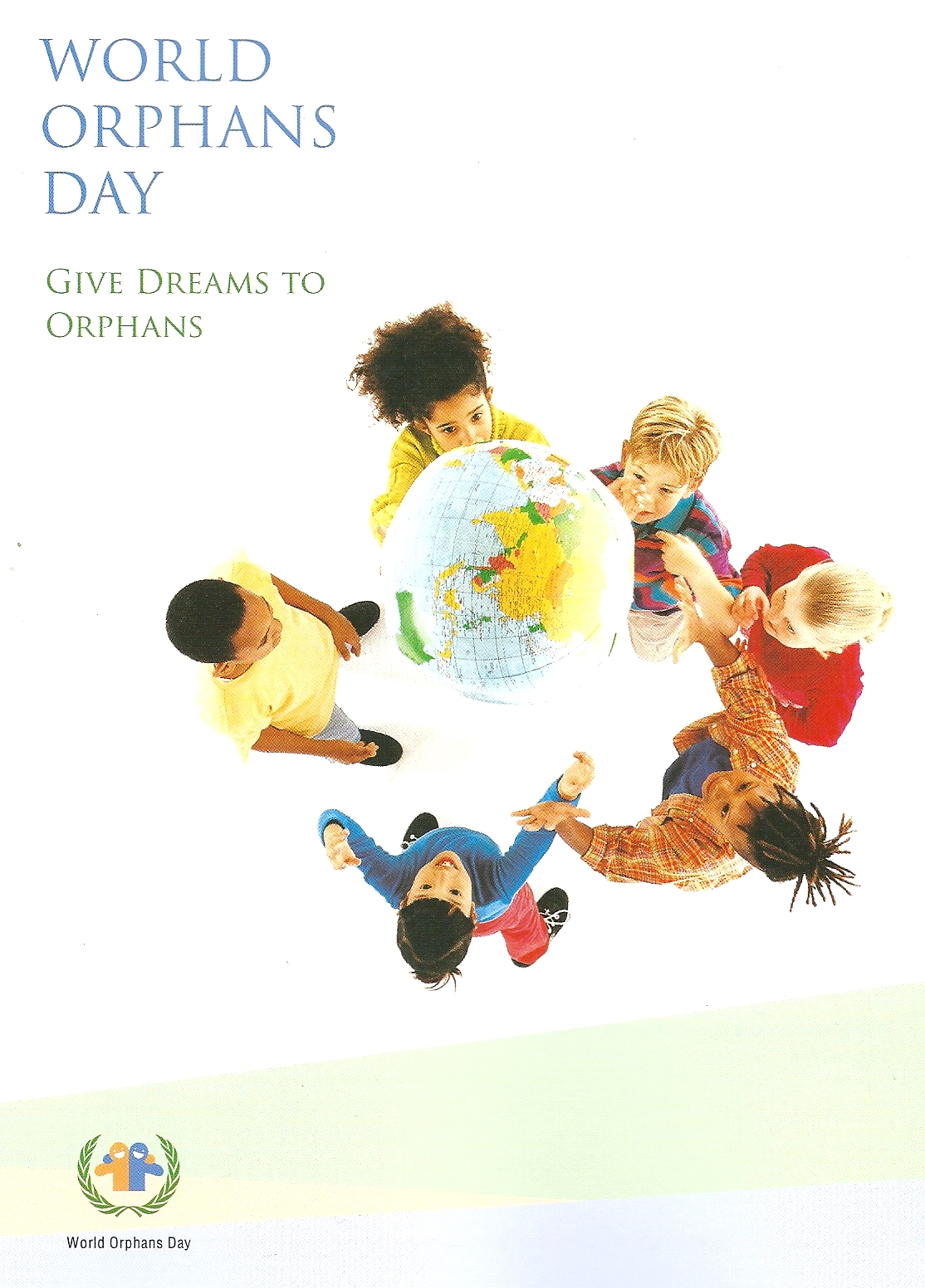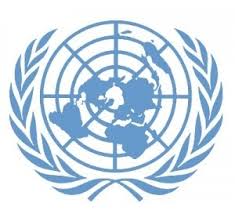 David Alton was for 18 years a member of the House of Commons and since 1997 has been an Independent member of the House of Lords. He is Professor of Citizenship at Liverpool John Moores University and is author of twelve books:
www.davidalton.net altond@parliament.uk .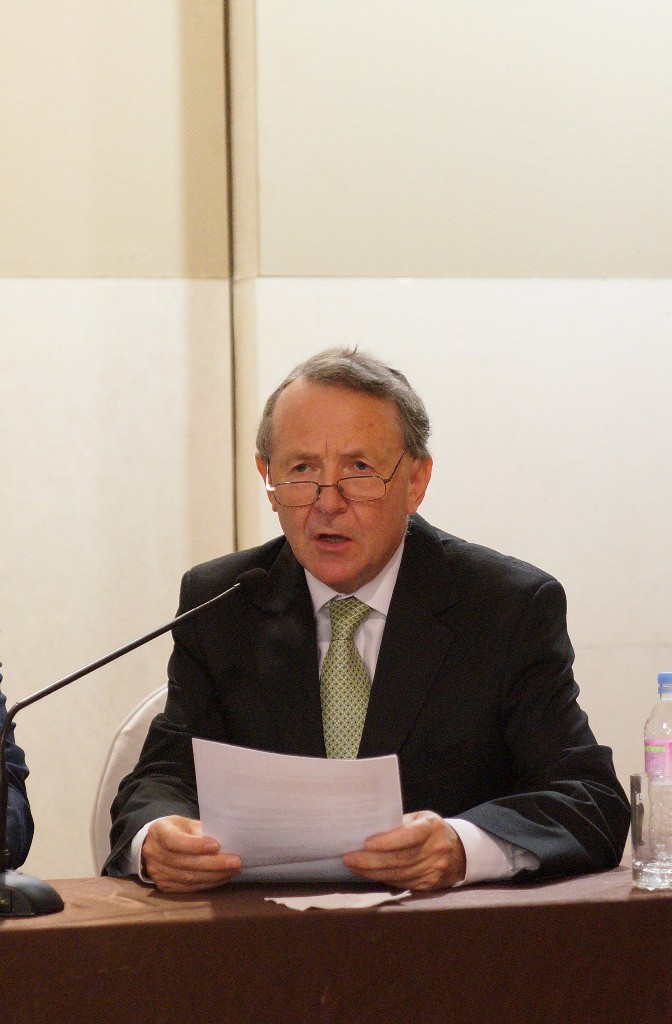 ————————————————————————————————————————————
Orphaned Street Children: additional note from David Alton with some background stories from the work of Jubilee Campaign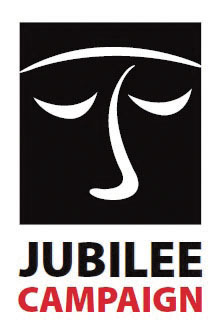 With Danny Smith I was one of the founders of Jubilee Campaign, which has campaigned for street children and I was founding chairman of the All Party Parliamentary Committee for Street Children.
A street child is a term used to refer to children who live on the streets. Definitions of street children vary; the most commonly accepted set of definitions, attributed to UNICEF, defines street children into two main categories:
1. Children on the street are those engaged in some kind of economic activity ranging from begging to vending. Most go home at the end of the day and contribute their earnings to their family. They may be attending school and retain a sense of belonging to a family. Because of the economic fragility of the family, these children may eventually opt for a permanent life on the streets.
2. Children of the street that actually live on the street (or outside of a normal family environment). Family ties may exist but are tenuous and are maintained only casually or occasionally. 1
http://globalchildrenoutreach.illinoisstate.edu/learn/faq.shtml
It was in the early 90's that the phenomenon of street children started to emerge as a specific category and there were unconfirmed though widely publicised reports that there were 100 million street children worldwide. There were no accurate statistics and no breakdown of that figure was ever provided.I am indebted to Danny Smith for what follows.
Street Children were classified as follows:
Children on the Street: The largest group, this comprised of children who work in the street, with fairly strong contact, and whose income was essential to the survival of their family.
Children of the Street: With little family contact, these include runaways; abused, alienated children from deprived and poverty-stricken families who are unable to maintain normal family units. They sleep in doorways, alleys, under bridges, in railway stations; survive by begging and petty theft: while some strive for educational standards and employment, relatively few succeed without assistance. Drifting into crime, drug gangs and prostitution, these children are victims that can't escape this vicious spiral of violence and destitution.
Children in the Street: The smallest group covers orphans and abandoned children whose parents could have died from war, illness, Aids or have simply been unable to look after their child because of family circumstances. These children live on their own without family relationships.
Recyclers: Although not a formal categorisation, recyclers survive on the rubbish dumps or discared items their find on the streets. The children of recyclers spend day and night on the streets within the family groups. They survive by selling papers and materials, and in some countries, live on rubbish dumps or on the streets. They are seen as a marginalised group, the scum of society. In Colombia, the Procuraduria identified two types: those who have a room and may own a horse and cart (known as 'Zorros'). Others live on the streets, sleeping in either a house made of cardboard boxes or in the carts they use for collecting the rubbish.
Researching Street Children in Brazil
In 1991, the term 'street children' wasn't in general usage but after learning that three children a day were being killed on the streets of Rio de Janeiro, we decided that this was the best place to start to learn about street children. Danny Smith and and I both travelled to Brazil and wrote about the plight and even the killing of street children..
We were told that children had left or been driven from their homes because of the breakdown of traditional family units, with a surge from the country to the city was causing turmoil in urban areas.
The cities in Brazil – and around the world – have seen their population continue to explode in growth.
In 1950, there was just one megacity with a population of more than 10 million: New York. By 2013, there were twenty seven megacities, and for the first time in our history, half the world's current population of 7 billion live in towns and cities. And this is set to rise.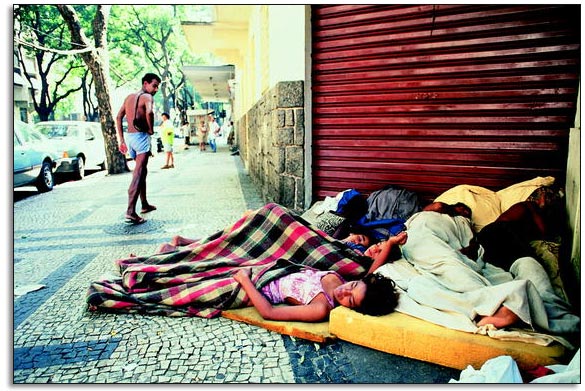 The UN predicts that these megacities will house 70 percent of the world's population by 2050 – 6.4 billion people out of a total 9.2 billion.
The breakdown of family units and the move from the rural countryside to urban areas has been identified as the main reasons for the explosive growth of abandoned children and street children.
Children end up on the streets for a variety of reasons. Often, children have no choice but the streets because they are abandoned, orphaned, or thrown out of their homes. Some street children choose to live on the streets because the conditions at home are so bad; they may be mistreated, neglected, or their families cannot provide them with basic necessities. Many children seek work on the streets to increase their family earnings so they can survive. The following is a list of causes identified by the World Health Organization (WHO) for the creation of street children:2
• Family breakdown
• Armed conflict
• Poverty
• Natural and man-made disasters
• Famine
• Physical and sexual abuse
• Exploitation by adults
• Dislocation through migration
• Urbanization and overcrowding
• Acculturation
• HIV/AIDS3, 4
http://globalchildrenoutreach.illinoisstate.edu/learn/faq.shtml
Experts predict that this huge growth would occur primarily in developing countries. Time Magazine reported that six of the world's ten fastest-growing megacities are in South Asia, in countries least equipped to provide transportation, housing, water and sewers. Asia and Africa, now more than two-thirds rural, would be half urban by 2025. The number of abandoned children is expected to double, with child exploitation on the increase. This would contribute further to the sense of injustice and inequality among the world's poor and dispossessed that has driven extremists to seek violent solutions to the problem.
With more than half the world's people moving from the countryside to the cities, how they adjust to their new habitat will come to define the twenty-first century.
Juanito the Street Boy who met the British Prime Minister
Danny Smith described how, on the first night in Brazil, he met a group of abandoned street children and got to know them during the visit. One of the boys was called Juanito. He was tall, gangly, a loner, reserved, often remote. He had a sister but very little contact with his family, and didn't know where they were, and was probably an orphan. He seemed tough and streetwise but tender, vulnerable, like a young adult who had missed childhood.
Juanito visited the Sao Martinho Mission, a Catholic shelter in the city, and for awhile it was the one constant in his life. Like Juanito, all the street kids that we talked to wanted the same thing: a home; someone to care for them; to finish school; get a job; settle down.
Juanito wanted to be a cook and spent much of his time in the shelter's kitchen. But he had problems fitting in and may have had learning difficulties. When we asked him what his ambition was, he replied wistfully, 'To get a girlfriend but I'm too ugly.'
Juanito was one of the boys selected to perform a traditional Brazilian dance for John Major, the only head of state to visit a street children's shelter (Sao Martinho) during the Earth Summit in Rio Juanito was one of the boys selected to perform a traditional Brazilian dance for John Major, the only Head of State, to visit a children's shelter, Sao Martinho, during the Earth Summit in Rio in 1992. Sometime during the festivities, Juanito drew close, oblivious to protocol, extended his hand and in a flash of spontaneity, Mr Major clasped the palm of the boy who lived on the streets.
That moment was to become a tragic television epitaph. Four months after the encounter, Juanito was dead. He was shot in the head and in the chest near his sister's home in the Favela de Nova Iguacu. We were passed a copy of the police file which we copied and sent to the Prime Minister and the All Party Group on Street Children. Mr Major wrote back and said, 'Juanito's death is tragic news, but I am glad that the Brazilian Foreign Minister has promised to look into the circumstances. Our Embassy in Brazil will follow the investigation closely.'
After pressing the Brazilan Embassy in London for information, we were eventually told that Juanito may have inadvertently annoyed a local gangster in the slums. The suspected killer died soon after in mysterious circumstances and that's where the police investigation ended.
Mr Major never forgot Juanito and wrote about his encounter in the House of Commons Magazine:
I met Juanito at a shelter for Street Children in Rio de Janeiro. He told me that he first took to the streets when he was eight years old to earn money for his family. By day, he would shine shoes and wash windscreens. By night, he and his friends would sleep in doorways and watch out for police patrols. Juanito was one of the lucky ones. He had been helped by the team at the Sao Martinho Shelter funded by Jubilee which offers children a more stable environment and helps many find a better life. When I visited Sao Martinho, during the Earth Summit in 1992, Juanito welcomed me with a dance. I gave him an Aston Villa shirt. Four months later, Junaito was killed, shot twice. It was a Sunday morning and he had gone out to buy some ice. He was not more than seventeen years old. Juanito's murder seemed to be without motive. He was not thought to be mixed up with gangs or drugs. He was just a random victim of the senseless violence which children face on the streets of Brazil and other countries around the world.
Violence in Brazil: the Candelaria Massacre
Fernando Meirelles' critically acclaimed film City of God has been hailed as a classic of world cinema and chosen by Time Magazine as one of the 100 greatest films of all time. The film's violent portrayal of life inside a favela isn't a Hollywood concoction. In 1993 we were given a compelling and graphic first-hand account of life on Rio's mean streets by our Brazilian partner, Roberto dos Santos, the leader of the Sao Martinho Shelter in Rio.
It started in the summer of 1993, Wednesday 21 July. Police broke up a fight amongst street children over a box of glue. One of the boys was grabbed and bundled into a police car and beaten. The police car was pelted with stones. 'You'll regret this. We're gonna get you,' a policeman yelled out.
Two days later, at midnight, three unmarked cars pulled up near the Candelaria Cathedral, a popular hang-out for the kids who slept on the nearby streets. Roberto told us, 'Six gunmen stepped out of the cars and headed for the sleeping children. They circled the kids and then opened fire at point-blank range. It wasn't a killing it was an assassination. The killers shot the children in the eyes and in the head. Seven children died, one survived, but passed away later in hospital. Two boys were seized by the gunmen and taken back to their cars.
They were executed and their bodied dumped at the Metropolitan Museum of Modern Art.'
Wagner dos Santos was one of the street boys who slept in Candelaria. He was grabbed by one of the off-duty policemen and shoved into a car. Forced to lie down with two other kids, one of the policemen sat on him and made a chilling threat. 'You are going to die.' He was shot twice and lost consciousness. Hours later, Wagner awoke to find himself in a park with his two friends lying dead beside him. Wagner recovered and was the first to enter a Witness Protection Program after deciding to give evidence against the policemen implicated in the killing.
The killings made news headlines around the world. The President of Brazil flew to Rio and launched an investigation into the massacre.
In Britain, the Parliamentary Group for Street Children were active. Roberto told us that our campaign had played a part in influencing public opinion in Brazil and mobilising international concern and this was echoed later in a message from Downing Street to us which said, 'It is thanks to you that the urgency and importance of street children has acquired recognition.'
Rescuing orphaned and abandoned children in India
In 1996, Jubilee Campaign was introduced to Reverend Devaraj, an evangelical church leader, in India. Deveraj had spent over three years helping boys hooked on drugs and consequently learned that their sisters and mothers were enslaved prostitutes. This contact gave him unprecedented access amongst the girls and women who cruised the back streets and alleys of Kamathipura, India's largest sex district. Many children from the area wanted to get away but he had nowhere to take them.
Bombay's population numbered over twenty million. Deveraj estimated that the Kamatipura area was home to about 20,000 prostitutes while about three thousand girls lived on Fourteenth Lane.
The women in the area trusted Devaraj and through him Jubilee learned their stories.
• Sharlinka wasn't sure how old she was. She was enticed from Andhra Pradesh with the offer of a job but was sold to a brothel-owner. She'd been held captive for about five years. 'I had to work hard,' she told us. 'The men were fat, old and smelly. I was forced to do some disgusting things. I wasn't allowed out for three years.'
• Another young girl with sad eyes said, 'I'm from Calcutta. I don't have any relatives, only a mother, but I'm not sure where she is now. I drifted around and ended up in Bombay. I was caught one night by several men. They told me they'd find work for me. I'd have a good life but I was sold into slavery.'
• There were several Nepali girls with pale olive skin, soft features and long angular bodies. Girls were trafficked from Nepal by underworld gangs with police collusion. They were held in a slave market and brothel-owners visited the auction to buy the girls. From Bombay, some of the girls – and boys – were dispatched to Goa, now India's most popular tourist resort.
The girls sold to the brothels worked to pay off their debt. Customers paid the brothel and the girls survived on tips. This system of debt bondage kept them in virtual slavery. The girls were held in appalling circumstances, beaten and abused, with little opportunity of ever being liberated from this vicious circle of servitude. In many cases, the girls had no idea when their debt would be paid off – if ever – and were resigned to a life of enslavement. Girls charged Rs 50 (£1) and Rs 250 (£5) and yes, everything was available with no limits to these sexual encounters.
Bombay's red light district had a heavy gang influence and there were many incidents of shoot-outs and stabbings.
Suicides were spoken of factually. Very few got away. Anyone caught trying to escape was beaten severely when they returned. One girl, Mina, tried to jump out of a top floor window but fell and broke her back. She had been caged for seven years and forbidden to leave her room. Usually the girls are confined for two to three years before they're allowed out on their own.
Deveraj told Danny there was a girl he wanted me to meet and we searched the alleys and dark, narrow passageways of Kamathipura trying to locate her. It was late at night but the streets were crowded, and dirty.
Rescuing Asha
Asha's mother was a prostitute who lived on Fourteenth Lane. Asha grew up in a cramped squalid room, virtually a cage, where her mother serviced between ten and twenty-five customers a day.
When her mother died, there were no time for tears. The brothel-owners moved a young Nepali girl into the cage, and Asha and her younger siblings, were dumped in the street outside the brothel where her mother had worked. A make-shift canvas hut granted sanctuary from the scorching summer heat and the driving monsoon rain.
The young urchin family ate leftovers given to them by friendly prostitutes, scrounged scraps from the rubbish dump, and begged for paisa from passing trade. Their survival was a remarkable record of resilience amidst grinding despair and degradation.
The brothel-owners kept an eye on Asha and her sister, as, inevitably, the children of prostitutes always followed their parents into the sex industry. The word on the street was that Asha's mother's boy friend, a taxi driver, lied and said that he was her father, and was negotiating a deal with one of the brothel-owners, expecting about £600 from the sale of this beautiful young girl. That's a small fortune, and money he just couldn't refuse.
The turning point in her life came when she met Deveraj and told him that she wanted to escape. His reply was, 'Have faith. With God everything is possible.' But with each passing day the tension was mounting. She was repulsed by the sexual remarks from local men but there was no escape, nowhere to hide. Every time she spotted the chubby church worker, she chased after him and tugged at his sleeve. 'Uncle!' she'd call out. 'When will you take me away?'
Asha wanted to leave Kamathipura's Fourteenth Lane and said, 'I want to leave. I feel dirty here. I'll never forget this street but all the memories are bad. I don't like the way the men look at me. Some men want me to go with them. They say they'll look after my brother and sister. I sensed the danger. Every day it's getting harder for me to live here. I know I can't fight them forever. It's a question of time. I want to leave here but I have nowhere to go. No one wants me except the brothel owners.'
Danny talked to Deveraj about rescuing Asha and  developed a plan to establish a residential home outside the city where orphaned and abandoned children of prostitutes could be taken. It seemed an insignificant gesture given the scale of the problem but if we couldn't rescue Asha, it's clear she would be condemned to a life-sentence of sex slavery.
Asha was rescued along with four other girls. This was the start of a remarkable rescue mission as several homes have been built and hundreds of girls have been rescued. The work has been supported by Jubilee's supporters but also people such as Olivia and George Harrison, and Billy Connolly. Recently the Hard Rock Café have become important sponsors. of the project Asha herself has grown, married and has a son. She works for Jubilee Campaign and has herself rescued other children.
AIDS Orphans Home in India for children from Mumbai's sex industry
Danny Smith's daughter Rachel had become a pen pal with one of the girls in Jubilee's homes in India and regularly donated some of her pocket money to the work. When she learned that we wanted to start a new home for AIDS orphans, she decided to raise funds through a sky dive. Rachel's jump raised a phenomenal £75,000 from generous Jubilee supporters that secured matched funding from the Laing Trust here in the UK, and from a similar arrangement through Ann Buwalda/Jubilee Campaign in the US. As a result, we secured all the funds to build this new home and its operating costs for three years. It was a powerful demonstration of the difference we can make with imagination and commitment.
The local municipality in the red light area were impressed with Deveraj's work and offered us premises to operate a night shelter for the orphaned and abandoned children of prostitutes. The shelter was ideally located in the centre of Bombay's sex industry and would provide prostitutes' children with a safe haven at night, the moment of greatest risk. The children were looked after and encouraged to attend school.
The property required refurbishment but before we released funds for the work to be completed, Danny asked Deveraj how we could be sure it would be used for those at greatest risk? The question was answered – like many others – with a telephone call.
Baby for sale for £150 in 2000
There's a baby for sale in one of the brothels. She's about to be sold,' the man said. 'Come quickly or it'll be too late.'
The nine-month old girl's father worked as a street labourer, the poorest of the poor, in Bombay's bustling vegetable market. Tragedy struck when the child's mother died. In turmoil, unable to cope, and with intense financial pressures, the father took his daughter to Kamathipura, the centre of the sex industry.
The man toured the brothels and in a moment of madness, offered the baby for sale. The news caused a sensation as the brothel owners bargained over the innocent child. The man was offered £150.
The money was a significant amount for the labourer. When Deveraj realised that the labourer was determined to sell the baby, he warned that there would be consequences and convinced him not to sell the child. The father eventually handed the girl into Jubilee's care.
The rescue completed, the baby was safe. She was named Glory.
She was taken directly to Jubilee's shelter, the first child to be given refuge.
Danny Smith was in Bombay as this remarkable story unfolded. It was appropriate that this millennium baby should be given freedom and a new life as a symbol of the beginning of a new century.