http://www.telegraph.co.uk/health/women_shealth/8904455/Abortion-costs-30m-higher-than-previously-thought.html
Letter from Earl Howe: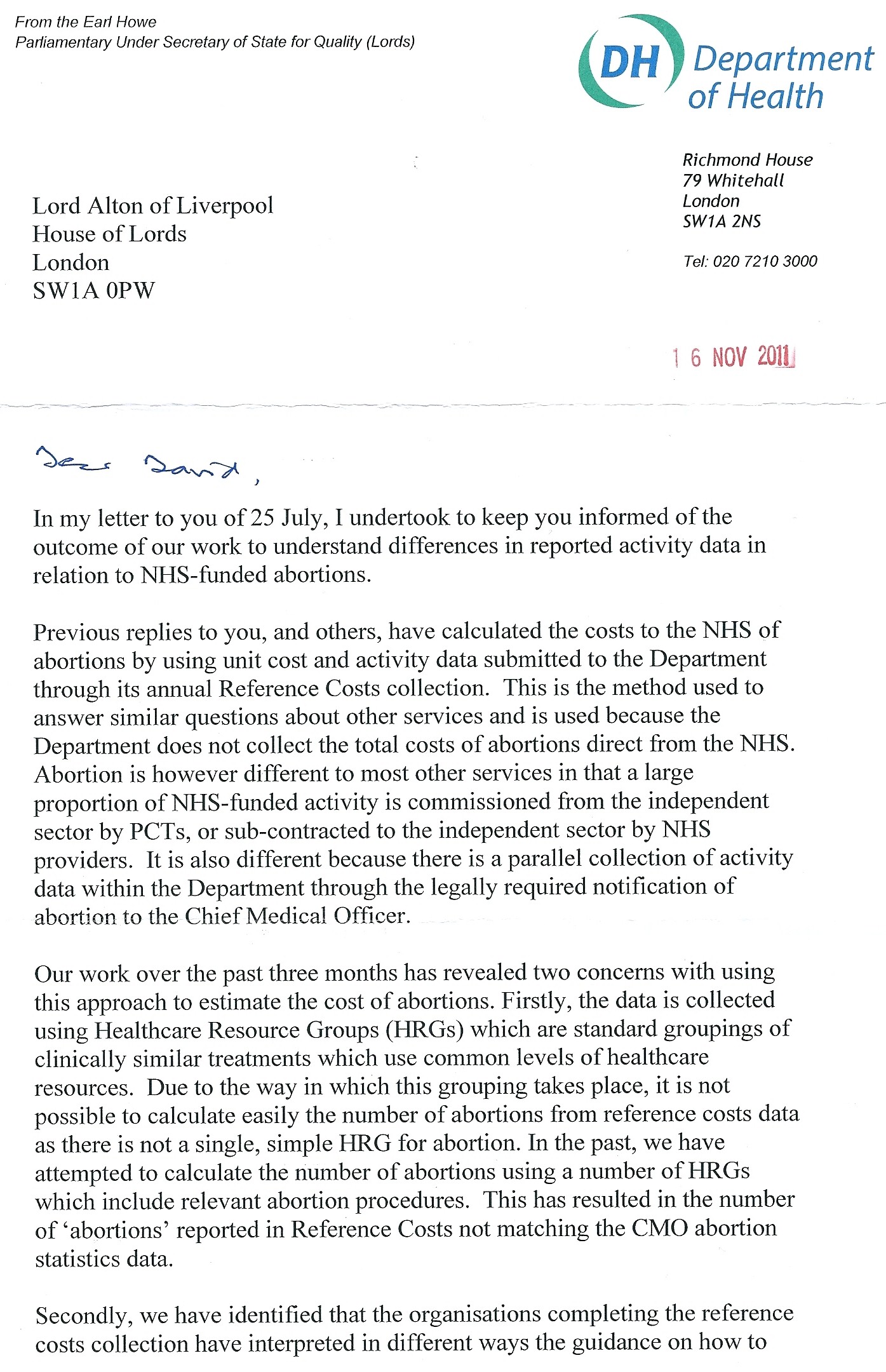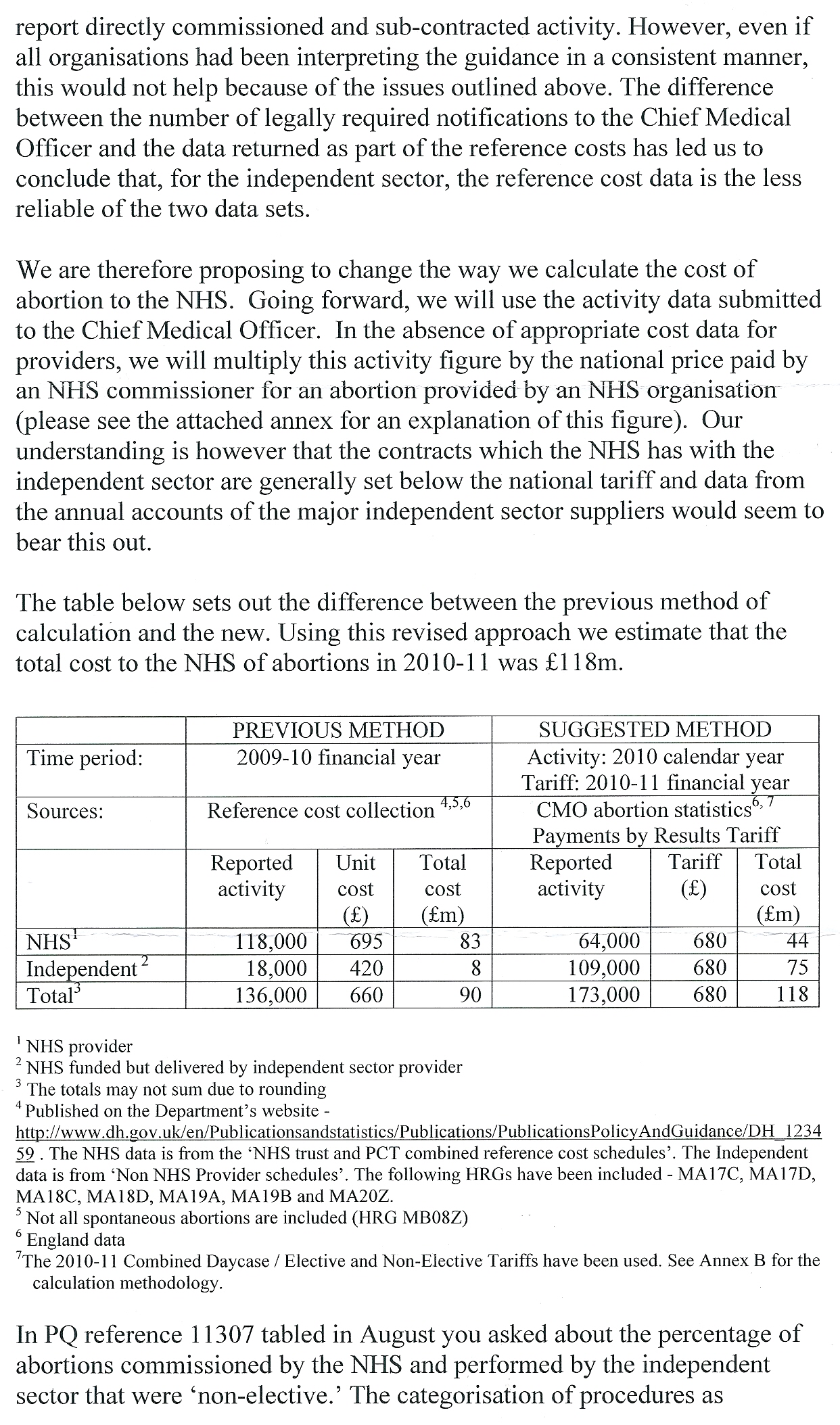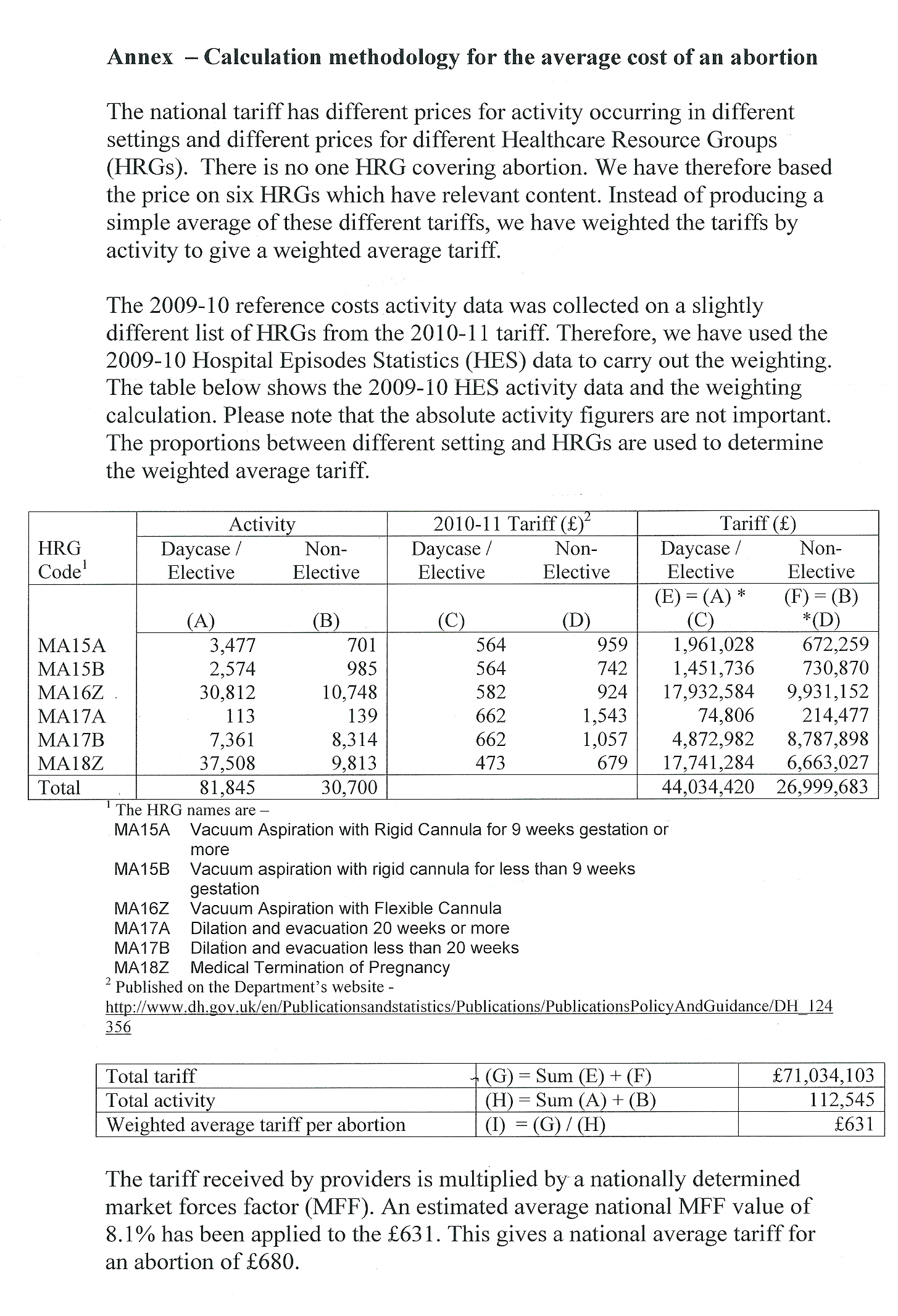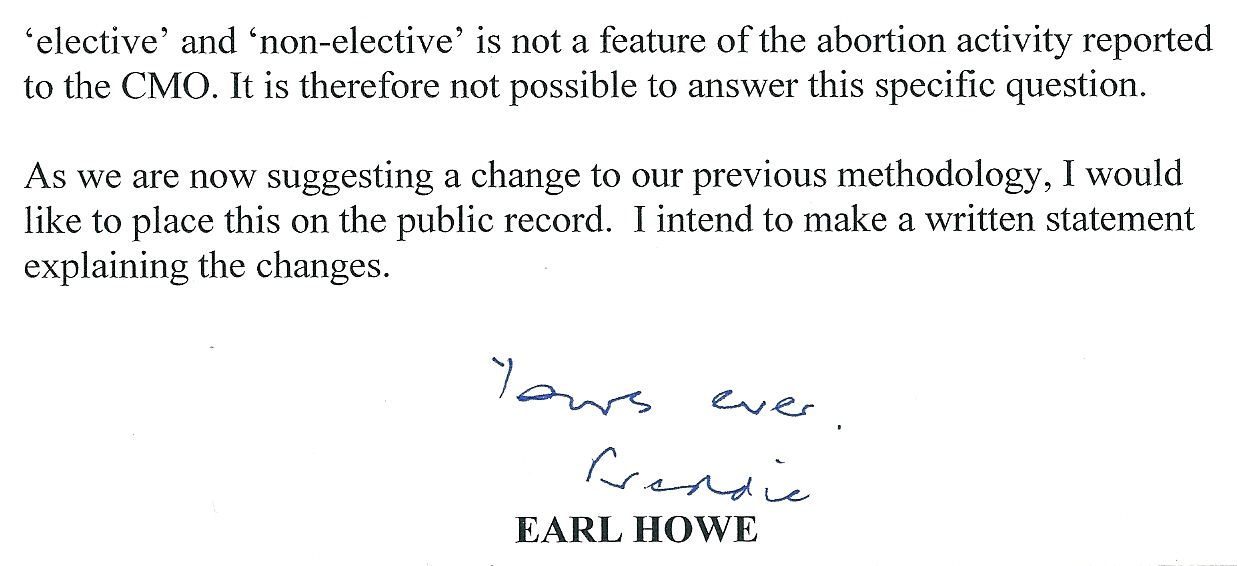 ———————————————————————————————————
Telegraph article By Martin Beckford, and Simon Caldwell12:01AM GMT 22 Nov 2011
Abortion costs £30m higher than previously thought
Taxpayers spend £30million a year more on abortion than previously thought, the Government has admitted.
Updated figures from the Department of Health also show that, contrary to earlier claims, much more public money goes to private clinics rather than NHS hospitals.
Campaigners say the new calculations provide more reason to stop the organisations that offer counselling to pregnant women also performing terminations, which are now estimated to cost £680 each, on the grounds that it represents a conflict of interest.
They are calling for spending watchdogs to investigate why Parliament was "misled" over the scale of the "abortion industry".
Lord Alton, the crossbench peer who obtained the new figures, said: "I have written to Lord Howe setting out a number of concerns about how Parliament came to be so very badly misled about the costs to the NHS associated with abortion.
"The millions of pounds generated by the private abortion industry, which have never been revealed to Parliament, demonstrate why Frank Field has been absolutely right in demanding that the multi-million pound link between the referral agencies and the abortion industry should be severed." Under the previous method of collecting data, the Department of Health estimated a total of £90m was spent on abortions in 2009-10. Of this, just £8m went to independent providers such as Marie Stopes International and the British Pregnancy Advisory Service, with the rest being paid to NHS organisations.
But in a letter to Lord Alton, the health minister in the House of Lords has admitted that "concerns" have been raised about these calculations, partly because organisations have interpreted guidance on collecting costs in different ways.
Earl Howe wrote that the Department's method of calculating costs is "less reliable" than the figures on abortions provided directly to the Chief Medical Officer by law, which in future will provide the basis for the statistics.
Under the updated figures, taxpayers spent £118m on abortions in 2010, of which £75m went to private clinics and just £44m to NHS bodies.
The total number of terminations carried out in England rises from 136,000 to 173,000 and the cost of each one from £660 to £680 under the revised figures. In September, the Conservative backbencher Nadine Dorries tabled an amendment to the Health and Social Care Bill that would have meant all women considering ending a pregnancy were given advice independent of the abortion provider.
The proposal was defeated but the Department of Health has said it will consult on the "best" form of counselling.
Mrs Dorries said it was a "huge concern" that incorrect figures had been in circulation for so long.
She added: "If anything proves that the link between the abortion provider and the woman facing a crisis pregnancy should be broken, this is it – too much money changes hands for anyone to argue that the private abortion provider can remain objective during the decision-making process."
Letter to Lord Howe, Health Minister: November 20th 2011
Dear Freddie,
Many thanks for your letter of November 16th. I am appreciative of the trouble which you and your officials have gone to in assembling this information and for your decision to change the existing methodology.
I am still reflecting on the implications of the information contained in the letter – and how the NHS could have permitted such loose a system to have been developed in the first place.
My first reaction is to wonder why we have to estimate costs – as you suggest in your letter – when we operate on a tariff system?
Why doesn't the Department simply collect the total cost of abortions directly from the NHS? And why have we operated such an absurdly complex and inaccurate system of estimation of costs? What other medical procedures within the NHS have been undertaken with such a poor standard of accountability and inaccurate accounting – millions of pounds adrift from figures previously given to Parliament?
How accurately can the 'standard groupings of clinically similar treatments' be said to mirror abortion, and what would be examples of the said treatments? Clearly, this is important as the statistics you cite chop and change between different HRGs and I would very much like to know on what basis this is done.
I see that the letter refers to England and wonder why Scotland and Wales have been excluded – and whether the same system and cost regime applies within the Scottish and Welsh NHS, and, if so, what action is being taken within those jurisdictions.
The key point, the claim that independent sector abortions keep within NHS tariffs, has no solid basis (as your letter admits) and I feel obliged to challenge it and to ask how, in the future, it will be guaranteed.
Have we also discovered why BPAS and Marie Stopes allowed the House of Commons to be misled with figures they must have known to be wrong from their own financial records. Is this an issue which the House of Commons Public Accounts Committee should be asked to investigate?
Thank you again for unearthing this scandalous situation and I feel confident that you will not only put it right but reflect further about a system which generates millions of pounds for individual abortionists and their clinics and allows them also to act as the counsellors and referral agents.
With kind regards,
Yours ever,
David.