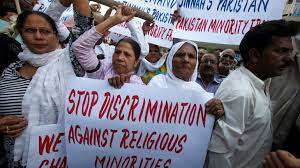 'Unequal Citizens -Ending Systematic Discrimination Against Minorities' – new report just published by the National Commission for Human Rights (NCHR) Pakistan. 
https://www.nchr.gov.pk/wp-content/uploads/2022/05/Minority-Report-compressed.pdf
The NCHR report mentions that:
– nearly half the posts reserved for the minorities lie vacant
        –    despite constitutional and legal safeguards, selection of sweepers and sanitation workers in  government departments are done through discriminatory advertisements.
        –     even among the lowest government jobs like gardeners, peons, people from the minorities are denied any other jobs than lavatory cleaners and sweepers 
        –   the hazardous working conditions,  insufficient safety gear, lack of job security and accidents  resulting in deaths of a number of Christian workers in the narrow sewers.       
The All Party Parliamentary Group on Pakistan Minorities ( @appgpakistanminorities  and see https://www.facebook.com/appgpakistanminorities/ https://appgfreedomofreligionorbelief.org/appg-for-the-pakistani-minorities-abductions-forced-conversions-and-forced-marriages-of-religious-minority-women-and-girls-in-pakistan/ ) has been campaigning against the discriminatory adverts confining the religious minorities to menial jobs like lavatory cleaners and sweepers, by writing protest letters to the Provincial Chief Ministers, for at least past five years.
The NCHR report acknowledges it and mentions that the APPG for Pakistani Minorities, along with other concerned groups, highlighted this discrimination against minorities and that the NCHR is determined and has taken upon itself the task of rectifying this injustice. The APPG sees this as a significant step forward and will monitor the situation to see if the discriminatory, offensive, adverts are now prohibited.