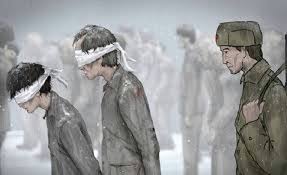 HRNK REPORT LAUNCH:https://www.hrnk.org/uploads/pdfs/Bermudez_KHS8_FINALFINAL.pdf


North Korea's Long-term Prison-Labor Facility
Kyo-hwa-so No. 8. Sŭngho-ri

BY JOSEPH S. BERMUDEZ, JR. ET AL.
July 21, 2021
Washington, DCBASED ON SATELLITE IMAGERY ANALYSIS AND FORMER PRISONER TESTIMONY, NEW HRNK REPORT HIGHLIGHTS CHANGES AT NORTH KOREAN DETENTION FACILITY. 3D MODEL OF THE CAMP RELEASED IN CONJUNCTION WITH THE REPORT ROLLOUT. THE BONE-BREAKING, LIFE-CRUSHING, RELENTLESS INHUMANITY OF NORTH KOREA'S DETENTION SYSTEM ENDURES.
HRNK Executive Director Greg Scarlatoiu, says "cross-checking satellite imagery analysis with escapee testimony to create baseline reports of North Korean detention facilities and updating them periodically certifies that, while changes occur at these facilities, the bone-breaking, life-crushing, relentless inhumanity of North Korea's detention system has persisted for over seven decades."