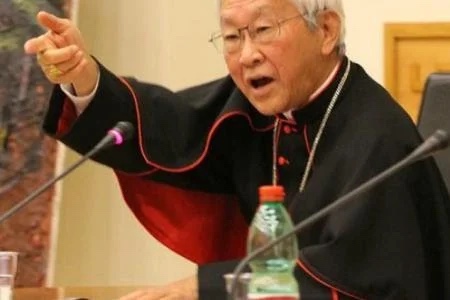 https://www.theguardian.pe.ca/news/world/special-report-nuns-arrested-as-beijing-turns-up-heat-on-church-in-hong-kong-535842/
Extracts from The Guardian article:
"We are at the bottom of the pit – there is no freedom of expression anymore," the former Bishop of Hong Kong, Cardinal Joseph Zen, told Reuters in a written reply to questions. "All these things are normal in mainland China. We are becoming like any other city in China."
With the exception of 88-year-old Cardinal Zen, all Church leaders, local priests and parishioners interviewed for this article declined to be named. "For any word you say," Zen told Reuters, the authorities "can say you're offending the National Security Law."
The pressure on the Catholic Church is building as Beijing advances a broader effort to stamp out independent political forces in Hong Kong……
…..leading pro-democracy activists have been arrested. Democratic lawmakers have been ousted from the legislature, and others have quit in protest. This month, one of Hong Kong's most prominent democrats, media tycoon Jimmy Lai, was charged with colluding with foreign forces under the national security law. And teachers have had their licenses revoked for allegedly making political comments in class.
The Church is the latest major institution here to feel squeezed by Beijing. Reuters has documented this year how other institutions central to the city's freedoms and rule of law, including its judiciary, its police force and the democracy movement itself, have been weakened, co-opted or cowed. For the ruling Communist Party, Hong Kong's Catholics pose a serious challenge to its authority…..
The Hong Kong Justice and Peace commission's work has included speaking out for religious figures, such as Bishop Su, who have been repressed on the mainland. In October 2017, for instance, it organized a prayer vigil to mark his detention that was attended by then-Bishop Michael Yeung.
Hong Kong Catholics say Su's plight has long resonated in their community, given the harshness and length of his detention and his role as a spiritual leader in China's Hebei province, traditionally an underground Catholic stronghold. Su's fate has never been explained by Chinese authorities.
Cardinal Zen said he fears the Vatican may not have the backbone to stand up to China on the prelate pick. "They are afraid of irritating or displeasing the Beijing government, so everybody knows that the future bishop of Hong Kong needs to have the blessing from Beijing," Zen said. "We hope they have the courage to assign a good shepherd to our diocese instead of appointing somebody who would be only an official chosen by the Beijing government."