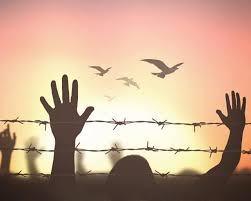 CSW and Human Rights Concern Eritrea (HRCE) are gravely concerned by reports that 400 Eritrean refugees who fled the ongoing violence in Ethiopia's Tigray region are currently being returned to the area under armed guard. Report from CSW:
Reports surfaced on 10 December that a large number of Eritrean refugees, several of whom had been evacuated by air from Shire in Tigray to the Ethiopian capital Addis Ababa by the federal army, were being held in an International Organisation for Migration (IOM) facility close to the main airport. Refugees stated that their identification documents issued by the Office of the United Nations High Commission for Refugees (UNHCR) and the Ethiopian Agency for Refugee and Returnee Affairs (ARRA) had been confiscated, raising fears of possible refoulement under the guise of voluntary returns.
The IOM has since issued a statementrejecting "allegations that IOM buses have been used to transport the refugees to an unknown destination," clarifying that one of its centres in Addis Ababa had been "taken over" by ARRA on 3 December, and that it no longer had "management authority, oversight or involvement in the centre since that time."
Following increasing international expressions of concern, the Ethiopian government issued a statement on 11 December stating that the "large number of misinformed Eritrean refugees" who had sought refuge in Addis Ababa were in violation of the country's "Out of Camp policy," and that the "recently concluded law enforcement military operation […] was not a direct threat to the Eritrean refugees who were living within and outside the camps." Consequently, the statement concluded, the government was "safely returning these refugees to their respective camps, where they can have access to service delivery systems, and more importantly, they can live lawfully and peacefully with the communities that host them."
Reports subsequently indicated that the refugees had been placed in buses and were being returned to refugee camps in Tigray under armed guard. However, their return occurs amidst increasing reports confirming the presence of Eritrean troops in the area, who are involved not only in fighting, but also in the abduction and forced return of refugees.
In early December HRCE confirmed the forced return of 6000 refugees, and the organisation continues to receive reportsfrom refugees who are still in the camp of hunger, violence, robbery by armed assailants, assaults and abductions, with around 45 refugees in Hitsats Camp having sustained gunshot wounds. Eritrea Hub indicates the number of abducted refugees may be as high as 10,000, and reports sightings of forced returnees in Shialo, Adi Tsetser, Tokombiya and Mendefera in Eritrea. Shimelba and Hitsats camps are reported to have been emptied of their occupants, and CSW has received credible reports of large numbers of refugees from the Kunama ethnic group having been forcibly returned from Shimelba camp to Eritrea.
In a recent press statement HRCE reportedthat Eritrean refugees who have resided safely in Addis Ababa and other parts of Ethiopia for decades are currently being subjected to arrest and detention, and highlighted reports that Eritrean Government security agents are now "freely operating in Ethiopia." CSW has also been informed of "Eritrean spies operating in Shire," in Tigray, raising further concerns for the continued wellbeing of returnees.
Elizabeth Chyrum, Director of HRCE said: "The Ethiopian government claims to be returning these refugees safely, yet refugees who have remained in the camps lack food, water, medical attention and protection. They are also being assaulted, robbed and are forcibly returned at will. Under such circumstances the government's claim these refugees are returning to an environment where they can "live peacefully with the communities that host them" is disingenuous at best and may even amount to a deliberate dereliction of duty or complicity."
A constitutional dispute descended into violence on 4 November, when Ethiopian Prime Minister Abiy Ahmed ordered a military offensive against the Tigray Peoples' Liberation Front (TPLF) forces in response to an attack on a federal army base which the Tigrayan authorities described as pre-emptive. Although the Prime Minister Abiy recently claimed in the Ethiopian parliament that federal forces had avoided inflicting civilian casualties, over the course of the conflict, egregious violations have been reported, including rape, extrajudicial killings, and the indiscriminate bombing of homes, churches, educational establishments, and other civilian structures.
Each side accuses the other of committing violations that have targeted civilians. However, the Ethiopian government recently rejected any independent investigation of events in Tigray, with a senior government official dismissing international calls for greater transparency by stating that Ethiopia "doesn't need a babysitter".
CSW's Head of Advocacy Khataza Gondwe said: "There are no credible indications that the fighting in Tigray has ceased, hence any assertions that these refugees are being returned to a safe environment lack credibility. In reality, they are being returned to camps where they are likely to face violence, deprivation or forcible return to a country deemed to have committed crimes against humanity. As a signatory to the UN and African Refugee Conventions, Ethiopia is under the obligation to ensure that refugees and asylum seekers within its borders are treated humanely, and that their rights and persons are protected. Ethiopian officials must be made fully aware that they will be held accountable for their continued wellbeing."