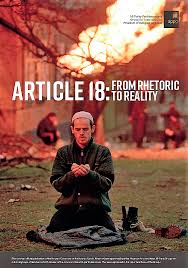 Today is Religious Freedom Day – but not in China, Cuba and Pakistan – all elected to the United Nations Human Rights Council – not for Uighur Muslims, Tibetan Buddhists, Falun Gong and Christians in China. UK Minister says China should release all those who are arbitrarily detained.
Lord Ahmad of Wimbledon, the Foreign, Commonwealth and Development Office, has provided the following answer to your written parliamentary question (HL9169):
Question by Lord Alton of Liverpool:
To ask Her Majesty's Government what assessment they have made of the election of China, Cuba and Pakistan to the United Nations General Assembly's Human Rights Council in view of the human rights records of those countries; and what steps they intend to take to ensure that the right to freedom of religion or belief and other human rights are protected and promoted at that Council. (HL9169)
Tabled on: 14 October 2020
Answer:
Lord Ahmad of Wimbledon:
As I said in my statement on 13 October following the election results, as a founding member of the UN Human Rights Council (HRC), the UK has been a strong advocate of its vital work since its inception, and we are honoured to be elected for a fifth term. We note the election of China, Cuba and Pakistan; we are clear that all members of the Council should uphold the highest standards in the promotion and protection of human rights and cooperate fully with the HRC. We will continue to use our voice to help strengthen the Council, and to support countries working to improve their human rights record. We will also continue to hold all those responsible for the worst violations and abuses to account through the Council. We did so most recently at the 45th session of the UN HRC on 25 September when I raised serious concerns about the human rights situations in Xinjiang, and called for China to release all those who are arbitrarily detained.
The UK is committed to defending Freedom of Religion or Belief (FoRB) for all. We actively promote the right to FoRB through our diplomatic activity both directly with countries, and through multilateral fora including the UN where we call out countries that violate this human right. Defending Freedom of Religion or Belief was a core pledge in our campaign to be re-elected to the UN HRC, and we will continue to use our position to stand up for individuals who are persecuted for their faith, belief, or because they have no religious belief. Over recent months, Ministers and diplomats have raised issues relating to FoRB in many countries including China and Pakistan. I raised FoRB issues including inclusive and tolerant education with Pakistan's Minister for Education, Mr Shafqat Mahmood, on 1 October.
Date and time of answer: 27 Oct 2020 at 15:46.